"Cowboy in Africa"
by Deborah Painter
The great continent of Africa is very old and diverse, with bustling cities, beaches a mile wide and the most spectacular wildlife on the planet. Why not add some cowboys to the scene? That's exactly what Ivan Tors and Andy White thought when they produced the hour long Monday night ABC-TV series "Cowboy in Africa" starring Chuck Connors as former rodeo champion Jim Sinclair.
Based on the Ivan Tors and Andy White-produced theatrical picture "Africa— Texas Style!", Connors played the role essayed by Hugh O'Brian in the Paramount film and Tom Nardini repeated his movie character as Connors' sarcastic but good natured Navajo blood brother John Henry in the TV version. Ronald Howard, the son of '30s star Leslie Howard, was retired Wing Commander Hayes, owner of the Kenya game ranch.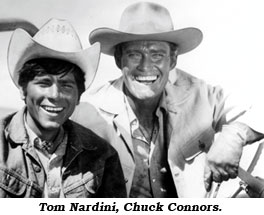 For the show Nardini is as good a rider and roper as Connors and an even better driver of the "desert buggy" they use on the vast expanse of Kenyan property that belongs to retired Commander Howard. Gerald Edwards (who supplied the voice of Weird Harold in "The Fat Albert Halloween Special") is Samson, the bright Kikuyu youth who lives at the spread and, while attending the local school, learns to take care of the animals under the nurturing eye of Connors. Antoinette Bower was Bibi Graf, Connors' love interest, and Louis Gossett Jr. was the recurring character Fulah. The ranchers face plenty of problems cowboys back in the States would not, such as trying to save a pride of lions interfering with the work of archaeologists.
Directors of individual episodes included famed craftsmen Earl Bellamy, Jeffrey Hayden and Jack Arnold. Malcolm Arnold composed the upbeat theme and orchestral score for both "Cowboy in Africa" and its movie predecessor. Arnold is known also for "The Thin Red Line", "1984", "Island in the Sun", "Bridge on the River Kwai" and many others. Incidental music was by Harry Sukman, who shared the 1960 Academy Award for Scoring of a Motion Picture with Morris Stoloff for "Song Without End", and who supplied scores for "Bonanza", "High Chaparral" and "The Virginian".
"Cowboy in Africa" was slightly ahead of its time, as real life 21st century ranchers in Kenya and Tanzania are enjoying some success with raising wildebeest, cape buffalo and eland as livestock.
"Cowboy in Africa" rode the wave of late '60s television dramas set in a modern, technologically up and coming sub-Saharan Africa. Similar popular shows included "Daktari", another Ivan Tors production, and "Tarzan" starring Ron Ely. Some "Cowboy in Africa" shooting took place in Kenya. There, Nick Gosse doubled for Connors as a cost saving measure. The remainder of the series was shot at Africa, USA, a unique property that was a training and filming facility in the scrub covered foothills and river bottoms of Acton, north of Los Angeles where "affection training" was used by Tors' business partner Ralph Helfer to get the best performances possible from Clarence, the Cross Eyed Lion, star of "Daktari", and the many hoofed and horned

beasts seen in "Cowboy in Africa". Were it not for Ivan Tors' gift for producing dramatic family-friendly programs depicting scientists and doctors at work in an interesting and entertaining way, '50s and '60s TV would have been poorer. Unfortunately, the kind of programs and features Tors liked best became less popular by the '70s and he sold his studio in Florida and cut back severely on production. "Cowboy in Africa" only ran for one full season from '67 to '68 facing way too stiff competition from "Gunsmoke" on CBS and "The Monkees" on NBC to survive. It did inspire one issue of a Gold Key comic book, a toy gun belt with single holster Ivory handle cap gun, and a Thermos lunch box. (First two photos courtesy Neil Summers, Tors courtesy Deborah Painter.)