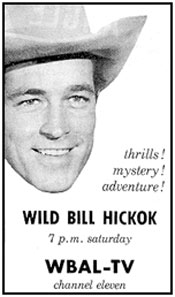 "WILD BILL HICKOK"
Guy Madison (1922-1996) may have been a bobby-soxer's matinee dream in the mid-'40s in such films as "Since You Went Away" and "Til The End of Time", but Guy will be forever linked to "Wild Bill Hickok", the smash hit TV series that ran in syndication from April 15, 1951, to May 16, 1958, for 113 half hour episodes. (It was also seen later on CBS and ABC in reruns.)
Signed for one picture a year on loan-outs by producer David O. Selznick, when that contract was terminated (with Guy's approval) Madison's worth slumped and, at a low ebb, he signed on to be TV's "Wild Bill Hickok" just when juvenile westerns with Roy, Gene, Hoppy and Cisco were proliferating on the airwaves. Guy struck gold, Hickok not only restored Guy's popularity, it brought him a whole new television audience.
As Wild Bill, Guy wore a fanciful, fringed buckskin shirt, a reverse draw brace of six-guns, rode an Appaloosa (Buckshot) and had overweight Andy Devine (1905-1977) as his gravel-voiced sidekick Jingles P. Jones ("Hey Wild Bill—Wait for me!")
"Andy and I liked the people we played, and when you have a project that's also very successful, everything seems to go just great," Guy told a Memphis Film Festival audience several years ago.
"Wild Bill Hickok" never attempted to bring any historical reality to the series, this was pure shoot-'em-up fiction. The series, executive produced by William F. Broidy (1915-1959) through Monogram/Allied Artists facilities, began in b/w, switched to color after four seasons (61 episodes), then back to b/w for season six (Ep. #75-87). Season seven in 1956 (#88-100) was in color again. After a one year layoff in production (reruns of the first 100 filled the air), another 13 color episodes were produced in 1958 by new owner Screen Gems.
Veteran director Tommy Carr helmed the first seven Hickok episodes, with the first, "Behind Southern Lines", establishing the friendship between Bill and Jingles during the Civil War. The second episode, "Rock Springs Rustlers", is an oddity. Neither Guy nor Andy wear their traditional buckskins, Bill's horse is a solid black named Black Diamond, and Andy's name is "Jingle" with no "s" at the end. By the third episode, "Lady Mayor", Bill and Andy are clad in their familiar buckskins and are riding Buckshot and Joker. Buckshot came from Fat Jones stable. He was 13 when the series began and had previously been a circus horse, used to the limelight. As he aged, there were three stand-in horses for the running insert chases.
Other veteran directors worked on the series as well—Frank McDonald, former child star Wesley Barry, Bill Beaudine and Jean Yarbrough. With the advent of adult TV westerns by 1956, William F. Broidy productions sold off Hickok to Screen Gems who (under Wesley Barry) produced the final 13 color episodes all directed by another vet, Louis King, in 1958.
Guy was doubled by Dave Sharpe and Richard Farnsworth (primarily) but even Jock Mahoney had a few shots at it.
"Wild Bill Hickok" episodes, especially the early b/w episodes, were simply miniature B-westerns. The casts emphasized the show's B-western roots—Dick Curtis, Zon Murray, Bud Osborne, Rand Brooks, Gregg Barton, William Fawcett, Raymond Hatton, Terry Frost, Tom Tyler, Riley Hill, Tris Coffin, Ethan Laidlaw, Lyle Talbot, Peggy Stewart, Jane Adams, Dennis Moore, House Peters Jr., John Merton, Robert Livingston, Don Harvey, Pierce Lyden, Marshall Reed, Douglas Evans, Dick Foran, Forrest Taylor, Gloria Winters, Mike Ragan, Myron Healey, Kenne Duncan, Rick Vallin, Sam Flint—practically anyone who ever was (that was still working) from B-westerns. The locations also reflected the series' B-western roots—Corriganville, Big Bear, Palmdale, Lone Pine, Iversons and the old Paramount Ranch.
Emphasizing that connection even further, 48 episodes (12 per year from 1952-1955) were edited into sixteen features and released theatrically: "Behind Southern Lines", "Ghost of Crossbones Canyon", "Trail of the Arrow", "Yellow Haired Kid" (all '52), "Border City Rustlers", "Secret of Outlaw Flats", "Six-Gun Decision", "Two-Gun Marshal" (all '53), "Marshals In Disguise", "Outlaw's Son", "Trouble On the Trail", "Two Gun Teacher" (all '54), "Timber Country Trouble", "Match-Making Marshal", "Titled Tenderfoot", "Phantom Trails" (all '55).
In 1954, "Wild Bill Hickok" was nominated for an Emmy as "Best Western or Adventure Series", but "Stories of the Century" won.
Simultaneously, Guy and Andy appeared as Wild Bill Hickok and Jingles on Mutual Radio from May '51-December '54 and again from February '55-February '56. At one point their show was on three times a week for Kellogg Cereals.
During the run of the series, Guy continued to make about one movie per year, including the first 3-D western, "Charge At Feather River".
Married twice, first to Gail Russell (1949-1954), then to Sheila Connolly (aka Kelly Ryan—"Outlaw's Daughter" '54) (1954-1963), Guy had three children with Sheila, including Bridget (born 1955) who does all she can today to keep her father's name and "Wild Bill Hickok" alive.

Burl Ives was originally considered for the role of Jingles in "Wild Bill Hickok"—but he wanted to play the lead and the idea was dropped..