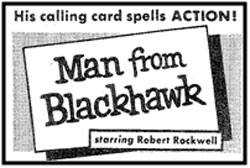 "MAN FROM BLACKHAWK"
Despite the unusual premise twist to the standard western series, "Man From Blackhawk" starring Robert Rockwell as 1870s Chicago-based Blackhawk insurance investigator Sam Logan failed to find a solid Friday night audience, even sandwiched in the desirable 8:30 Eastern time between ABC's "Walt Disney" and "77 Sunset Strip". Perhaps viewers anticipated an actionless show dealing with insurance, but they were wrong, unfortunately letting a solid series slip through their hands.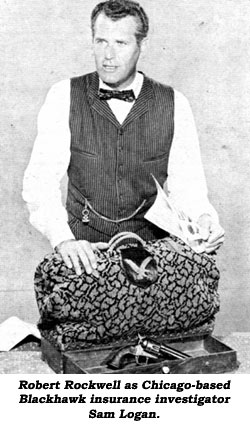 Logan, dressed in a pin striped business suit and string tie, seldom carried a gun, nevertheless encountered perilous assignments involving embezzlers ("Man Who Stole Happiness"), gun runners ("Contraband Cargo"), hired guns ("The Legacy"), gambling bosses ("Trouble With Tolliver") and much more, all of which provided continual fist fights, shoot outs and action—along with uncommon stories.
From a format created by Frank J. Barron, producer Herb Meadow (1912-1995) developed "Man From Blackhawk" for ABC's '59-'60 season. Meadow, co-creator of "Have Gun Will Travel", started his career writing radio scripts. His first big screen work was as a contributing writer on "The Robe". He wrote the '56 movie version of "The Lone Ranger" along with several other A-westerns. After the success of "Have Gun", he devoted himself to TV writing and won a writer's award for an episode of "The Virginian".
"Man From Blackhawk" star, Robert Rockwell, born in Lake Bluff, IL, in 1920, dropped out of business school to enroll in the Pasadena Playhouse. Following WWII, he was cast in a production of "Cyrano de Bergerac" but didn't quite make Broadway. Figuring he could "starve in California as well as New York," Bob soon made his screen debut in "You Gotta Stay Happy". Following a one year (6/49-6/50) 14 picture contract with Republic (primarily in detective films) and several "Lone Ranger" episodes, he struck pay dirt as shy biology teacher Phillip Boynton on radio's "Our Miss Brooks" (replacing Jeff Chandler) starring Eve Arden. Bob also did the TV series of the popular comedy from '52-'56.
For WC, Bob related the origin of "Man From Blackhawk". "I went over to Columbia and did a pilot called 'Mr. Blandings Builds His Dream House', based on the Cary Grant movie. A few weeks later I heard, no, they weren't going to do that show but they would like me to do 'Man From Blackhawk'."
"When I went over to do the test I met Herb Meadow who produced it. Herb was very emphatic about the fact I was an insurance investigator—this was not a western, it took place all over the country. But the minute you put a man on a horse (chuckles), I don't care where you are, it's a western! The carpetbag was his idea with the Blackhawk bird logo on it. Herb was a very gentle man; he knew exactly what he wanted in the series. He was able to get the wonderful writer, Stirling Silliphant, to... I think he wrote the pilot... and he wrote two or three others." (Silliphant went on to pen "In the Heat of the Night", "Towering Inferno" etc.)
"Herb picked his people very carefully. He got wonderful character people around me. We had some good directors (John Peyser, Harmon Jones, Calvin Clements). Herb was always there for me. We would talk back and forth about what he was after. It was a 39 episode series and we'd gotten to Christmas or first of the year, somewhere in there. The powers that be at Columbia (Screen Gems) sent me to N.Y. and Chicago on personal appearances. When I came back, lo and behold, they'd cut the budget in half and gotten a new producer (Mathew Rapf)—Herb was out. This irritated me to death. There was a writer's strike at that time, so what Columbia had done was go to the bottom drawer in the files, pull out all their old westerns and change the names. Whereas, the show was doing very, very well, thanks to Herb and his desire to have a good show, Columbia chopped the budgets in half, didn't use exteriors... and took all the guts right out of the show. It became kinda stereotyped and lost all its punch."
Sponsored by Viceroy, Columbia/Screen Gems produced 37 b/w 30 min. episodes for ABC. Rockwell remained active into the '90s appearing on "Bronco", "Search For Tomorrow", "Benson", "Flamingo Road", "Growing Pains", even "Beverly Hills 90210".
Rockwell, 82, died January 25, 2003.