"Whiplash"
It's a little known fact the 19th Century Australian stagecoach line Cobb & Co. was far larger than Wells Fargo and had subsidiaries in New Zealand, South Africa and even Japan! The line went on to become an iconic part of Australian history; harnessing anything up to 6,000 horses a day and covering nearly 28,000 miles a week along 7,000 miles of routes in Australia alone.
The biggest Cobb & Co. coach ever built was the "Leviathan", which was capable of carrying up to 89 people. It was double-decked, with separate compartments for men and women, and ran from Geelong to the goldfields of Victoria. It was drawn by 12 to 14 horses—the ones in the lead were out of range of the driver's whip, so he kept a bag of stones to throw at them when he wanted to gee them up. Cobb & Co.'s epic story provides the theme of the most unusual TV Western ever aired.
"Whiplash" chronicled the adventures based on the life of U.S. emigrant to Australia Freeman Cobb who was the real-life founder of Cobb and Company. For TV his name was changed to Chris Cobb and was played by Peter Graves, former star of "Fury" and brother of James Arness.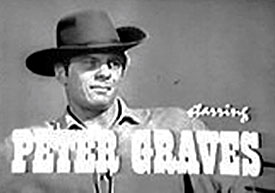 Noted Australian scriptwriters Michael Noonan and Michael Plant came up with the idea of the Australian Western. The series was an English venture, driven by ITC, run by Lew Grade who always had an eye on the U.S. market and hired American scriptwriters such as Gene Roddenberry and Harry Julian Fink along with Noonan and Plant. Artransa Studios, owned by Grade's TV broadcasting company ATV, was the production arm in Australia.
The mix of talent from three continents gave Grade a U.S. star plus production and writing experience in order to give "Whiplash" an American Western feel for U.S. viewers but also included the needed Aussie scenery. The U.K. arm carried out post production; after episode 6 Ben Fox, producer of the Emmy nominated "Waterfront" series, was handed the production reins.
Each of the 34 black and white half hour episodes, which began airing in the U.S. in September '60 and in Australia in February '61, involved the adventures of Chris Cobb (Graves) and his passengers as they encountered bandits, Aborigines (good and bad), tricksters, land-grabbers, kidnappers, rustlers and other characters. All the while Cobb endeavored to extend his coach line and set up staging points.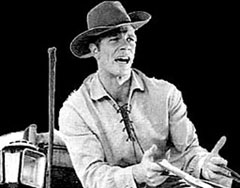 The "Whiplash" theme-song was written by Edwin Astley and sung by England hitmaker Frank Ifield ("I Remember You"). The only name guest star was Chips Rafferty in "Day of the Hunter".
Mostly now forgotten by U.S. viewers, "Whiplash" has thankfully been saved and released, all 34 episodes, on DVD by Timeless Media. By being filmed in Australia, it faithfully captures the flavor of early colonial days in Oz.