"Lancer"
Firmly embedded in the "family" TV western genre ("Bonanza", "Big Valley", "Rifleman", "High Chaparral", "Monroes", "Empire") the one hour color "Lancer", created by Samuel A. Peeples, began on CBS September 24, 1968, Tuesday nights from 7:30 to 8:30 EST. Produced by Alan A. Armer ("Broken Arrow", "Fugitive", "Untouchables") for 20th Century Fox, "Lancer" starred the ever dependable Andrew Duggan as patriarch Murdoch Lancer, 1870's owner of the 100,000 acre cattle and timberland property in the lush San Joaquin Valley of California known as Lancer.
Plagued by rustlers and land pirates in the first episode ("The High Riders"), with only the help of his ward (the daughter of his late foreman) Teresa (Elizabeth Baur) and a few ranch hands, Murdoch sought out his two estranged sons whom he'd not seen since they were boys, college educated and Boston bred Scott Lancer (Wayne Maunder) and drifting gunhawk Johnny Madrid (James Stacy), and offered each son one-third of Lancer to help him fight off the land pirates. Both very diverse sons were by different marriages and had never met, thereby motivating some excellent plotlines as the two brothers struggled to understand one another and their cultural differences and work together with a father they also had to learn to appreciate.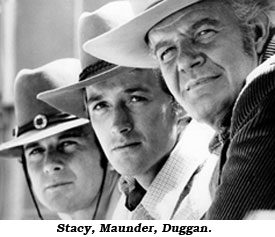 Paul Brinegar (an eight year veteran of "Rawhide" as Wishbone) joined the cast with the 8th episode as the clan's cook and ranch hand, cagey old codger Jelly Hoskins.
A stirring theme composed by Jerome Moross under the supervision of Lionel Newman set the tone for an excellent but, unfortunately at the time, overlooked TV western that may be more popular today (due in great part to James Stacy's cult following) than it was when it originally aired, haplessly matched against stiff competition from "Mod Squad" on ABC and Jerry Lewis on NBC.
"Lancer" was helmed by some workmen-like, but talented, directors (although James Stacy disagrees today) such as Allen Reisner, Sobey Martin, Andy White and Christian Nyby, among others—all men who directed their share of Westerns for TV. In '69 Jim told TV GUIDE, "I get uptight when we get a bad director. We get a lot of those."
"Lancer"'s usually well developed, literate scripts from Western vets like Jack Turley, Samuel Roeca, Carey Wilber, Ken Trevey, Andy White, among others, were populated by many gifted guest stars: R. G. Armstrong, James Gregory, Bob Wilke, Susan Strasberg, Bruce Dern, L. Q. Jones, Jeanne Cooper, Wayne Rogers, Tom Selleck, James Olsen, Arthur Hill, Sam Elliott, Warren Oates, Beverly Garland, Stefanie Powers, Keenan Wynn, Pat Hingle, Agnes Moorehead, Pernell Roberts, Scott Brady and Rory Calhoun.
Despite all this talent, the struggle for "Lancer" was not only against land pirates and outlaws but against ratings. The series also suffered by coming at the tail-end of the TV western cycle. After two seasons, 51 episodes, "Lancer" rode away on May 19, 1970.
Wayne Maunder was born in New Brunswick, Canada, but grew up in Bangor, Maine. After a year at Compton Jr. College near L. A., where he had ideas to be a psychiatrist, he instead entered a drama workshop. Moving to New York, he studied in Stella Adler's group for two years and found work in stock companies and American Shakespeare companies. A theatrical agent saw him and signed him to a contract which eventually led to his lead role on "Custer" ('67). Maunder told TV GUIDE in 1970, "My character never developed. I had ideas going in, but nothing happened. You try to be a nice guy, and you see your work suffer."
James Stacy was born in Burbank, CA, of mixed heritage, primarily Irish. He tried both college (Glendale Jr.) and pro-football (Vancouver of the Canadian pro league and was traded to Montreal), neither worked out and in '56 he went to New York where he became interested in theatre. He moved briefly to Europe, then returned to try acting on the west coast where he eventually met acting coach Donna Drew. Coupled with handsome dark-eyed good looks and a charmingly sly smile, the soft spoken Stacy was signed to a series that never made it past the pilot, "The Freebooters" in '68.
Then, James Stacy told WC, "My agent called me and said 'Do you wanna do a Western?' That was William Morris. I said, 'Yes, I'd like to get on a horse, and I bought John Wayne's horse, Baranca. I met Wayne when my (then) wife, Kim Darby, did 'True Grit' ('69) with him in Colorado. I went up one day with our baby, Heather. I was down by the water's edge and he came riding up and said 'You've got a beautiful wife and she's doin' well and it's gonna be a good picture' and just talked to me for about 10 minutes. But he stayed on his horse and I had the baby laying down on the blanket. I was (worried) about the horse, so I said, 'Duke, you better handle that horse, 'cause I don't want my baby trampled.' He agreed and kinda went away."
A TV GUIDE article in '69 stated, "Two days after shooting started on 'Lancer', Stacy interrupted a scene. A line bothered him. It wasn't his line. No matter; when Jim Stacy is working all lines concern him. He studies every camera angle, watches a director's every move, he memorizes every part and when a line doesn't ring true, he speaks up. 'All right,' the director conceded. 'The line is bad. We'll change it.'"
Forty years later when I asked Jim about this he agreed that he would make suggestions, but not in a troublesome way. Assistant director Bill Kissel said of Jim, "He makes good suggestions. He works slowly because he has ideas. He always adds to the scene. He won't let you shoot junk."
Elizabeth Baur told TV GUIDE, "I love to work with Jim. If the scene doesn't go right, he'll stop. You know he's in charge." Of Wayne Maunder, Baur said quickly, "He's a doll."
Jim Stacy told WC, "I never knew Wayne Maunder or Andrew Duggan before the series. Wayne turned out to be a great guy. We played chess, had lunch once in a while, talked about the scripts. Andrew was strictly professional (chuckles), he didn't have to talk to anybody. He welcomed and liked a series. Elizabeth Baur was the casting director's daughter. (Laughs) I used to terrorize her…in a happy way." Stacy agreed with WC, "Paul Brinegar had a big heart."
Stacy also noted, "My sister Carolyn was a make-up artist, worked on me on 'Lancer'; but I was disappointed when they wouldn't hire my (stuntman) brother, Lou Elias. He did some doubling for me, but they wouldn't hire him so we could do some really good stunts."
Stacy told WC he was disappointed because "The 'Lancer' ranch house was on a stage and it wasn't a good place to be, a 20th Century stage in the middle of L. A. For location shooting we'd go out to the Fox Ranch where they filmed 'Planet of the Apes'. The pilot was shot in John Steinbeck country, around Monterey, CA."
Stacy concluded our interview with a cute story. "One girl got a part on 'Lancer' and she's supposed to slap me. She really wangled me! The director was right with her, so they didn't like me (for whatever reason). If I'd have known the show was going off, I don't know what I'd have done, but anyway, after she slapped me really hard, I grabbed her and I kissed her! (Laughs) I said, 'You're responsible for that' to the director. Don't remember who the girl was."
Andrew Duggan died May 15, 1988. Paul Brinegar died March 28, 1995. At this point Wayne Maunder seems to prefer his solitude. Elizabeth Baur became a regular on "Ironside" ('71-'75) and left acting in '84. She was last known living in Marina del Rey. But these days the popular James Stacy has attended our "Gathering of Guns" several times as well as other film festivals.