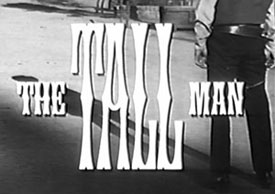 "THE TALL MAN"
"The Tall Man" may have been pure TV western malarkey at its height, nevertheless, the fictionalized half hour adventures of Pat Garrett and Billy the Kid were exciting, action filled escapist drama that thrilled the Saturday night audience for two seasons on NBC from September 10, 1960 to May 26, 1962.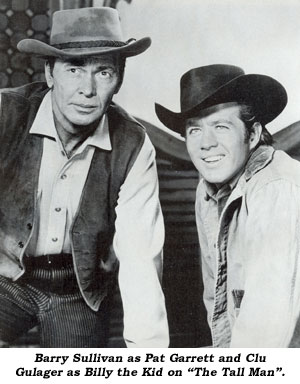 Set in the violent New Mexico territory of the late 1870s, the Nat Holt/Samuel A. Peeples produced NBC b/w series revolved around the relationship between notorious William H. Bonney, better known as Billy the Kid (Clu Gulager [pronounced Gyew-lagger]), and Sheriff Pat Garrett (Barry Sullivan), the lawman who eventually killed Billy on July 14, 1881. Filmed on the Universal backot and sponsored by Winston Cigarettes, the TV series portrayed Billy as a fun-loving, youthful gunslinger roaming around Lincoln County who chose Sheriff Garrett as a paternal figure. Garrett seemed to look upon Billy as a wild kid brother, one he endlessly had to help out of scrapes. Garrett and the Kid often disagreed on how to handle a situation, frequently finding themselves friendly adversaries. On the series, both men are respected for their speed with a gun with Garrett regarding it as a tool to keep the peace while Billy looked upon his six shooter as an equalizer for "men bigger and tougher than I am" as he told Pat in the first episode, "Garrett and the Kid". Billy's hotheaded, wild ways kept inching him closer to the inevitable day of reckoning, although the two year series never took the story that far. At the time, Sullivan told TV GUIDE, "I have a theory, if Shakespeare were alive today he'd be writing westerns."
Set to a jazz music score by Esquivel, in the opening of "The Tall Man", Barry Sullivan's shadow looms large across a dusty street, representing upright integrity and respect for the law. NBC respectfully slotted the series on Saturday night following the popular "Bonanza" (in color) which had established itself a year earlier. ABC aired the juvenile "Leave It To Beaver" while CBS countered with "Checkmate". After the '60-'61 season, NBC moved "Bonanza" to Sunday nights (where it flourished even more) replacing the Cartwrights on Saturday with the expanded one-hour color version of "Tales of Wells Fargo" which simply didn't capture the ratings as did "Bonanza". "Leave It To Beaver" remained on ABC, but CBS tried "The Defenders" against "The Tall Man" for the '61-'62 season. Unfortunately, both westerns were gone from NBC's Saturday night lineup in the Fall of '62, replaced by "Sam Benedict" and "Joey Bishop", both of which garnered worse ratings than the two westerns and were soon forgotten.
Sullivan (1912-1994), born in New York City, had been in films since 1943 and flirted with major stardom in the late '40s-early '50s. In his mid 40s, as his star began to fade, he turned to TV with two prior series, "Man Called X" ('56) and "Harbourmaster" ('57). He was 48 when "The Tall Man" began. Following "The Tall Man", Sullivan turned to TV guest star appearances, films in Europe, a few starring westerns for producer A. C. Lyles and starred in another brief series, "The Road West" ('66). Coincidentally, Sullivan returned briefly to the Billy the Kid saga, playing John Chisum in Sam Peckinpah's "Pat Garrett and Billy the Kid" in '73.
Clu Gulager, born primarily of Danish heritage, in Holdenville, OK, November 16, 1928, also was one-sixteenth Cherokee on his father's side. "Clu is short for Cluclu, a Cherokee word meaning redbird," he told TV GUIDE in '60. Actually, he was born William Martin Gulager and 'Cluclu' means martin or swallow. The former made good TV publicity copy. Clu tended to embellish other facts of his life in studio publicity, but the facts are—his father, John Gulager, was a county judge in Muskogee, OK, and was a cousin of Will Rogers. John was briefly in showbiz, appearing with George M. Cohan's revue around 1920. Following 19 months with the Marines from '46-'48, Clu attended college at Baylor in Waco, TX, studied in Paris, returned to the U.S., married and attended Columbia University in N.Y. This is when Clu began to do plays and work on N.Y. live TV dramas. He moved to Hollywood in November 1958 where his first roles were westerns—"Black Saddle", "Wanted Dead Or Alive", "Have Gun Will Travel", "Wagon Train", "Law of the Plainsman", etc.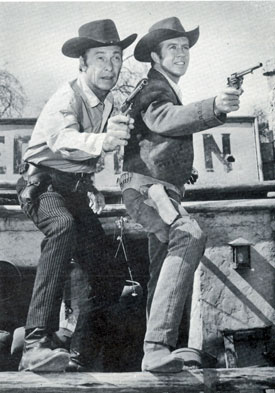 Gulager caught the eye of "Tall Man" creator and producer Sam Peeples when he starred as Mad Dog Coll on "The Untouchables" in November '59. "He's exactly what we were looking for, an actor with flair for the unusual," Peeples told TV GUIDE. "He lends a certain psychological depth to Billy."
With the cancellation of "Tall Man", Clu's quirky acting style found him playing every sort of sadistic killer and weirdo on TV. He found a more 'relaxing' role as Deputy Emmett Ryker on "The Virginian" from '64-'68. After that, Clu continued to work in films and on TV, but seemingly in undistinguished roles. Still active today, he's recently appeared in several lowbudget films directed by his son John.
Other semi-regulars on "The Tall Man" were the McBean family, daughters June and Mary (Judy Nugent and Olive Sturgess) and their uncle (Andy Clyde) who lent some lightheartedness to the series. Marianna Hill was Rita, Billy's girl in several episodes and Mark Tapscott was sometimes seen as Garrett's deputy Tom.