"Buffalo Bill Jr."

"Now with his horse and with his gun
He's not afraid of anyone.
There's no one quicker on the draw
Or quicker to defend the law.
He's the son of a son-of-a-gun
Buffalo Bill Jr."

Gene Autry, successful with his own Flying A produced TV series as well as "Range Rider" and "Annie Oakley", borrowed the name of a famous American hero for his 3rd series, "Buffalo Bill Jr." starring 28 year old Dick Jones in an action-packed half-hour 42 episode series syndicated from March 1, 1955, to September 21, 1956 (26 episodes in season one, 16 in season two). Most TV stations programmed the series on Saturdays for years after the original series ceased filming.
Dick explained to WC, "After filming 76 'Range Riders', Jocko moved on to other venues and I remained under contract to Flying A. Gene had this idea with the old judge, the teenage (cowboy) and a little sister. Told me the story and said 'would like to do this?' 'I sure would.' (chuckles) Gene was knocking himself out trying to get me off his deadbeat route, 'cause he was still paying me and wanted to work me. Buffalo Bill Jr. was pure action, shoot 'em up and tear 'em up with some humor from 'Pappy' Cheshire, the adult stabilizing influence. You can't beat Jocko ("Range Rider") when he starts fighting, but I think the storyline in 'Buffalo Bill Jr.' was better (than in 'Range Rider') and the action was a hell of a lot better. I think each individual story was better."
Bill and his kid sister Calamity's backstory was explained in the 6th episode, "The Death of Johnny Ringo". As youngsters, Bill and Calamity were adopted by Wileyville, TX, Judge Ben "Fair and Square" Wiley (Harry Cheshire) (who also operated the general store in Wileyville) after their parents were killed by Indians. Wiley found Bill wandering in the hills wrapped in a buffalo robe, hence the name.
Dick told WC, "Nancy Gilbert, who was about 11 years old, and I met on the set, Gene didn't introduce us. The director said this is what we're gonna do and we started off. Nancy had only done a couple of Meglin Kiddie things and had worked with Gene ("The Rangerette" TV episode of "The Gene Autry Show"). I thought she did good. Nancy was top notch. She was energetic." (Nancy also had small roles in "Jack Slade" and "The Moonlighter", both '53.) Harry Cheshire was wonderful to work with, I'd worked with him a couple of other times when he played the old prospector in Gene's shows. You couldn't ask for a better character than him."
Dick's big black horse came from the Hudkins Stables and Dick named him Chief.
Not unlike Autry's other series, former western film directors were employed—George Archainbaud, Ray Nazarro, Frank MacDonald, D. Ross Lederman—and scripts came from western vets such as Maurice Geraghty, Dwight Cummins, Orville Hampton, J. Benton Cheney, Elizabeth Beecher.
The casts were frontloaded with B-Western talent—Harry Lauter, Lane Bradford, Terry Frost, Denver Pyle, Dennis Moore, Budd Buster, George J. Lewis, Don Harvey, Myron Healey, Rick Vallin, Glenn Strange, Jack Ingram, William Fawcett and an occasional newcomer such as Lee Van Cleef who, with Dick, staged one of the all time wreck-the-joint brawls in "Boomer's Blunder".
Dick remembers, "The fight was choreographed from beginning to end, except I think the fun part of it was at the very end when we busted the sack of flour over his head (laughs) and Lee came up like Frosty the Snowman. We stood there and laughed like crazy afterwards. It wasn't in the script, it just came up. Lee was a good fight man. We wrecked the store. The only thing I didn't like, you could tell all the cans (in the store) were empty. But all those fights, from one spot to the next spot, to the other spot, a flip here, a flip there, it was all choreographed. The most important part about that is, you have to know where the camera's gonna be so you can make each punch look like it's a bull's-eye. You've gotta have the right camera angle so you've gotta let the cameraman know where it's gonna be. That fight with Lee was probably done with no more than three angles. It takes longer to rehearse it than to shoot it."
Continuing the "fights" line of thought I asked Dick if there was anyone with whom he preferred not to do a fight. "Yeah, there were a couple of 'em. Mickey Simpson for one. He was slow and clumsy…he was as handy as a bulldog playing with himself. (Laughs) They all tried real hard, and having worked with most of the guys before on 'Range Rider' I knew what to expect. So we choreographed a little more in detail with the guys that weren't good so it would look good. With Mickey, there was no stuntman big enough to step in for him. He ended up doin' more of his that he didn't wanna do. (Laughs) Couldn't get anybody to look like him. But yes, there were some stuntmen who stepped in for various 'ac-tors'."
As far as being hurt during the shooting of the series, Dick recalled, "Nancy never got a splinter in her finger. I dislocated my knee one time, Harold Farron stepped in on a couple of 'em. He was more of a horse trainer than a stuntman, but he did a good job with some of the riding stuff. There was another time I broke my ankle and I was hoppin' around in moccasins. I can tell it's Farron in a ride-by when I watch an episode because he didn't have any neck."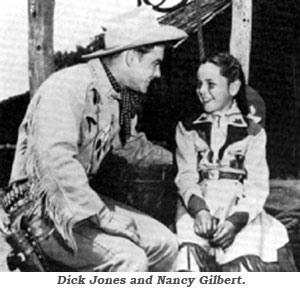 Texas born Dick Jones, who performed in rodeos as a trick rider and roper at a young age, was encouraged to enter movies by Hoot Gibson. Sadly, Dick died at 87 July 7, 2014.
Born in 1892, Harry "Pappy" Cheshire was a veteran of radio before coming to the screen in 1940. He died June 16, 1968.
Nancy Gilbert did not continue film work, instead electing to enter the Sisters of Charity of the Blessed Virgin Mary in Dubuque, IA, and in '62 became a teacher. She taught until '86 when she left religious life, married and moved to Sierra Vista, AZ, where, for several years, she taught public school and was selected Arizona Biology Teacher of the Year in '97.