"THE LEGEND OF JESSE JAMES"
"The Legend of Jesse James" would be one of TV's more forgettable western series were it not for the ever growing cult status of its star, Chris Jones.
For the 34 episodes between Sept. 13, 1965, and May 9, 1966, producer Don Siegel turned Jesse and Frank James into western Robin Hoods (not unlike big screen versions had often done). But the Monday night ABC black and white half hour series (produced by 20th Century Fox) never had a prayer of success going head to head against the 5th season of "Dr. Kildare" (in color) with the popular Richard Chamberlain on NBC, and the 4th season of "Lucille Ball" (also in color) on CBS. Also, by this time, westerns were beginning to fall from favor on TV. Although well staged and well directed by such experts as Robert Totten, Chris Nyby, Herschel Daugherty and Joe Pevney, the series never found a sustaining audience.
Chris Jones played Jesse, Allen Case (former star of "The Deputy" ['59-'61] with Henry Fonda) was brother Frank.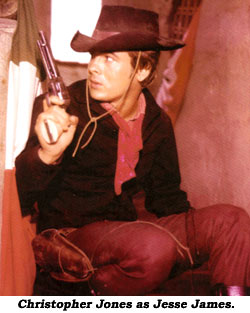 Fabulous character actress Ann Doran played Mrs. James, mother of Jesse and Frank on the series. When she once was asked about Jones, her retort was, "Is he clean? Is he still on dope? He was on dope when we did the series. Whether or not he thought he was to be the next James Dean (reportedly his personal idol) matters not; he was on drugs and that was that. Allen Case was a very nice man, actually almost bland, as he tends to fade from my memory. But Christopher's problems were widely known. I don't know how he (or maybe I should say we) got through the season. We did have low ratings, but I think if it were not for the drug business, we might have been picked up for another year. I do hope Mr. Jones has gotten his act together by now. It's been almost 40 years, so surely he has!"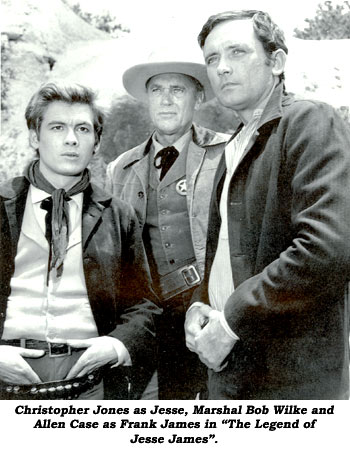 Other recurring roles were played by John Milford as Cole Younger and Tim McIntire (John's son) as Bob Younger. Bob Wilke was Marshal Sam Corbett who vainly pursued the brothers.
Ken Darby wrote the lyrics and Irving Gertz the music for the vapid themesong about "the man with the gold hungry gun." Darby had done better with "Wyatt Earp" and "Jim Bowie" TV themes. Gertz had composed music for and been musical director of many films, including such westerns as "Gun Belt", "Top Gun", "Hell Canyon Outlaws", "Badman's Country", "Hell Bent For Leather" and (coincidentally) "Young Jesse James".
Jones went on to brief fame in '60s films like "Chubasco" and "Wild In the Streets". (See "Whatever Became Of–" below.) His former wife, the late Susan Strasberg, wrote of their embattled, drug-laden marriage in her autobiography, BITTERSWEET.
Allen Case later designed a successful line of fur coats for men, worked as a photographer, writer and real estate broker while continuing to act occasionally on "CHiPS", "Man From Atlantis" etc. While on vacation, he collapsed and died of a heart attack in Truckee, CA, 8/25/86.
WHATEVER BECAME OF—
Christopher Jones, the reclusive mystery man star of the '65-'66 cult hit western series, "Legend of Jesse James", granted an evasive interview to the Toronto GLOBE AND MAIL. Jones' answers dance around the questions. After generating 7,500 fan letters a week when his series was on in '65 and co-starring in "Ryan's Daughter" ('70), he

walked away from it all at 28. Why? Nobody knows for certain. Offered roles in "The Godfather", "Pulp Fiction" and others, he continually refuses to return to the film industry. "I decided to take time off…I lived la dolce vita on my money. There is life outside the movies—and I was living it." He fathered five children with two women after his marital breakup with Susan Strasberg. Now, he has "sort of" surfaced with an official website <www.cinetropic.com/jones> and has become an artist. "I enjoy rendering a subject on canvas as close as possible to its actual appearance." Plagued in recent years by recurrent stomach ulcers, he assures fans that's not why he won't act again. "I am happy. I did exactly as I pleased—within my world."