"THE TEXAN"
Rory Calhoun's version of Bill Longley, "The Texan", took great liberties with the truth about the bigoted real life Longley who killed his first man when he was 15 in 1866 and was eventually hung in 1878 at 27. A little closer to the truth was the "Bill Longley" episode of "Stories of the Century" (5/20/54) with Longley portrayed by Douglas Kennedy.
Longley, as conceived and played by Calhoun, was a fast gun, a loyal friend to the downtrodden and mortal enemy to lawbreakers in his Monday night half hour CBS series (9/29/58-9/12/60) primarily sponsored by Viceroy and Lever Brothers. (Reruns aired on ABC from 10/60-5/62, first in daytime, then on Saturday mornings.)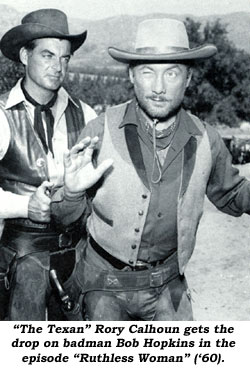 Rory not only starred as "The Texan" but produced the series with partner Vic Orsatti through their Rorvic Productions. In their 2/13/60 issue, Rory prophetically told TV GUIDE he and Orsatti got together on "The Texan" because they were "thick as thieves. We're both thieves." According to some sources, Calhoun never received his "just rewards" from the partnership. Laughing at the time, Calhoun continued, "I did several pictures for Vic ("Ride Out For Revenge", "Domino Kid", "Hired Gun", "Apache Territory"). We decided to go into television in '58 with our own series. Not 'The Texan'. We had a sea story. But Vic lived across the street from Desi Arnaz who had 'The Texan'. They got together on that and we held our other one back. Desi's deal was better."
Episodes were budgeted at $40,000 and they filmed two per week on stage 11 at Desilu. Much of the location shooting was done at Pearl Flats in the Mojave Desert.
Rory knew about the real Longley. "He was a part time rat. He'd work as a deputy in one town, then drift on over to the next one and hold up the bank. He just let his deputy work slide and robbed too many banks. They hung him. (In our show) I like to think of Bill as the Robin Hood of the West."
Rory was proud of the fact "we had Bob Steele on a recent show. ("Six Gun Street" 1/18/60) I used to watch him when I was a kid. He tried playing golf at Lakeside full time for seven or eight years, but told me the sight of a golf club was driving him crazy. He just had to see the inside of a studio." But not Rory, who said if he had it to do all over again he'd have leased some timber and stayed in the lumber business. "I like the out of doors. That's how I come."
From the onset CBS' "Texan" was up against strong, similar programming on NBC with John Payne's "Restless Gun" which had begun a year earlier and was doing quite well in the ratings. It probably wasn't CBS' wisest programming choice to put one gunfighter up against another—as we all know, someone has to lose in a shoot out. Possibly why "The Texan" never reached above #15 in the Nielsen ratings. "Restless Gun" retired after two seasons in '59, a year before "The Texan". Nevertheless, in the era before VCRs, where you can tape one show and watch another, it was a hard choice for western fans to make.
To boost and sustain ratings in the second season, the then novel idea of continued three and four part stories was instigated. The thought was these could later be re-edited into features and sold to the overseas market, although the plan never came to pass. In one 4-parter Longley bossed a cattle drive, in two others he was a railroad construction boss and, in perhaps the best, he sought out the identity of a bandit leader known as El Sombro in the corrupt town of Rio Nada.
Through 78 episodes, Calhoun rode a beautiful pinto named Domino. Rory was doubled (as he usually was in movies) by Reg Parton (1917-1996).
Directorial duties were handled by over a dozen (mostly old pro) directors such as George Archainbaud (who died in '59 during the run of the series), Robert Florey and Les Goodwins. But certainly, the lion's share of directing was done by Erle C. Kenton (1896-1980) and Edward Ludwig (1895-1960).
Kenton started in 1914 and was directing two-reelers by 1919 and features by 1920. After helming the classic "Island of Lost Souls" in '32, he worked steadily at Universal on action, horror and Abbott and Costello comedies, later turning to TV with "Public Defender", "Racket Squad" and others. Oddly, his only prior western experience was Jack Holt's "End of the Trail" in '36.
Russian born Ludwig began as an actor at Vitagraph and started directing in '32. His accomplished work includes "Man Who Reclaimed His Head", "Coast Guard", "Fighting Seabees" and "Wake of the Red Witch". Again, his only western prior to TV was "The Fabulous Texan" w/William Elliott. He later helmed Calhoun's '63 "Gun Hawk".
Scripts came from a extensive variety of over 35 different writers, including producer Orsatti and director Kenton.
Rory's then wife, Lita Baron, appeared in several episodes, including a 3-parter.
Calhoun and Orsatti had an option from CBS to do a 3rd season, but Rory chose to return to features which were not as time consuming.