"A Man Called Shenandoah"
Created by producer/writer E. Jack Neuman (who also wrote for "Cimarron City", "Jefferson Drum", "Wagon Train", "Laramie", "Oregon Trail", etc.) and set in the post Civil War west, the initial episode of "A Man Called Shenandoah", "Onslaught", related the trials of a man (Robert Horton) shot by an old nemesis (Richard Devon) and left for dead half naked on the trail. Discovered by two saddle bums, thinking he may be wanted, they drag the man to the nearest town hoping to make some money off of him. However, no one knows who he is nor does he appear on any wanted circulars. Even more unfortunate for the stranger, he cannot remember his name, anything of his past or who shot him. Visiting a doctor, he is diagnosed with amnesia. Taking the name Shenandoah (the Indian name for Land of Silence), Horton spends the rest of the series wandering the west in search of clues to his identity.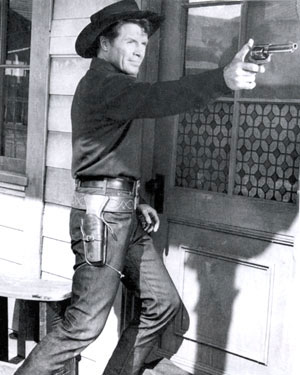 In black and white, "A Man Called Shenandoah" debuted on ABC September 23, 1965, from 9-9:30 ET. Robert Horton left "Wagon Train" after five seasons in '62. It was three years before he signed on for another western. Horton recalled for WC, "I had been wooed before I made a comment about not wanting to do another western after 'Wagon Train'. I'd been asked to do 'Shenandoah' earlier. I thought 'Shenandoah' was a very good idea but I didn't want to do another western after 'Wagon Train'—at least right then. So I went to New York and did a show there. After I finished the NY show, I bumped into E. Jack Neuman in the supermarket. He created 'Shenandoah' and he said, 'Why aren't you doing 'Shenandoah' for me? I've been writing scripts for you since 'Suspense' in New York.' And I remember saying, 'And damn good ones!' I then went to my business manager and while I was there Alan Courtney, the man who ended up being the head of television at MGM, was there and we wound up doing 'Shenandoah'."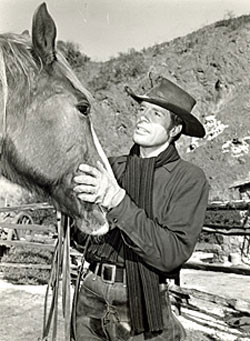 When I asked Bob who wrote the special lyrics to the "Shenandoah" tune, he replied, "I did. I remember when they asked me would I write the lyrics, I said, 'You guys have under contract two of the finest lyricists in the music industry and you want me to do it?' 'Well, you know more about the show than anybody else…' 'That may be, but…' At any rate that afternoon I went in to write new lyrics to the song. About an hour and a half later I came out and asked my wife, Marilyn, what she thought. She said, 'I don't know, it's so much better than I expected. (chuckles) I have to think about it a little bit.' It was designed to fit the theme of the show. I'd recommended we have a song that told the plight of the character so you're not going through all that exposition when you can do it all in a minute and a half."
Horton continued, "We shot the opening up at Mammoth Lakes, north of L.A., in the High Sierra. The snow was up to the bellies of the horses. I had a huge buffalo robe over my shoulders for warmth. Other exteriors were shot at Lancaster, CA. At first I was unimpressed with the material. There has to be time to be a human being in-between being a caught-felon or whatever. (Laughs) Then the scripts began to lighten up and we began to attract a little higher caliber guest star and it was working quite well. I began to think the show had a real chance."
Unfortunately, stiff timeslot competition doomed "Shenandoah" after 34 half hour episodes. CBS had the established "Andy Griffith" and NBC aired the popular "Andy Williams". Even though "Shenandoah" was preceded from 8:30-9 by another Western, "The Legend of Jesse James", it too faced insurmountable competition from "Lucille Ball" on CBS and "Dr. Kildare" on NBC. It seems "Shenandoah's" search for his identity was as futile as ABC's search for ratings and the series was cancelled, offering no resolution to Shenandoah's search for truth, after 34 episodes on May 16, 1966.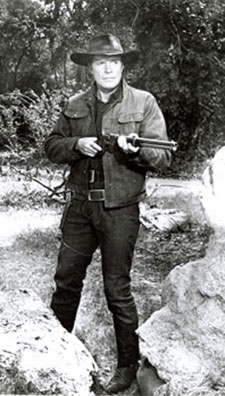 "We did our best and they didn't cancel our show until the last possible afternoon," Horton told WC, "Alan Courtney was in shock. He said, 'I don't believe it, we've been cancelled. I don't understand because the show was beginning to pick up with a different attitude about the lead character.' …and I agreed with him. But the bottom line was, it was cancelled and I learned on Friday about 4 in the afternoon." Bob told WC because of the sudden cancellation there never was any discussion about a conclusion to the series. Shenandoah was simply "doomed to wander."
It's too bad, as it was an intriguing premise with well written stories from western writers such as Paul Savage, Daniel Ullman, E. Jack Neuman, Ed Adamson, Samuel Peeples and Robert Hamner. Directors included Nathan Juran, Don McDougall, Tom Aries, Harry Harris and Joseph H. Lewis, all very familiar with westerns. The guest star list is also impressive—Beverly Garland, Warren Oates, John Anderson, Charles McGraw, Claude Akins, James Griffith, Bruce Dern, Don Megowan, Leif Erickson, Trevor Bardette, Karen Steele, George Kennedy, John Dehner, Myron Healey, Fay Spain, Gregory Walcott, Michael Ansara, L. Q. Jones, Robert Loggia, Andrew Duggan, De Forest Kelley, Anne Helm, John Cliff, John Ireland, Nina Foch, Doug Fowley, Strother Martin, Steve Brodie, John McIntire, Gary Merrill and many other excellent actors.
With this multitude of writing/directing/acting talent behind it, and a star of Robert Horton's magnitude and popularity, "A Man Called Shenandoah" deserved a better timeslot and a better fate.
Robert Horton modified the lyrics to the traditional 1820s folk song, sang it for the opening of the episodes and recorded it for Columbia.

"Oh Shenandoah, you're doomed to wander
On beyond this land so lonely
Oh Shenandoah, you're doomed to wander
So roam in search of home
'Cross this land so lonely."