"During the 1870s the wildest spot in the United States was the desolate region west of the Pecos River. Virtually beyond reach of the authorities, the railroads, then pushing their way west, attracted the most vicious characters in the country. It was said that all civilization and law stopped at the east bank of the Pecos. It took one man, a lone storekeeper who was sick of the lawlessness to change all this. His name was Judge Roy Bean."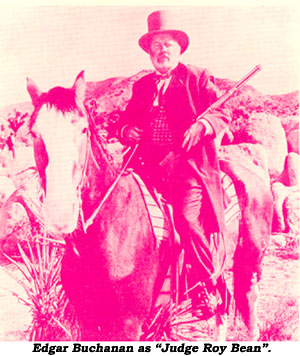 Lovable bewhiskered, raspy-voiced character actor Edgar Buchanan (1903-1979) perfectly portrayed "Judge Roy Bean" for 39 syndicated color episodes between September 1955–August 1956.
Produced by Russell Hayden for his Quintet Productions and filmed on Hayden's own ranch across the road from Pioneertown (often used in film and TVers by Gene Autry, Range Rider, Cisco Kid), Hayden himself appeared unbilled as Texas Ranger Steve in 12 of the episodes.
Set in Langtry, TX, during the 1870s, "Judge Roy Bean" told the fictional story of real life self-appointed Judge Bean and his efforts to maintain law and order in the area. In reality, the real Bean would just

as soon hang a man for the slightest infraction of "his laws" but we never saw any hangings on the half-hour series. The real Bean was no doubt closer to the way he was played in "The Westerner" by Walter Brennan in 1940 and by Paul Newman in "The Life and Times of Judge Roy Bean" ('72).
Buchanan was a dentist from 1929-1937, head of oral surgery at a Eugene, OR, hospital. When he moved to California in '39, he enrolled at Pasadena Playhouse and within only two weeks landed a contract at Columbia where he was cast in many westerns, including "Texas", "When the Daltons Rode", "Desperadoes" and "Man From Colorado". From '52-'54 he was Hopalong Cassidy's TV sidekick, Red Connors.
Following "Judge Roy Bean", Buchanan co-starred on "Petticoat Junction" and "Cade's County" with old friend Glenn Ford.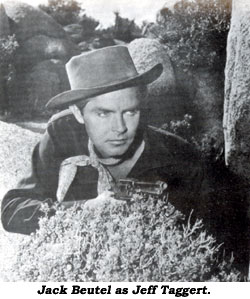 Co-starring with Buchanan on "Judge Roy Bean" was Jack Beutel (1915-1989) as Bean's friend and deputy Jeff Taggert (originally named Jeff Sanders in the pilot). After making "The Outlaw" in '41 (not widely released til '46), Beutel was under personal contract to Howard Hughes who kept Jack from working for 10 years because Hughes thought Jack was having an affair with one of his girlfriends. When his career resumed with "Best of the Badmen" ('51), he was nearly forgotten and appeared in only a handful of films. Following "Bean", he became an investment broker in Portland, OR.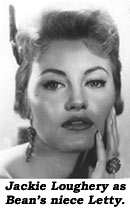 Jackie Loughery played Bean's niece, Letty. Born in Brooklyn (4/18/35), she entered beauty pageants and in '52 was voted Miss USA in Long Beach, CA, receiving a contract from Universal-International where she appeared in "Mississippi Gambler", "Take Me To Town", "Abbott and Costello Go To Mars" and others. In '53 she married singer Guy Mitchell but it lasted only a year. Following "Bean", she continued to work ("Surfside 6", "Wagon Train", "Bonanza", "Wanted Dead or Alive") and met Jack Webb while filming "The D. I." They were married in '58 and divorced in '64.
The series was populated by notable western names as guest stars—Lash LaRue (7 episodes), Johnny Carpenter, Myron Healey, X. Brands, Robert Lowery, Tris Coffin, Tom Keene, Gloria Winters, John Warburton and Glenn Strange, among many.
The title themesong, "Land of the Pecos", was written by Eddie Paul, Roy Ingraham and Charles Koff. Published by Bibo Music, it was released on Ambaco Records.