"THE LONER"
"In the aftermath of the bloodletting called the Civil War, thousands of rootless, restless, searching men traveled west. Such a man is William Coulton. Like the others, he carried a blanket roll, a proficient gun and a dedication to a new chapter in American history, the opening of the west." This vocal prologue, set to the visual opening of "The Loner", Lloyd Bridges (as Coulton), on a beautiful, raring black stallion with the stirring theme music of Jerry Goldsmith played by Lionel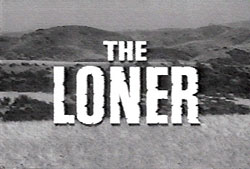 Newman, established the somber tone for this superbly scripted (usually by creator Rod Serling) half hour series.
Created by Serling, shortly after the demise in '64 of his award winning "Twilight Zone", William Coulton as "The Loner" was a battle weary and introspective ex-Union Cavalry Captain traveling west "to get the cannon smoke out of his eyes." With a focus on characterization and philosophy the series was as unconventional a western as had ever been seen.
Revisiting themes prevalent in his earlier writing (the horrors of war, religion, morals, bigotry, the pressure of command and responsibility), Serling presented the concept to producer William Dozier, who then enlisted Bridges as star. CBS bought the anything but typical series, sans pilot, on the name value of Serling/Dozier/Bridges.
"Rod Serling was the main reason (I decided to tackle another TV series)," Bridges, the former star of "Sea Hunt", told the press. "With him doing 75% of the scripts and Bill Dozier producing, I knew I'd be in a quality show."
As Coulton wandered the west, looking for something to give his life meaning, he encountered (well developed) characters, both honest and dishonest, that helped give him an understanding of himself. Serling saw to it that in each episode Coulton would confront ethical issues as relevant in '65 as they were a century earlier.
"The Loner" debuted September 18, 1965 (at 9:30 Eastern), in the coveted time-slot just prior to "Gunsmoke", but all was not well behind the scenes. Michael Dann, senior VP of CBS programming, was not pleased with what he saw. It's not hard to understand Dann's dismay, accustomed to the ways of the traditional TV western, here was a show with nary a cardboard character to be found. Dann's contention was the series lacked action. Serling argued emotional tension was as marketable as physical violence. "I'd call it adult action," Lloyd Bridges reasoned, "because the characterizations are so beautifully drawn. Serling can write believable characters. And I don't think the character I play is just another guy looking for his idenity. It goes deeper than that." Critics acclaimed "The Loner" for its "low key, introspective format," and while ratings remained steady, the series failed to build an audience who apparently agreed with Dann and wanted action packed good guy–bad guy westerns. Too bad. The quality series lasted only 26 episodes until 3/12/66.
In a 1989 interview Bridges told writer Bob Pontes, "I had a beautiful, five gaited American Saddle Bred horse. He had all kinds of talent, maybe more talent than the guy who sat on him. (Laughs). He'd follow me, get down on his front knees and let me get on him. He had a fantastic gait…four or five different gaits. 'The Loner' was a very unusual series but we only lasted a year because westerns were on their way out at that time, and I don't understand it. I was proud of all the westerns I did and the stories I did with Rod Serling."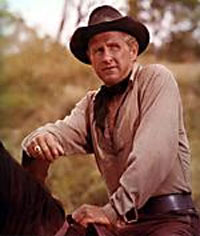 Produced at 20th Century Fox but filmed at MGM, "The Loner" directors included Allan Miner ("Black Patch", "Wagon Train", "Bat Masterson"), Joe Pevney ("Plunderers", "Night of the Grizzly", "High Chaparral"), Alex March ("Hec Ramsey", "Shane", "Dangerous Days of Kiowa Jones"), Allen Reisner ("Branded", "Rawhide", "Gunsmoke"), Norman Foster ("Zorro", "Davy Crockett", "Elfego Baca", "Rachel and the Stranger"), Leon Benson ("Bonanza", "Wild Wild West" and Bridges' former "Sea Hunt" series), Tay Garnett ("Gunsmoke", "Bonanza", "Rawhide", "Deputy", "Laramie"), even actor turned director Paul Henreid.
As writer Tony Albarella wrote in FILMFAX in December 2000, "If 'The Loner' leaves behind any legacy, it is the memory of a show that featured a hero one could believe in as well as root for. In a genre rife with formula and predictability, it momentarily transformed the cowboy from a caricature to a thinking, feeling, human being. For that alone it deserves some measure of recognition and respect."
---

Lloyd Bridges to pious, self-righteous 'preacher' Robert Emhardt in "The Loner: A Little Stroll to the End of the Line": "I'll give you protection, that's my job. But I'm afraid if I had to make a choice, between you and the devil, it'd take a number of months before I could come up with a decision."
---