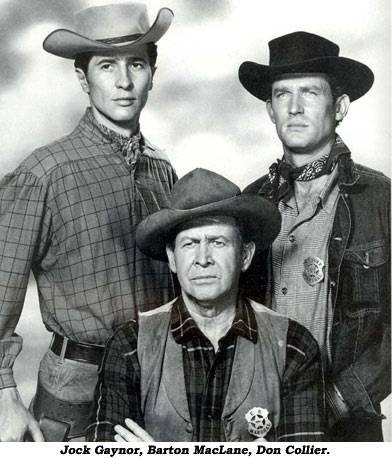 "THE OUTLAWS"
"The Outlaws" was an excellent series that should be better remembered today. Unfortunately, the one hour NBC series that aired for two seasons from Sept. 29, 1960 til May 10, 1962, was stifled by several problems, primarily NBC's failure to promote the series in any way—no ads or stories on the stars in TV GUIDE and very little on-air promotion. It was dumped, unceremoniously, on Thursday nights opposite the popular Ann Sothern Show" on CBS and "Donna Reed" on ABC. To worsen matters, after the first season, the cast was totally shaken up. With all those factors against it, "The Outlaws" never really had a chance to succeed.
Initially, in the first season, longtime character actor Barton MacLane played U.S. Marshal Frank Caine. His two deputies were Don Collier as Will Foreman and Jock Gaynor as Heck Martin.
Don Collier told WC how he was hired. "I went on an interview at Paramount for a show called 'The Egyptians' that Doug Heyes had written and he was gonna direct it. I went in for the interview and Doug says, 'You ain't the kinda guy I need for 'The Egyptians'. You should be over at MGM on a pilot I wrote called 'The Outlaws'.' He set me up with an interview at MGM and they hired me! They hired both Barton MacLane and I about the same time. He was great! I'd been an admirer of his for years when I was a youngster in the '30s and he was a lead heavy at Warner Bros. What a treat to work with a guy like that."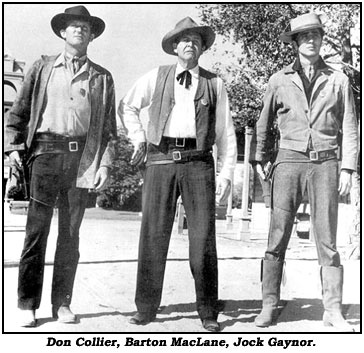 On the other hand, Don explains, "Jock Gaynor was a little 'green'…he never should have been hired for that part. He wore his boots funny and had that goofy hat. (See photo.) It didn't work at all. I don't know who did the hiring, but they didn't have any #!#X!! sense at all! (Laughs) Well, they had a little bit of sense, they hired me and Bart (Laughs)."
Originally set in Oklahoma Territory, the stories were told from the viewpoint of the outlaws rather than the lawmen. "From the scripts we've already done," explained Barton MacLane in a 10/9/60 interview, "it seems we're taking some character who has committed a crime and showing what made him do it. Most of them started out as $30 a month cowboys who felt they were wronged and then we tell what they did. Neither the marshal nor his two deputies are tough guys. Usually we're conducting searches, not chases. By the time we catch up with them, fate has resolved the whole thing. Like a Greek tragedy."
The stories were supposedly based on real characters, but most of the outlaws are unfamiliar names except for the Daltons, Bill Doolin and Sam Bass.
After the first episode of the second season, MacLane was gone and Don Collier was promoted to marshal with the action now centered around the town of Stillwater, OK, where Collier was headquartered. The stories were now seen more through the eyes of the lawmen.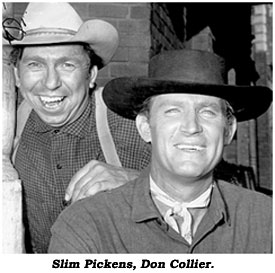 New cast members were Bruce Yarnall as deputy Chalk Breeson, Slim Pickens as Slim (for comedy relief) and Judy Lewis (Loretta Young's daughter by Clark Gable) as Connie Masters working at the Wells Fargo office.
Collier recalls, "I think the producers and NBC just wanted to change it. Frank Telford, who was the producer, liked Slim Pickens and wanted to bring Slim in. He was fond of me also, so he just promoted Barton to the Governor, eased him out and brought in Slim and the big guy, Bruce Yarnell. Bart had no hard feelings (about being dropped) but when they brought him back for the first show of the second year, he said, 'Yeah, I'll come back and do it for $30,000.' (Chuckles) And they paid him 30 grand! That was a lot of money in those days."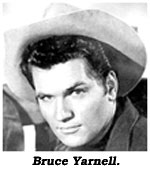 As to his new co-stars, Don told WC, "Bruce Yarnell was just a big old goofy kid. He was a singer. We worked at Paramount Sunset Studios. On the stage next to us they were shootin' 'Gunsmoke' with Jim Arness. I knew Jim, we used to play cards at lunchtime. About the first show or two Bruce was on, he says, 'You know Jim. I'd like to meet him.' Now I knew what he wanted. Bruce was kind of a vain kid. He wanted to see if he was taller than Jim Arness. So we walked over to the indoor street they had for 'Gunsmoke'. We walked in and Jim was standing out in the middle of the street shooting a scene. He's huge you know, 6' 7" or 6' 8". And Bruce stopped—he says 'Whoa! We better not bother him. He's busy right now.' I said, 'Okay. Anytime you want to meet him, let me know.' So he never met him 'cause Jim was bigger than Bruce! (Laughs)"
"Judy Lewis was a wonderful little gal. I never read her book, but I think she knew (when we were doing the show) Clark Gable was her father. A nice girl."
As for locations, Don remembers, "We shot the first year at MGM, the second year at Paramount. For locations we went to Thousand Oaks in those days, Rancho Conejo, where they also shot 'Rawhide'. It's all subdivided now. We went to Antelope Valley a couple of times. No distant locations."
The guest star lineup on the series was top caliber—Brian Keith, Linda Evans, Martin Landau, Jack Lord, Jim Davis, Cliff Robertson, Madlyn Rhue, Dean Jones, Vic Morrow, Eli Wallach. Lloyd Nolan, James Coburn, Ruta Lee, George Kennedy, Jack Elam, Gene Evans, Preston Foster, Leonard Nimoy, William Shatner, Cloris Leachman, Robert Culp, Phyllis Thaxter and many others.
Collier explains what happened to the excellent series at the end of 50 episodes and the second season. "NBC liked the show or they wouldn't have picked it up for the second year and changed it. In fact we got the go ahead for the third year. They'd written about five scripts. What happened was, Ralph Edwards had a show called 'This Is Your Life'. For some reason, NBC owed Ralph an hour of primetime. So in '62 he demanded it! At that time, NBC was only producing two shows (in house), 'Bonanza' and 'The Outlaws'. They had to get rid of one of those shows to give Ralph his hour of prime time. And it certainly wasn't going to be 'Bonanza'. We were over at Oblatt's, across the street from Paramount, celebrating that they'd picked us up for the third year. The same night, they came over and said, 'Guess what? They just canceled you 'cause Edwards demanded his hour.' Then he produced a show called 'Wide Country' with Earl Holliman. A piece of (crap)! 'The Outlaws' was a good show and would have been better had it gone for a few more years."
Barton MacLane continued to find work on TV. He died in 1969.
Don Collier (born 1928) worked in many A-westerns in the '60s and '70s as well as guesting on TV, then finding a home on "High Chaparral" as Sam from '67-'71. He was also a semi-regular (as the storekeeper) on "Young Riders" in the early '90s. He currently lives and occasionally works in Arizona.
Jock Gaynor continued to work guest spots on various series throughout the '60s. He died at 68 in 1998.
Bruce Yarnell worked very little after the series and died at only 35 in '73.
Slim Pickens had been Rex Allen's sidekick at Republic and went on to major character actor status before he died in 1983.
Judy Lewis did very little else for film, then wrote her exposé book when she "discovered" she was Gable and Loretta Young's illegitimate daughter.