"The Outcasts"
No doubt encouraged by the interracial success of "I Spy" on NBC, without a doubt, one of the most unusual pair of heroes to ride the TV Western range in one of ABC's boldest programming attempts were Don Murray as Earl Corey, a former Confederate officer from an aristocratic Virginia background turned bitter and hard by the Civil War, and Otis Young as Jemal David, a proud black ex-slave freed by the war. Both in need of money, in the aftermath of the war the two formed an uneasy alliance as bounty hunters. Their contrasting backgrounds and points of view set the stage for 26 explosive Monday night hour-long 9-10pm ET color exploits on ABC beginning September 23, 1968, and running through May 5, 1969.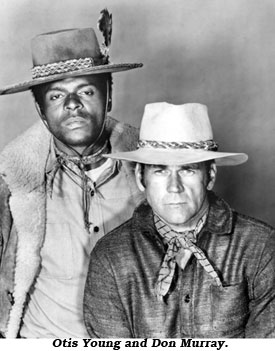 With an inborn dislike and mistrust of each other, hastened by the decaying aristocracy of the Southern social structure, tempers often boiled over into racial arguments and fights. But it was just this conflict that gave "The Outcasts" its raw, bold edge. Despite their initial friction, the pair developed a wary bounty-hunter partnership that slowly evolved into a mutual respect and honest comradeship, overriding the divisive forces of race and social status.
In a '68 interview Don Murray claimed he would not have accepted "The Outcasts" had it not been a black-white man relationship. "I believe it is sociologically important—so Negro children will have a hero of their own to watch, and because the abrasive relationship between the two men was the closest thing to realism that television had given us so far. It was artistically important. (Producer) Hugh Benson assured me we wouldn't pull any punches. Nor would we let the network water it down. Everything about civil rights then (1870) is as contemporary as today."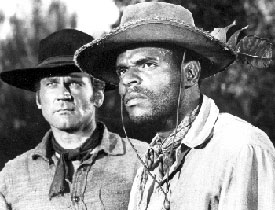 Oddly, there was considerable critical difference of opinion as to the merits of "The Outcasts" which was definitely a series ahead of its time. It was only the second western to co-star a black actor ("Rawhide" featured Raymond St. Jacques during its final season). The scripts were usually superior to much of what else was to be found on TV at the time and the acting by Murray and Young was intense and believable, bolstered by top guest stars: John Dehner, Jack Elam, Charles McGraw, Diana Muldaur, Royal Dano, James Edwards, Steve Ihnat, Ken Tobey, Brock Peters, Slim Pickens, Ida Lupino, Harry Carey Jr., Paul Fix, Bob Wilke, Ruth Roman, H. M. Wynant and others. Nevertheless, in a world ravaged by an escalating Viet Nam war, viewers turned away from the realism of "The Outcasts" for the escapism of "Mayberry R. F. D." and "Family Affair" on CBS.
Seen and collected today on VHS and DVD, the well-written series continually garners new appreciation and respect, perhaps making it even more popular with new fans than it was initially.
Otis Young, 69, died October 12, 2001, of a stroke. At the time Murray stated, "Even though they worked together as bounty hunters, we never lost the awareness between our characters. It never got to be buddy-buddy at all. (Young) stood out among the rest (of the actors who tested) because he was totally unapologetic about this hostility between the two characters." Murray said, due to the times, "a lot of the audience felt very uncomfortable turning (the series) on and seeing these two guys so hostile to each other, even when saving each other's lives. The political climate was the downfall for the show's ratings."
Murray lives today with wife Bettie Johnson, an ex-model, on their ranch in Santa Barbara, CA.