"The Travels of Jaimie McPheeters"
"The Travels of Jaimie McPheeters" aired for 26 episodes on ABC, 7:30-8:30pm, Sunday nights from September 15, 1963 to March 15, 1964. This hour long b/w MGM produced Western adventure series followed 'Doc' Sardius McPheeters (Dan O'Herlihy) and his young son Jaimie (Kurt Russell) as they traveled westward on a

wagon train bound for the goldfields of California in 1849.
12 year old Jaimie was surrounded by an ensemble cast of colorful characters, not the least of whom was his stovepipe hat wearing/cane carrying father, an eccentric, irresponsible scalawag of a doctor prone to alcohol and cards who left Paducah, KY, with Jaimie in tow just ahead of creditors.
Younger viewers could, hopefully, identify with Russell, or fetching 17 year old orphan Jenny, played in the initial episode, "The Day of Leaving", by Jena Engstrom but replaced as of the second episode by Donna Anderson, the Kissel Brothers (Micah, Leviticus, Deuteronomy and Lamentations, played by The Osmond Brothers who also sang the show's catchy themesong composed by Leigh Harline and Jerry Winn). Mark Allen and Meg Wyllie portrayed the young Kissel brothers' God-fearing parents. Also on the perilous trek westward we encountered blue-blooded Henry T. Coe (Hedley Mattingly) and his valet Othello (Vernett Allen) as well as the blustery Bible quoting, cunning thief John Murrel

(James Westerfield) and his shady, seedy-looking con-man cohort Shep Baggot (Sandy Kenyon). Michael Witney appeared in the initial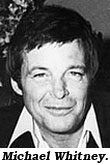 15 episodes as wagon master Buck Coulter. The rather bland Witney was trampled to death saving Jaimie's life and was replaced by the mysterious and troubled, but more powerful Charles Bronson as wagon master Linc Murdock.
Gutherie Thomas, the now veteran singer-songwriter of "Bound For Glory" ('76), doubled Russell when horses were involved. Thomas and Russell were only months apart in age and the producers did not want Russell harmed because of insurance liabilities.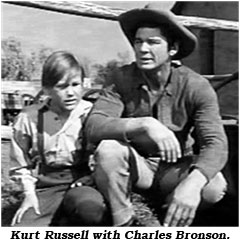 More than the elements, Indians and outlaws during their trek west, Jaimie and his friends faced an even rougher road competing in a black and white series against "Walt Disney's Wonderful World of Color" on NBC and "My Favorite Martian" and the first half of "The Ed Sullivan Show" on CBS. ABC finally gave up and replaced Jaimie's travels with reruns of NBC's '62-'63 modern day Western "Empire".
"The Travels of Jaimie McPheeters" was an enjoyable journey…a little something different that might have fared better in another time slot against lesser competition. After the series was canceled, Kurt Russell and Charles Bronson reprised their roles of Jaimie and Linc in the '64 theatrical movie "Guns of Diablo", an expanded color version of the series' final episode, "The Day of the Reckoning". Russ Conway appeared in the film as 'Doc' McPheeters, replacing O'Herlihy in new sequences.