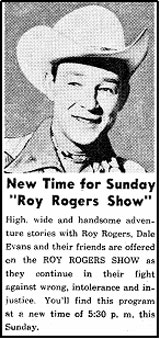 "ROY ROGERS SHOW"
The King of the Cowboys, Roy Rogers, was the last of the 'Big 4' to come to network television in late 1951. Hopalong Cassidy movies hit airwaves on NBC in 1949 (although his actual TV series didn't premiere til September '52). The Lone Ranger debuted in Sept. '49 and Gene Autry rode along in July '50. Roy's delay was due to his contract with Republic which didn't end til May 27, 1951.
Actually, Roy wanted to do Republic features and produce his own TV series, as had rival Autry. But unlike Gene, who was producing his own films for release through Columbia, Roy was under contract to Herbert J. Yates at Republic. Roy refused to sign a new deal without the right to do television. At the same time, Yates decided to sell his backlog of Rogers films to TV. Roy sought and was granted a temporary restraining order forbidding Republic from doing so, claiming exclusive commercial rights to his name and likeness. This meant the matter would have to be settled in court.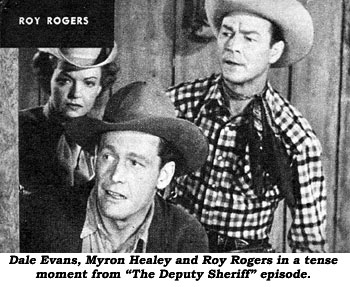 Quaker Oats refused to renew Roy's radio contract because of the possibility of the old films being on TV. For the same reason, Quaker wasn't interested in a TV sponsorship. Roy was also fearful of his old films being cluttered with cigarette or other distasteful ads. Not wanting to wait for a court decision—and feeling assured the court would uphold his position—Roy Rogers Enterprises moved ahead on July 1 with production of four half hour telefilms. Thankfully, NBC had the foresight and confidence in Roy to advance him $100,000 for these four half-hour TV productions.
Putting time constraints on production of these episodes was the fact a deal had jelled, under Roy's new independent status, for Roy to co-star with Bob Hope at Paramount in "Son of Paleface" commencing August 1.
Throughout July, Roy and Dale were up at 5am ready to start work on location, often at Big Bear Lake, by 7. Because time and money were strictly budgeted, they often worked til 9 or 10 at night. Meanwhile, manager Art Rush and vice president of RR Enterprises, Larry Kent, continued to seek a sponsor for the soon to be NBC series. A 30 min. sales presentation film, "Presenting Roy Rogers, King of the Cowboys", was hurriedly put together for screening to prospective sponsor General Foods, who agreed to sponsorship—providing Roy won his court case over Republic.
Roy's Frontiers Inc. company managed to finish its four films in time for Roy to check in at Paramount on time for work on "Son of Paleface". During his "free" time, Roy and Art Rush combed 12 years of records and statistics in preparation for trial testimony and gave 300 pages of deposition.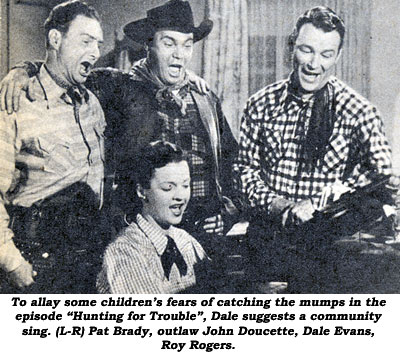 The trial opened 9/14/51. During the trial Roy commuted between courtroom and Paramount movie set. The judge heard testimony for four and a half weeks and finally, on 10/18/51, handed down a ruling granting a permanent injunction restraining Republic from selling Roy's old films to TV, holding that Roy had the right to control the association with his name linked to any commercial advertising. Republic eventually appealed the ruling and won on 6/4/54, but by that time, Roy's TV series was well established.
It was now autumn and "The Roy Rogers Show" was due on TV (and radio) under a dual contract between NBC and Post Cereals division of General Foods by December. Roy's production company, under the supervision of former Republic production manager Jack C. Lacey, was under the gun to begin full-fledged production. In addition to Lacey, Roy hired 35 former Republic employees…cameramen Clyde DeVinna and Joe Novak, soundman John Carter, film editor Richard Wray, etc. Even former Republic screenwriter Albert DeMond wrote (in collaboration with Ray Wilson) the first four episodes produced. (The airdates do not correspond to the order in which the shows were produced.) DeMond worked on seven serials at Republic and scripted eight of the early '40s 3 Mesquiteers epics as well as several Bob Livingston, Allan Lane, Sunset Carson, Monte Hale and Rex Allen entries. He wrote Roy's last, "Pals of the Golden West".
Another early TV script contributor was Milton M. Raison, a veteran of westerns from 1940. Raison wrote Range Busters, James Newill, Johnny Mack Brown and Buster Crabbe oaters before coming to Republic to pen a couple of the better Rex Allen pictures. Another veteran, Eric Taylor, was a steady contributor. He'd collaborated with DeMond on "Pals of the Golden West" and had earlier written many of the Ellery Queen, Universal horror ("Son of Dracula"), Crime Doctor and Dick Tracy films, as well as "Heart of the Rockies" and "South of Caliente" for Roy. Other writers were Dwight Babcock (Rocky Lane's "Savage Frontier" and several Universal horror titles); Dwight Cummins (Autry's "Strawberry Roan" and "Cowboy and the Indians") and Barry Shipman (numerous Durango Kid titles and Republic serials).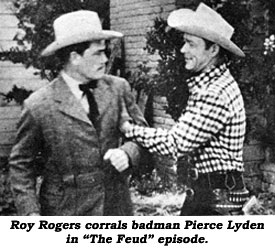 The series began under the capable directorial reins of John English, who helmed the first four produced. Does anyone need a refresher on the scores of serials as well as Mesquiteers, Barry, Elliott, Autry and Rogers westerns English directed?
Former scripter ("Dangers of the Canadian Mount-ed") and Republic production alumni, Robert G. Walker was elevated to the director's chair for the next 30 or more. (Walker later became a Christian Science Practitioner.)
Having worn Walker out, the company brought in Les Martinson who had been involved with set continuity and script supervision on early Rogers TVers; good friend of director Howard Hawks, Christian Nyby (he edited Wayne's "Red River"); George Blair (who had helmed Monte Hale and Rex Allen features) and another former script supervisor, Donald McDougall (who went on to direct many episodes of "Rawhide", "Wanted Dead or Alive" and "Bonanza").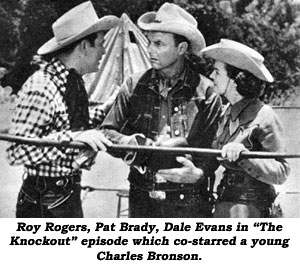 The series was set in the fictional town of Mineral City (where Dale operated the Eureka Cafe) but actually utilized many of the usual California filming locations. Roy and Dale played themselves (on Trigger and Buttermilk with German Shepherd Bullet running alongside). Their sidekick was a former member of the Sons of the Pioneers, Pat Brady, in his cantankerous jeep Nellybelle. This may be where many books assume (wrongly) the Sons of the Pioneers appeared on the series. They never did! Curiously, every now and then Pat had a horse—or mule—named Phineas. Harry Harvey Sr. was Sheriff Tom for most of the series, but when he got work elsewhere, Reed Howes stepped in.
Harvey's career ('34-'66) spanned 32 years—mostly in westerns, often as a peace officer. He died in '85 at 84. Howes began in silents in '23, becoming a leading man; turning to character and badman roles in the '30s and working steadily until the early '60s. He died in '64 at 63. Both appeared in minor roles in only a few Rogers features.
Roy and Dale introduced us in various episodes to their children…Dusty ("Junior Outlaw", "Three Masked Men"), Cheryl ("Outlaws of Paradise Valley") and Dodie ("Little Dynamite"). Roy's doubles were Joe Yrigoyen, Buff Brady, Jack Williams, Bill Catching.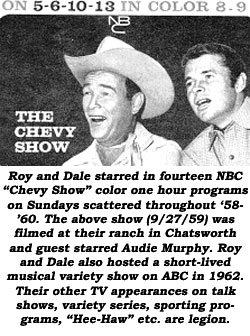 Oddly, songs (other than Dale's themesong composition "Happy Trails") were not an integral part of the series. Dale sings in "The Feud", Roy lullabyes cattle in "Empty Saddles" and they duet on "The Bible Tells Me So" in "Ginger Horse".
From 12/30/51 to 6/9/57, 100 episodes of "The Roy Rogers Show" were produced and aired on NBC Sunday evenings. Reruns on CBS and syndication continued from '58-'64, sponsored by Nestle's. Ideal Toy Co. was a co-sponsor from '61-'64.
Roy's Frontiers Inc. also produced "Brave Eagle" starring Keith Larsen ('55-'56).
As actress Claudia Barrett, who guested on three episodes, observed, the shows "always had a good moral". Something most TV series severely lack today.
---

Roy's wonder dog, Bullet Von Berge was born 11/9/49 when Roy and Dale lived on Amestoy Ave. in Encino. Bullet was light silver and black. His sire was Ch. York of San Miguel and his dame was Pogie Bait. The breeder was Earl W. Johnson, a member of the American Kennel Club who also worked animals on Roy's series.
---

Roy's first appearance on television was as a guest on "The Gabby Hayes Show" (NBC) out of New York in 1950. Roy thanked Herbert J. Yates for letting him appear. Dale sings and Trigger does tricks. (Thanx to Mike Johnson.)
---