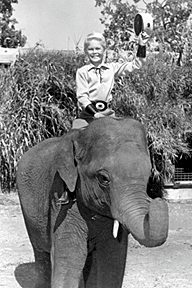 "Circus Boy"
Set in the 1890's "Circus Boy" starred tousle-haired Mickey Braddock (later Mickey Dolenz of The Monkees rock 'n' roll group) as 12 year old Corky whose parents were killed in a trapeze accident during a performance. The members of Big Tim Champion's traveling circus adopted Corky, putting him in charge of caring for baby elephant Bimbo. Mickey Dolenz, son of actor George Dolenz, was born March 9, 1945. A pupil at Eunice Knight Saunders School and a collector of stray cats, his father's agent, Mitch Hamilburg, urged Mickey to try out for "Circus Boy". He agreed and by week's end was signed to a contract by Screen Gems. Plus—"I love animals," Mickey said.
Circus owner Tim Champion was played by Robert Lowery (1913-1971) (below).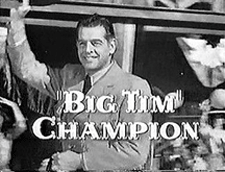 Corky's Circus pals were Joey the Clown (Noah Beery Jr., 1913-1994) (below) and Big Boy Williams (1899-1962) as Pete the roustabout (below middle). Andy Clyde was a semi-regular as tall-tale teller Colonel Jack.

Besides dealing with circus life situations, (a ferocious lion, diseases affecting animals, a wild west show star, a fearful high-dive performer, a knife thrower, aerialists, a hippopotamus, performing bear) Corky and the others became involved with gypsies, circus bandits, romantic entanglements, swindlers, a plot to assassinate President Roosevelt, treasure hunters, drought and flood, Indians, even Buffalo Bill Cody (Dick Foran). The 30 minute adventures of "Circus Boy", primarily directed by Robert G. Walker, began Sunday nights on NBC September 23, 1956 from 7:30-8pm.
Confronted with strong competition from "Jack Benny" on CBS, the Circus relocated to ABC for its second season beginning September 19, 1957 airing on Thursday evening 7:30-8. Its rivals were now the established "Sgt. Preston" on CBS and popular game show "Tic Tac Dough" on NBC. It helped that ABC brought on Disney's "Zorro" in October '57 to follow "Circus Boy", however "Circus Boy" played his last date December 12, 1957—a good run of 49 episodes.