"CHEYENNE"
When Jack L. Warner made the decision for Warner Bros. to take the plunge into television production he appointed his stepdaughter's husband, William T. Orr, as executive producer. Their first show developed was "Warner Bros. Presents" on ABC, made up of three alternating shows, "Casablanca", "King's Row" and "Cheyenne", all based loosely on WB hit films.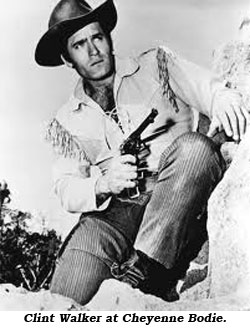 "Cheyenne" used only the title of the '47 Dennis Morgan western (later retitled "The Wyoming Kid"). "Cheyenne: Mountain Fortress" debuted on Tuesday September 20, 1955, from 7:30-8:30pm EST. It became the third "adult western" on TV following by only a couple of weeks "Gunsmoke" and "Wyatt Earp". It was also the first hour long TV western, and the stepping stone for many other one-hour westerns. It was also the single most successful program in terms of longevity that WB had in the '50s and '60s. "Cheyenne" lasted for seven years, 109 total episodes, through December 17, 1962 (with reruns through Sept. '63), but not without several changes. Incidentally, "Cheyenne" featured a memorable WB theme song with music composed by William Lava and words by Stan Jones ("Ghost Riders In the Sky").
Norman Eugene Walker (and a twin sister) were born May 30, 1927, in Hartford, IL. As he grew he worked on Mississippi riverboats and harvested farm crops, joining the Merchant Marines at 17. Returning to Illinois, he worked at a variety of jobs and was married at 21 in 1948. Moving to Texas and then California, he continued to work at a variety of jobs including a bouncer in nightclubs. Clint soon moved to Las Vegas, NV, with a job as deputy sheriff keeping the peace at the Sands and Desert Inn hotel/casinos. Several visiting celebrities, including Van Johnson, suggested he give showbiz a try.
In Hollywood, Walker took acting lessons while working again as a nightclub bouncer. He took a job at Warner Bros. as a security guard working the midnight to 8am shift. He quit and went back to work evenings as a bouncer so he would be free to go on interviews during the day. It was during that time he did a one day bit as Tarzan in "Jungle Gents" with the Bowery Boys. After that he made two screen tests at Paramount which got him the part of Captain of the Sardinian Guard in "Ten Commandments". Hal Wallis then put him under contract, and after 3 or 4 weeks, Warner Bros. bought his contract from Wallis and gave him two more screen tests, rechristened him Clint and cast him as "Cheyenne".
Of the three Warner Bros. Presents series, only "Cheyenne" survived. For the first few episodes the wandering Cheyenne Bodie had a sidekick, a government mapmaker named Smitty, played by L. Q. Jones. When the '56-'57 season rolled around the strong, silent, quiet man of action was forevermore "lonely man, Cheyenne" with no sidekick. It's now made clear Bodie was a white man raised by Indians, a blood brother to the Cheyenne, with great respect for the Indian's way of life. As Cheyenne explained in "War Party", his folks were killed in a wagon train massacre. Indians picked him up and raised him. "I lived with the Cheyenne till I was 12 years old. That's how I got my name."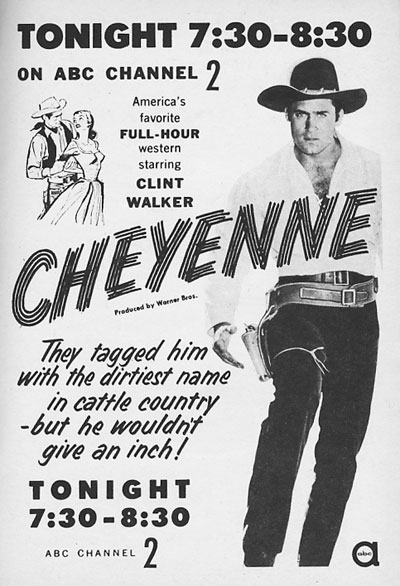 Many early episodes were reworkings of Warner Bros. movies—for instance "Mountain Fortress" was based on "Rocky Mountain"; "Argonauts" came from "Treasure of the Sierra Madre"; "Julesburg" owed much to "Colt .45"; "The Brand" borrowed from "Angels With Dirty Faces", "Test of Courage" was originally "Springfield Rifle" and "The Travelers" was "Along the Great Divide" redone.
In its second season "Cheyenne" alternated with "Conflict" which was soon canceled. For the '57-'58 season "Cheyenne" alternated with the new WB western, "Sugarfoot" with Will Hutchins. It was during this third season that problems began to arise. Ratings were excellent, merchandising and personal appearances were raking in the dough for Warner Bros. but Clint was still making $175 a week. Clint asked about promised feature films and a salary increase but WB's reply was, "But Clint you signed a contract and we have a hit series!" So, in April 1958, Clint "Cheyenne" Walker walked off the WB lot at the end of the third season, demanding a new contract that would include more money, a better deal on personal appearances, more money for reruns, more time off (only making 13 episodes a year instead of the 20 he'd made in season 3) and the freedom to do features. At first, Warner Bros. assumed Clint's walkout was temporary. When they realized it wasn't, they recast the show, still calling the series "Cheyenne" but now starring Ty Hardin as Bronco Layne. Perhaps they hoped to make Clint jealous. It didn't. Finally, with fan mail demanding the return of Clint, WB began to change their attitude and worked out their differences with Walker. Clint returned to ABC's airwaves in September '59 as a solo Monday night 7:30-8:30pm EST series (preempted every 3rd week by "Shirley Temple Specials"). During this year WB cast him in "Fort Dobbs" and "Yellowstone Kelly" feature films.
Viewers also took to "Bronco" so WB created the "Bronco"–"Sugarfoot" hour, alternating the two series. Still more changes—for the '60-'61 season, the three shows combined, alternating weeks. "Sugarfoot" ended in April '61, so during the '61-'62 season "Cheyenne" alternated with "Bronco", then returned from Sept. '62 to Dec. '62 for 13 solo episodes, followed by reruns, now on Friday nights, from April til September '63.
ABC and Warner Bros. replaced "Cheyenne" in its Monday night timeslot in Jan. '63 with "The Dakotas" (the pilot of which, "A Man Called Ragan", aired as a special episode of "Cheyenne" in April '62. As Clint's contract with WB drew to a close, they tried hard to re-sign their star. Clint turned them down and moved on to other projects such as "None But the Brave" ('65) with Frank Sinatra, "Night of the Grizzly" ('66), "The Dirty Dozen" ('67), "More Dead Than Alive" ('69), "Sam Whiskey" ('69) with Burt Reynolds, several TV movies—"Yuma" ('71), "Bounty Man" ('72) among others, and another TV series, "Kodiak" in '74, in which Clint played a member of the Alaskan State Patrol.
Clint reprised his role of Cheyenne Bodie in '91 for Kenny Rogers' "The Gambler Returns: Luck of the Draw". Today, Clint maintains an active website <www.clintwalker.com>, has convinced WB to release several volumes of "Cheyenne" on DVD, has written a novel, YAQUI GOLD, and attends film festivals when he can as he and his lovely wife Susan (whom he married on March 7, 1997) contemplate a move to Utah.
Looking back on those years, Clint told WC, "I think the most rewarding part of 'Cheyenne' is the letters and emails I receive from grandfathers and grandmothers who grew up with 'Cheyenne'. Evidently the image I portrayed had a very positive effect on their lives. Now they are very excited the complete 1st season of 'Cheyenne' will be available on DVD so they not only will enjoy seeing them again, but will be able to share them with their grandchildren. I think this is the wonderful thing about films and TV. The fact we reach people all around the world, and can have a positive effect on their lives depending on the type of films we do, and parts we portray. So it makes me feel good about 'Cheyenne' and other westerns that I've made. Bring on the heroes…we still need them."