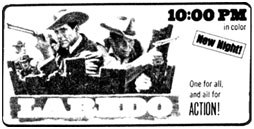 "Laredo"
"Laredo" stressed fun and bawdy humor along with excitement filled action. Centering on three Texas Rangers (four the second season) and their Captain, the one hour color series debuted Thursday night Sept. 16, 1965, on NBC from 8:30-9:30 ET. (Actually a pilot for the series, "We've Lost a Train", was aired as an episode of "The Virginian" April 21, 1965.)
Laredo, TX, was the operational base from where stern and usually exasperated Captain Edward Parmalee (Phil Carey) gave Rangers Reese Bennett (Neville Brand), Chad Cooper (Peter Brown) and Joe Riley (William Smith) their assignments. A flamboyant fourth Ranger, Erik Hunter (Robert Wolders), was added in the second season. Claude Akins portrayed Ranger Cotton Buckmeister in two first season episodes and three second season episodes. Speculation is NBC was thinking of replacing the often difficult Neville Brand with Akins. Had the series gone to a third season this might have happened, however competition from "My Three Sons" on CBS, "Bewitched" on ABC during the first season then, when NBC moved "Laredo" to Friday night 10-11 ET for its second season, competition from "12 O'clock High" on ABC and a movie on CBS, doomed the comic-flavored "Laredo" after 57 adventures.
The executive producer of "Laredo", Dick Irving, has been quoted as saying, "Neville Brand doesn't play a role, he attacks it." As rough-hewn hero Reese Bennett an unkempt 45 year old Neville growled, scratched and mugged in the mold of Wallace Beery playing it broad as a barn and subtle as a pratfall.
Boston born, nattily dressed, handsome West Point graduate Chad Cooper (Peter Brown, former star of "Lawman") and strong, ex-gunfighter Joe Riley (William Smith) were charged with keeping the somewhat dim-witted Reese Bennett on the right path, but always out-slickered their fellow ranger with practical jokes. Nevertheless, they usually kept Reese from the wrath of iron-willed Captain Parmalee.

The only Dutchman ever to be cast as a Texas Ranger, Robert Wolders as Erik Hunter (left) joined Ranger Company B in the second season as the snappiest—and most outrageous—dresser ever to be seen in a TV Western.
William Smith remembered the first time he saw Brand, "Neville looked like he'd been hit by a truck. He was half dressed. He growled and mugged and scratched himself for half an hour, but Neville was one of the most decorated war heroes (the fourth most decorated hero of WWII—ed.). In his own way he was a great guy. Neville did good fight scenes, but he couldn't ride a horse. He'd get on a horse about 20 yards away from the camera and he'd come a-runnin'. He'd get about 10 yards away in towards the camera and he'd fall on his face. I don't think he ever made one shot where he completed a ride in two years. But he was a pretty good guy and he thought he was a tough guy but he couldn't punch his way through a wet cracker. He had a little problem with alcohol. He'd come up to me and hit me about that hard (indicates very soft tap) and I'd joke, 'Oh, Neville, don't hit me no more, please.' (Laughs) I'd get him some coffee and he'd be fine. I didn't have any problem with him, but I think some of the people with the network didn't like him."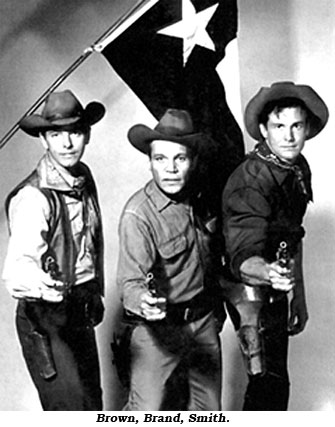 Peter Brown called Brand "blunt" and recalled one time Neville did not like an upcoming scene. "He ranted and raved about the lines, but then he did the scene. At the end of the day, he called the entire cast and crew together and apologized handsomely. But I always had Bill on my team. I wouldn't fight him with a gun at a hundred yards."
William Smith also said, "Robert Wolders was very good. Peter Brown didn't like him because he was better lookin' than he was. (Laughs) Couple of times I had to do a fight with Robert, and I might have been a little strong with him, but we got him in shape pretty soon. (Laughs) Phil Carey was a great guy to work with. He did well back in NY on a soap opera ("One Life to Live"). Peter is a better horseman than I am. He did help me ride my horse and he showed me how to draw my gun, so I have to give a lot of thanks to him."
Peter answers, "Well, Bill showed me how to arm wrestle. Bill had 18½" arms. And he taught me how to ride a hog (motorcycle)."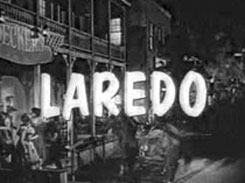 Gregg Palmer, who guested on "The Golden Trail" episode of "Laredo" (11/4/65) told WC, "I did a 'Laredo'. I did a scene and got a little applause from the crew for taking a gunshot. The crew said that's the way to take a gunshot in the gut. Offstage Neville says, 'Well, he should, he's done enough of those things.' Someone said, 'How would you know Neville? Have you ever been shot?' He says, 'Hell yes, I got shot here' and he pointed to his shoulder, 'Came out here. I got shot here, came out here,' pointing to his side. The interesting thing was, when I talked to him later, he said, 'Gregg, in the war I could smell the Krauts in the morning. I'd go on patrol down through the gully and I could just smell the sauerkraut in the morning they were cooking."
Neville Brand died of emphysema April 16, 1992, and Phil Carey passed away February 6, 2009. The depiction of the Texas Rangers bore little resemblance to reality, but it was great fun and still is where their hi-jinks on DVD are more popular today than they were over 40 years ago.