"This is the story of three men who came to be known as the Rough Riders. Many years later and half a continent away, that name was to win undying glory on the slopes of San Juan Hill. But our story is the beginning of the legend. Three men who rode roughshod through the danger and the lawlessness that was the United States in the 1860s. Three men who came to be known in awe and admiration as—The Rough Riders."
Set in 1866 following the Civil War, Kent Taylor (Capt. Jim Flagg, recently of the Army of the Potomac), Jan Merlin (Lt. Cullen Kirby, late of the Confederacy) and Peter Whitney (Union Sgt. Buck Sinclair) were ZIV-TV's "Rough Riders", described as "three men whose every path crossed adventure." And so it did every Thursday night on ABC at 9:30 Eastern for 39 episodes from 10/2/58 to 7/16/59. Syndication followed.
In its review of the show on 4/18/59, TV GUIDE said the three heroes formed a "Robin Hood triumvirate, rescuing pretty girls and routing villains. Merlin fares best…he provides romantic interest. Taylor is an old hand at derring-do. Whitney is the big, brusque sergeant, good to have on your side."
Discussing the mixed-bag outfits of the ex-soldiers, Kent Taylor told a reporter in '59, "Many of the early cowboys were wandering veterans from both sides seeking to build new lives. All they had when they started for the frontier were the clothes on their backs. As their military issue wore out, it was replaced by what was expedient and necessary."
Taylor came to California in 1930, rose to prominence at Paramount, and later freelanced, usually as the lead in B-pictures. Handsome, with a pencil thin mustache, he was perfect as TV's "Boston Blackie" ('51-'53) before joining the Rough Riders.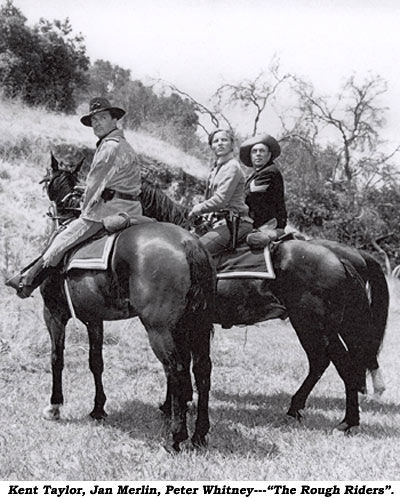 Peter Whitney migrated west with his father after the family fortune was wiped out in the depression. Pete first enrolled at an art institute but changed enrollment a year later to the Pasadena Playhouse and soon obtained a four year Warner Bros. contract. Following WWII, Peter moved strongly into TV roles.
Jan Merlin, the youngest of the three, after serving in the Navy in WWII, returned to his native New York and began appearing in plays, making his Broadway debut in "Mr. Roberts". Movies and TV followed.
Jan recalled for WC, "I had done the African movie, 'Woman and the Hunter' for producers who were working out of ZIV. That led to me being hired for various shows there. The ZIV people came up with this idea of 'The Rough Riders' and hired me for it. I believe Kent was already set. It was ostensibly to be his series. I didn't meet either he or Peter Whitney until we first went on location. We all struck up a very good friendship, kind of a bantering thing which kept up until the end of the show. We were each so completely different, there was no kind of raw edge to rub against anybody. Each guy had his own kind of slot and carried out what they did without anybody else being particularly upset about it. Kent was quiet, but a real gentleman. Peter was close to 10 years older than me, but we hit it off very well. Pete was a wonderful guy, a raconteur with stories that just didn't stop, whereas Kent said little or nothing about his past. I knew he'd had a very bad alcoholic problem at one time, but that had been resolved by the time we were working. He did not drink…he smoked but he didn't drink. He used to smoke Kent cigarettes and we were working for Old Gold. I asked him how he resolved that and he said, 'You can have mine.' (Laughs) because we'd get cartons of Old Gold from the sponsor. I was smoking then too. As for Pete, he was so massive, enormous, about 6'4". A huge, huge man. I remember the first time Pete came over to the house. I had ordinary furniture and he sat on a chair which just shattered under him! We laughed and I said, 'Why don't you sit on the couch'—and even that groaned. But we kidded about it. (Laughs) When the 'Rough Riders' was over, Pete and his wife went to Hawaii and opened a little boutique. He'd spend six months in Hawaii growing a beard and a lot of hair, then come to Hollywood and spend three months doing shows with his beard and all his hair. Then he'd get a haircut, shave off the beard and spend the other three months doing shows without all that hair. Then he'd go back to Hawaii again for six months!"
It was Jan's own idea for Lt. Kirby not to wear a hat. "I hated wearing the hat. We were filming the opening of the show with the three of us coming down the hill. Every time we'd go charging down the hill I was forever having to grab the hat to keep it from coming off! I finally said, 'What the hell do I need this thing for anyway.' So I threw it away." Although it gave Lt. Kirby a different look, Jan chortles, "Yeah, but it was done out of realness."
That opening, and much of the other location shooting, was done in Tarzana, CA, at the old Edgar Rice Burroughs estate. "We also shot in an area way past Vasquez on the way to Lancaster, before Lake Los Angeles."
"Eddie Davis directed the opening, the first show and a lot of other episodes. He was a tough little guy…like a little race track tout. He sort of talked out of the side of his mouth. I loved him dearly, because, if I did have a problem, we'd solve it instantly. He was very agreeable. Bill Witney, John English and Franklin Adreon also directed several."
"We had wonderful people on the show…Lon Chaney Jr., he kinda liked his booze; Kathleen Crowley was a very sweet girl. She had a lovely quality to her…and had kind of a sadness about her. She was really a nice, nice actress; Karen Sharpe who married director Stanley Kramer; James Coburn; Jeanette Nolan, a dear lady. One of the most talented character women I've worked with. She could play anything. She and her husband (John McIntire) were great people. She was really a powerful actress; John Vivyan, he had a very wild sense of humor. It was odd to see him playing a heavy because there was always a twinkle in his eye that gave him away."
"I had a horse named Joker on the early episodes. I liked his size; I couldn't take the big horses. Joker looked fine and ran like a bird. He'd take the bit in his teeth and go, but he was getting totally unmanageable. At one point I was supposed to jump him over the fence. I was having a rough time getting him to run in the direction I wanted. I kept complaining about him to Troy Melton, who did the stunts on the show. Troy could usually solve any problem I had. He got concerned and finally took the horse hell for leather, and the horse balked at the fence. Troy brought him back and said you gotta change the horse! I was given a totally new horse for the rest of the series."
"Troy was a good friend. After the series he owned the Playboy Bar outside Paramount. Troy generally doubled Kent and sometimes me. Bill Catching also worked on the show and one other guy I can't recall. The kid who was my stand-in was Frank Ellis (not the old time heavy—ed.) Sometimes you couldn't tell the difference between the two of us if we had our backs to you. He was a rodeo clown for many years. If Troy and Bill were involved or busy with something, they'd put Frank in and he was just fine. He was very quiet, did his job well and when the series was over, went back to Athol, Idaho."
Unfortunately, ABC never really promoted or got behind "Rough Riders". It was on too late for the type show it was (9:30pm Eastern) besides it was on opposite Tennessee Ernie Ford on NBC…in color, which was new in '58, and "Playhouse 90" on CBS. Jan recalls, "We knew it couldn't last because we had two things against us. We were getting along so well and it was a bad time slot opposite Tennessee Ernie. Later, in syndication they put us in a proper time slot around 6 or 6:30. I did a bunch of appearances (at fairs and rodeos, etc.) as Lt. Kirby but the three of us never did any together. I did a rodeo in Elko, NV, with Tom Tryon as Texas John Slaughter."
Merlin went on to play some of the nastiest heavies on screen and then turned to writing in the early '70s; a writer of novels (BROCADE) as well as earning an Emmy in '75 for his scripting on the "Another World" soap. Today, Jan is hard at work on various writing projects.
Whitney died in 1972 at only 55 of a heart attack.
Taylor was 80 when he died in '87.
A Photo Gallery of Jan Merlin and the Ladies of "Rough Riders"