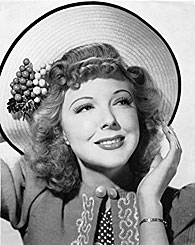 VIRGINIA VALE
One of the most popular B-Western heroines of the '40s co-starred in six B-Westerns with George O'Brien at RKO as well as a handful of shorts with Ray Whitley. By her own words, she wasn't "aggressive" enough. But she has "no regrets." Life was very good to Virginia Vale in her world of ice skating, traveling and trail riding, she was one of the most active leading ladies "in retirement."
She was born Dorothy Howe in Dallas, TX, circa 1921. "My parents were certainly not theatrical. My mother was an office manager. My father was a furniture salesman, but for some reason or other, ever since I was a little bitty tike, in Sunday school or the little private school I went to, if there was a little song to be sung, a little poem to be read, or anything appearing in front of people, I did it. Show business was sort of in my blood from the very beginning. There was a department store in Dallas that put on plays every Saturday. I was in several of those, then I was in the Dallas Little Theatre and did Ayn Rand's 'Night of January 16th'. I took some formal singing lessons. In fact, in 'Three Sons' ('39), the part I won as a result of winning Jesse Lasky's Gateway To Hollywood contest on radio, in the opening scene showing me in the movie, I'm singing."
She also sang in her 'blues' voice a few times at Paramount ('37-'39). Virginia sings in her last film with George O'Brien at RKO, "Triple Justice"…a song written especially for her. "I was in the commissary one day having lunch with the director of 'Triple Justice'. (David Howard) I said, 'I have to get going. I've got to take a voice coaching lesson.' 'Oh, you sing?' All of a sudden, they told me I was going to sing in the picture. 'Ray Whitley's going to write it for you.' I went to Ray's house and he was writing the song that day, rather a nice song. Of course, I had to fake playing the guitar. Ray Whitley wrote 'Lonely Rio' and they used that as the background music under the title. We did it in one take. It was outside the house in the moonlight, with George sitting there watching me sing. Showed the two horses sort of entwining their necks…it was fun."
While appearing in a play, "Night of January 16th" in Dallas, a Paramount talent scout spotted Virginia. "Next thing I heard, I got a letter from Paramount asking if I would like to come to Hollywood for a test, and if the test was successful, to sign a contract. I was only 16 at the time. I was thrilled to death! Mother and I both said, we've always wanted to go to California and this is our opportunity. Of course, when they signed me, I was in seventh heaven. My mother and father had divorced six or seven years earlier, so when I came out here, she quit her job and I had a little 10-dollar a week office job. I got out of high school when I was 15. I guess somebody thought I was a brain of some kind, got double promoted. You can't imagine the thrill when you realize you're going to be signed by a major studio and you're going to be in the movies. It's seventh heaven for anybody who has any sort of aspirations in the theatre world. I was at Paramount a year and a half."
Virginia was always billed under her real name, Dorothy Howe. "Of course, it's very, very disappointing when your option isn't picked up. I had some second leads and some much smaller parts, but I didn't know what I should do, whether I should go ask somebody what their plans were for me…if there was something more I could do to further my career…there you are. So I was dropped."
Virginia had "just a line or two in a nightclub in which I sang a song" with Buck Jones in "Unmarried" ('39). "He was very good in it. 'Unmarried' was a wonderful story."
When her option wasn't picked up at Paramount, Virginia's agent called to ask if she'd like to enter Lasky's Gateway to Hollywood radio contest. Usually, the contest was reserved for talent that hadn't been in films already, not people like Virginia who'd already made eight films at a major studio. "I thought so too, but I was asked if I wanted to enter, so I said, 'Certainly.' I'm sort of surprised they would have somebody who had experience in the movies. I won the first month of it…then they had the finals the 13th week and I won it. The finals were back in Des Moines." Kirby Grant won the men's division and Virginia won out over Rhonda Fleming.
Virginia smiles, "I've seen articles Rhonda has written in magazines and she's made some rather slurring remarks about 'the girl that won the competition'…but she did beautifully. I had read an interview with her in the L.A. TIMES and in this interview she said she was doing a tour of some of the defense plants and saw me with a rivet gun in a factory and that I had glanced at her and glanced away. I wouldn't know one end of a rivet gun from the other! (Laughs)" Virginia worked at Lockheed for 35 years and became private secretary to one of the chief executives. "Fleming made some comment to the effect that I played up to the producers of the radio show, this big buxom blonde. So I wrote a letter to the TIMES about all of this with replies to her various comments. This appeared in the same newspaper, same section, two or three weeks later and it said Virginia Vale is alive and well. They printed most of my response to her comments. Then, I saw something again, about eight or nine years later, where she had made some of these same type comments. I thought, 'I'm going to write the editor of the magazine,' but then I thought, 'Oh, let it drop. That's in the past.' I had no grudge with her, but she obviously had one…well, that's all water under the bridge."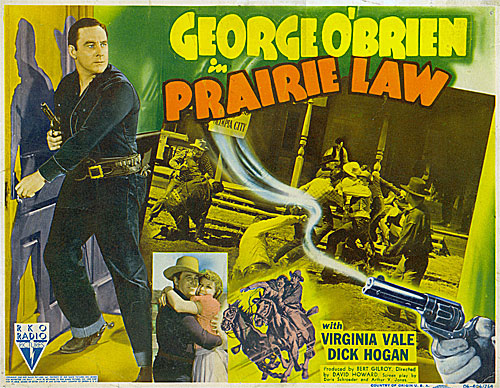 With the winning of the contest came the name Virginia Vale. Gale Storm was another Jesse Lasky contest winner. "I got pretty well acquainted with Josephine Cottle (Gale Storm) and her husband Lee Bonnell. In fact, when I was with RKO he was signed too. He won the same time Gale won. Gale is a fun gal. Very talented."
At RKO Virginia was cast as George O'Brien's B-Western leading lady. "They were so much fun to make. I enjoyed every minute of them. Most took six or seven days to shoot. Of course, if there was a big barroom brawl or something, that would take a whole day. George was just a gem of a fellow. I thought he was just wonderful. Long after the pictures, after I'd been at Lockheed quite a few years, a fellow in the office who was a member of the Navy Club, which George was a member of, said, 'I'm going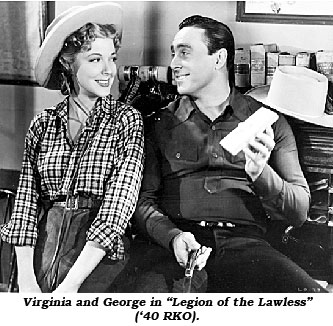 to see George at lunch. I'll tell him I saw you.' This fellow and his wife were into Amway sales, and he came to me one day and said, 'George is coming to my house tomorrow night, we're having an Amway meeting. I thought maybe you might like to come see him again.' It really was quite exciting to see him again. This would have been 15 years later, or more, maybe 20. We had quite a conversation, reminisced and everything. I really put my foot in it. I said, 'You know, George, I really had a crush on you.' He said, 'I knew it.' And I said, 'Oh, you didn't. Am I embarrassed.' He said, 'No, I knew it.' George was really a very, very good actor. In most of his films, unless the scene is really serious, he played it lightly with a twinkle in his eye. Did you ever notice he hardly ever just walked out of a scene? He usually finished it with a gesture, a look, or a throw-away line, all of which were probably his idea and not in the script or suggested by the director."
Virginia believes, "I have no real information, but I think RKO knew maybe half way through this series of six they were going to drop George. After all, he was 40 or 41 years old. He still had a wonderful physique, but he was no longer really slim and young, the way most of the cowboy stars were at that time. That might be one reason why, at the end of the six pictures, George and I got married in 'Triple Justice'. You know, closing it out."
Director David Howard, for Virginia's first Western, "Marshal of Mesa City", used the actual sound track when Virginia and George were riding, so it would sound more natural, rather than looping it in later as was usually done. "When George and I were riding alongside each other, those were the actual lines we spoke. If you'll remember, they weren't long shots, they were fairly close shots, so we were actually speaking the lines and they used it. I didn't really know how to ride western at that time. I knew how to ride English very well, but here I was in this big skirt, astride the horse, so the bouncing didn't show. I started posting, as you do in English, on the saddle to keep me from bouncing so much. After that picture RKO sent me out to Fat Jones barn to learn how to ride western. In 'Legion of the Lawless' my horse had to do a little bucking and they used a double. I think I could have held on."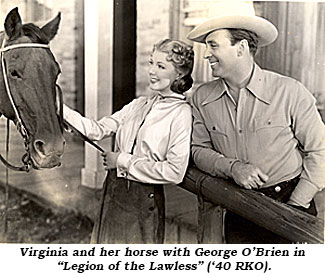 David Howard directed five of the six O'Brien westerns Virginia co-starred in. "He was a very kind man. Very patient. Of course, his main concern was George, the star. He was a very soft spoken man…in fact, I don't remember anybody connected with any of the Westerns who was not soft spoken. Everybody was just polite. I swear once in a while myself, but I don't ever recall anybody connected with those films even saying damn."
Virginia and I then talked about some of the actors in her westerns. Slim Whitaker? "Another very fine man. I think he was in nearly every picture. Anything but slim, but he always played his character very well." Henry Brandon? "He was such a good actor. Another soft spoken man." Harry Woods? "What a meanie he would be. Always after the girl or after the mine or after something. Very good." Spade Cooley? "I don't remember him as a person but I remember his group being in one of the Whitley shorts. He played down at the Santa Monica Ballroom."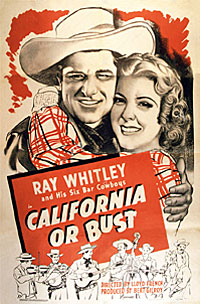 Virginia co-starred in eight Wwestern shorts with Ray Whitley. "He was the nicest guy, just a charmer. Perfect gentleman."
Virginia only made one B-Western with Tim Holt, who replaced O'Brien in RKO's series Westerns. "We probably only worked together no more than five or six hours, so I didn't know Tim at all. I don't think we really 'clicked' together. The girl's part in 'Robbers of the Range' was not very important."
"All the pictures were fun… I grew to like horses and always liked to do a little riding. My favorite of all the Westerns was 'Stage to Chino'. It had a pretty good script. I was sort of important to the story. It gave me a little more to do and had a little more acting ability required. Another thing about it…I had always worn clothes from wardrobe. I don't think anything new had ever been made for me, but…I thought, I'd like some new western clothes. So I asked the producer, 'Can I design some clothes, get the fabric for them, get something new?' They let me and I went out to the department stores, bought the fabric and took my sketches and the fabric to the wardrobe department and they made them. I designed all my clothes for 'Stage to Chino'. They were reused, I've seen them time and time again, in Westerns."
Speaking of "Stage to Chino", Virginia says although she didn't actually drive the stage in the excellently filmed stagecoach race at the end of the film, "There was a driver down below," she asserts George (then 40 years old), not a stuntman, did do the daring stage to stage transfer. "I never saw him use a double. He was a superb athlete and very strong. He picked me up like I was a feather."
In most viewer's estimation, Virginia should have had a longer, fuller and richer career. She reflected on that for us. "I never played the Hollywood 'game'. I'd always led a very sheltered life. I was young, if you consider 17, 18, 19, 20 young. And I do. As far as big parties, celebrations and things like that, I only went to maybe four or five when I was in the industry. It was my own fault because, as the career went on, I was never aggressive. I never asked the studio if they had any plans for me. I never made any effort to get something. When I first started in the business, I was always told, let your agent do the whole thing. So, that's what I did. I didn't really strive for things 'cause I thought, 'My agent knows what's going on and if there's anything for me, he'll get it.' But, I've decided that's the main reason why I didn't go any further than I did. The last year I remained in the business, I only worked three weeks. I don't even remember now what they were. I just decided, well, you're broke, you're going to refresh your shorthand and typing and you're going to get a job. So I did. I just wasn't going to sit around and wait. I didn't know how to approach the studio, I didn't know how to approach anybody about work. I just figured, 'This is not for me, so I'll say goodbye to the industry.' I didn't want the struggle. I knew I could make a living doing something else. I'm a practical person. I wasn't going to be another Bette Davis, another Betty Grable or another Joan Crawford. I just faced the facts of life and went about my business, but oh, I did love it! But I was very independent. I've made my own way since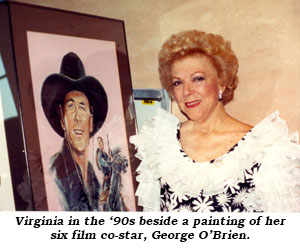 I got out of high school. When I quit the industry, it was a clean cut. I didn't think anything more about it and I went on about other things. When I was still in pictures, I became involved in figure skating and did an awful lot of figure skating judging. Then two days a week, I did something for somebody else, I drove Meals On Wheels. I played bridge and I went on livestock moves, taking about a hundred head in the Spring from the Owens Valley in California, ninety-some miles up into the High Sierra for their summer trail rides. Then, in September, we brought all the head down. Sometimes they have a full list of guests, 25 people. It's quite a thing. I have no regrets at all."

Our Virginia died at 86 on September 14, 2006 in L.A.
Virginia's Western Filmography
---
Movies: Marshal of Mesa City ('39 RKO)—George O'Brien; Bullet Code ('40 RKO)—George O'Brien; Corralling A School Marm ('40 RKO)—Ray Whitley; Legion of the Lawless ('40 RKO)—George O'Brien; Prairie Law ('40 RKO)—George O'Brien; Stage to Chino ('40 RKO)—George O'Brien; Triple Justice ('40 RKO)—George O'Brien; California or Bust ('41 RKO)—Ray Whitley; Musical Bandit ('41 RKO)—Ray Whitley; Prairie Spooners ('41 RKO)—Ray Whitley; Redskins and Redheads ('41 RKO)—Ray Whitley; Robbers of the Range ('41 RKO)—Tim Holt; Cactus Capers ('42 RKO)—Ray Whitley; Keep Shooting ('42 RKO)—Ray Whitley; Range Rhythm ('42 RKO)—Ray Whitley.