Pauline Moore

Pauline Moore was born Pauline Joless Love June 17, 1914, in Philadelphia, her father died during World War I. She took her stepfather's name after his 1925 marriage to her mother. Wanting to be an actress since childhood, Pauline racked up many stage plays at a young age. "I, very early, took elocution lessons, so by the time I was four I knew miles and miles of dramatic poems and recitations. I sold Liberty Bonds during the first World War. In the city hall at Philadelphia I sang, 'Bring Back My Daddy To Me' and songs about the flag. So I just grew up always expecting to be an actress."
"My father wanted me to go to college and dramatic arts school but I had an opportunity to go with a stock company in Pennsylvania and New Jersey. I went to New York City and through a letter to Carl Laemmle (head of Universal), at seventeen, Universal signed me to a contract in 1931." That contract led to her being cast in 1931's classic "Frankenstein." "I was only in California for three months. I went over to the 'Frankenstein' set, talking to various people, when the director, James Whale, asked me if I would be a bridesmaid. It was that simple! Boris Karloff would sneak up behind a visitor on the set—like me—and would grunt or groan. When the person turned around, there was invariably a scream! (Laughs) He would then laugh! I was on the picture for three or four days. One time, a klieg light nearly fell on Colin Clive and me. If Colin hadn't pulled me into a doorway, we both would have been crushed!"
Pauline's tenure at Universal was brief. "My stepfather wrote the studio, asking for my release—and they granted it! But, I went to Broadway. In those days, if you were on Broadway, you could always get in a picture; if you were in pictures, you could always do a Broadway show. I got a job in the last show Floren Ziegfeld did, a musical with Buddy Rogers, Bert Lahr and Lupe Velez."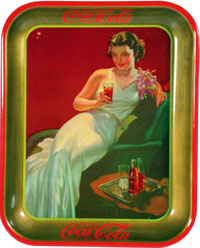 In between plays, Pauline did photographic modeling for commercial advertising or illustrations posing for artists. "I was on the cover of LADIES HOME JOURNAL, McCALLS and COSMOPOLITAN in the days when it was a different kind of magazine than it is now." Pauline graces one of the most collectible of Coca Cola trays. "It was 1934—I was working on Broadway, including playing the ingenue lead in the last show Earl Carroll did, 'Murder at the Vanities'. But I soon learned when you weren't working in a show, you still had to pay the rent. So, I registered with a modeling agency. They sent me to an artist—whose name I cannot remember. I worked for him for a week. He did several paintings of me. He later sold one to Coca Cola. I didn't know about it for years. They put his painting on those trays and used it, apparently, in various other places."
"Through modeling, I met my husband, Jefferson Machamer, in New York in 1932 just after my 18th birthday. He did cartoons, illustrations and ads for magazines like SATURDAY EVENING POST and later LIFE. We married in 1934 and in 1936, my daughter Laurie was born."
In 1936, Pauline Moore attracted the heads of 20th Century-Fox, where she was placed under contract, playing in pictures with everybody from Shirley Temple ("she worked like an adult with patience and stamina") and Jane Withers ("she was a very dear, natural child who remained a child—she was playing between takes") to the Ritz Brothers in "The Three Musketeers" ('39). "Another actress had the part of Lady Constance, but Don Ameche had had an appendectomy and had to lift her, so they took her out and put me in, because I was smaller and lighter. (Laughs) During 'Heidi' ('37) I was pregnant and the studio didn't know. They kept putting off my scenes. I was getting bigger and bigger til I almost didn't make it." Other superstars she worked with at Fox include Loretta Young ("a charming woman, a real person and a beautiful actress"), Tyrone Power ("I didn't get to know him too well—he was just beginning"), both

Charlie Chans ("Warner Oland and Sidney Toler were both gentlemen") and Joel McCrea. "I had a teenage crush on Joel McCrea—I read about him in all the movie magazines. When we did 'Three Blind Mice' ('38), he was so nice; so kind. My second daughter was six weeks old. His wife, Frances Dee, told him that I should always have a chair to sit in—that she once worked on a picture when her son was six weeks old, and she knew how tiring it could be." Future B-western star Allan Lane was with her in "Charlie Chan at the Olympics" ('37). "Allan had been a model in between shows in New York. He was a nice young man." Before leaving Fox, Pauline was cast as Ann Rutledge in "Young Mr. Lincoln" ('39) with Henry Fonda. "I saw him for two or three hours—my part was that small!"
It was at this time Pauline heard there was an opening for a leading lady at Republic. "They knew I had been in Westerns at Fox and they knew about my theater background. I was told the studio had several girls, but none had my training. Actually, I should have gone back to Broadway, but that would have meant taking my two little girls and being away from my husband." Pauline had never heard of Roy Rogers when given the leading lady role in "Days of Jesse James" ('39). "That was because he was new. They knew if Roy blew his lines, I wouldn't, whereas one of those other girls would probably flub whenever Roy didn't! The first time I worked with Roy was a scene on the steps of a home. He was to come charging up on Trigger then rear up right in my face. It was all I could do to keep from cutting and running. (Laughs) But I enjoyed making Westerns, so it was fun for me. My husband, however, objected to my working at what he called a 'crummy studio' and he refused to drive me. So, I had to get myself a car and drive myself over the hill into the valley each day! I never did meet Herbert Yates (head of Republic). And I was never under contract. My private life, my family life, my personal life was in upheaval when I was working. My husband, who was a great deal older than I, did not like to go out and socialize. He'd done all that back in New York before we married. He had friends in the business, but other than my uneventful working days, I didn't get to see these people in the evening, so I don't have stories about Robert Livingston, Bob Steele and others. I didn't get to really know them. I just went from picture to picture until late in '41, when I told them I had promised to take my children to visit my mother back east. I had promised my mother, and had been putting it off eight or nine months. I kept getting pictures. 'We've got something else for you, they'd say.' They explained they'd have to get another girl, which is what happened, so I never worked at Republic again."
Pauline Moore can sing, but never did sing in pictures. "I was always dubbed. People don't seem to understand that the music and songs are recorded before they start the picture. Then a huge machine is on the set, and the prerecorded music is played while singers and musicians lip-sync to it. So, that is not my singing in 'The Three Musketeers' ('39) because I wasn't originally supposed to be in the picture. (Nor her voice in Roy Rogers' "Carson City Kid" ['40]) Actually, I only sing at church. I never sang in any pictures—someone else's voice was always used, so there was never any thought of a duet between Roy Rogers and myself."
Roy and Pauline made five pictures together. "I had no business sense, but Roy sure did. He was so very friendly to everybody. I got to know Roy very well. He was still new, still quite shy. The director, Joseph Kane, was very helpful; a very nice man. But my husband didn't want to socialize, so we didn't—a mistake for a picture career, but he seemed dead-set against my career. I was most happy working." According to Republic files, Pauline was being paid about $300 per film.
When asked about Don Barry ("Days of Jesse James"), Pauline only says, "At the time, he was gentlemanly and very nice to me. But I remember Gabby Hayes much better! Gabby was charming! When he wasn't working, he would visit the set but he would have his teeth in his mouth and he was dressed in smart clothes. A gentleman…a gentle man!"
Pauline did several Westerns, but was hardly on a horse. "When I started doing Westerns I learned how, because I thought I would have to know. Usually, the stunt girls—and I never saw them—did the riding, but on one picture, I'm on a wagon and Roy jumps on ("Young Buffalo Bill" ['40]). Stunt people did the hard part—the long shots. But when it came time for the close-ups, and dialogue like, 'What are you doing?', I was breathless! They put me in a wagon when those horses were still steamed up. I had to do it under the microphones! They did put a truck across the road in case the horses got away! So, to answer any questions, I could ride, but seldom did. There was one picture, where the bad guy tried to grab me off the wagon. Well, he couldn't ride a horse, and we had trouble out of this. (Probably "Colorado" as Milburn Stone grabs her as she departs a stage). Again, the doubles did the long shots, and in the close-ups the camera had to come closer than intended, so someone could boost me from below as this guy couldn't lift me up any better than he could ride. (Laughs)" Being 5'6" and asked about her many experiences with smallish leading men, she is quick to point out, "I got used to them standing on a box in front of me! (Laughs)"
In "The Trail Blazers" ('40) with the Three Mesquiteers, Pauline has lots of scenes with a baby. "I told the director no mother would go away and leave the baby in the basket on the table. He told me, 'You do it anyway,' Luckily, a man under the table caught the baby as it was about to fall off!".
"King of the Texas Rangers" ('41) was an excellent serial in which Pauline starred with football great Slingin' Sammy Baugh. "I wasn't a football fan. I had never heard of Sammy before we did the serial. But I do remember working on it very well. The only thing they asked me when I interviewed for the part was, 'Can you run in high heels?' (Laughs) I recall trying to climb up a rope ladder in high heels while a huge wind fan was blowing on me, and of course jumping out of a wagon and rolling down the hill. That was lots of fun (Laughs). The only really scary part occurred when Duncan Renaldo and I were in the river. For those scenes, they took us outside of Los Angeles where there was a dam. (Lake Sherwood and on top of the cliff next to Lake Sherwood Dam.) Then they put the camera out in the middle of the dam and had us swim parallel to it. One of the grips shot marbles at us (standing in for gunshots); whenever we saw a splash we were supposed to dive under the water. I'm not all that great a swimmer, so for much of the sequence I was allowed to remove my heavy cowboy boots, I had on black socks so nobody really noticed. However, for those scenes of us scrambling to shore I had to have the boots on and it created a real problem. They began the take when I was about ten feet from the bank. Right away I was in trouble. I couldn't get my feet up, so I started to sink. Eventually, as I was going down for what seemed like the third time, one of the grips jumped in and pulled me out. I was so tired I slept all the way back to Hollywood on the studio bus. Sammy Baugh was a gentleman and very easy to work with. I thought he was most impressive, considering this was his first time in front of a camera."
In 1941 Pauline went east with her daughters to visit her mother in North Carolina. "Pearl Harbor occurred when we were back east, and my husband wanted us to get a farm and settle down back there, which we did for two or three years. When we returned to California, I was into religious activities and didn't go back to films until later. My husband was against my career, so I had to endure that in addition to any struggles with the career."
In the mid '50s, Pauline decided to give acting another try. "By then, I had lost my contacts and my confidence. I did do several TV shows, including a 'Death Valley Days,' as well as a few commercials (and unbilled bits in Rod Cameron's "Spoilers of the Forest" and "Showdown at Abilene" with Jock Mahoney). With the handicap of my husband being against my career, it was just too much. (Machamer died in '60; she married Dodd Watkins in '61 and was widowed again in '71.) Mainly, I concentrated on my family and worked in the religious area. I wrote half a dozen Biblical playlets, including 'The Seamless Robe'. During Christmas, 1999, I went up to my son's, and at the church, I did my 'Mary's Story,' about the life of Jesus through the mother's point of view. I hadn't done it in three years. I told my son I couldn't remember it anymore. But he encouraged me to do it. They wanted me back for Easter, and I agreed!" "Looking back, I'm glad I was part of something that has given a lot of pleasure to a lot of people."
At 87, Pauline died of ALS on December 7, 2001, at her home in Sequim, WA.
Pauline's Western Filmography
---
Movies: Wagon Wheels ('34 Paramount)—Randolph Scott; Wild and Woolly ('37 20th Century Fox)—Jane Withers; Arizona Wildcat ('38 20th Century Fox)—Jane Withers; Days of Jesse James ('39 Republic)—Roy Rogers; Carson City Kid ('40 Republic)—Roy Rogers; Colorado ('40 Republic)—Roy Rogers; Trail Blazers ('40 Republic)—3 Mesquiteers; Young Buffalo Bill ('40 Republic)—Roy Rogers; Arkansas Judge ('41 Republic)—Weaver Brothers & Elviry, Roy Rogers; Showdown at Ablilene
('56 Universal)—Jock Mahoney; Spoilers of the Forest ('57 Republic)—Rod Cameron.
Serial: King of the Texas Rangers ('41 Republic)—Sammy Baugh.
Television: Death Valley Days: Jimmy Dayton's Treasure ('54).