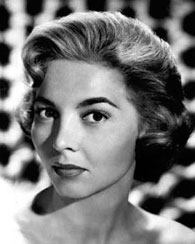 She's frank, intense, self-driven and the female personification of the independent woman. For the prefect portrait of Beverly Garland, watch her excellent work in the "Laramie" episode, "Saddle and Spur" ('60).
The harried heroine and star of many cult horror films of the 1950s and over 40 movie and TV westerns, was an only child born Beverly Lucy Fessenden one October 17. "An actress never reveals her true age," she laughs in her typical rollicking, bawdy fashion. Beverly was born in Santa Cruz, California, "where my parents were visiting friends. There was an earthquake and I arrived early! My mother told the doctor to take me away, that I wasn't her child—her doctor had told her she would have a son, not a daughter. They finally assured her I was indeed her child and I hadn't gotten mixed up with one of the other new-borns! (Laughs)"
Beverly grew up in Glendale, California, but moved to Arizona during her high school years. "My mother and I both had horses, so I learned to ride. But riding for pleasure is different than riding in pictures—with the galloping and stunts they make you do. My movies were too cheap to hire a stunt girl, so I had to do them myself!"
The family moved back to California where Beverly attended Glendale City College. "I did summer stock at Laguna where Ray Cooper, an agent-friend of my parents, spotted me and wanted to sign me. He got me an interview for 'DOA' ('49). I met the director, Rudolph Maté, and tested. They liked what they saw and I got the part. It was that easy!"
However, "D.O.A." nearly put a stop to Beverly's blossoming career. When a reporter interviewed her and asked if she thought the picture would win an Academy Award, she expressed a frank opinion that there were "a lot of good pictures out." The producer, hearing the candid remark as flippant disloyalty, officially blacklisted her for the next couple of years. "I was a waitress and I worked in the dead letter office at Forest Lawn." Again the hearty laugh. Characteristically, her natural self-determination eventually came through and when she received an Emmy nomination for her "Medic" episode, "White Is the Color" ('54) where she played a pregnant leukemia victim, her presence was suddenly much in demand.
As for her name change, "I didn't think Fessenden was a good name for the marquee, so I took a family name of Campbell. I used that name on an 'I Married Joan' (1952-1955), a 'Lone Ranger' (in '50) and other early TV shows."
Beverly was given the dreaded line in that 'Lone Ranger' episode. "I played the mother of a young child who asks me at the end of the show, 'Who was that masked man?' and I said, 'He's the Lone Ranger.' They said, 'No, you have to say it, 'He's the Lone Ranger!' So, I did it again, saying, 'He's the Lone Ranger.' Again they didn't like it. So I said—practically screaming, 'He's the LONE RANGER!' (Laughs) Clayton Moore, by the way, was such a nice guy—and good looking, too."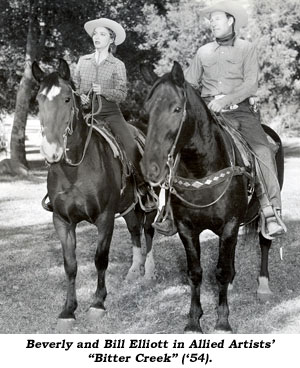 Beverly's first feature Western was "Bitter Creek" ('54) with Wild Bill Elliott. "I liked Bill Elliott. He was a very stiff actor; he never really changed his expression. But that was what they wanted in those days! Bill was a very big man who said very little. He was silent, big and quiet."
By this time she was acting under the name Beverly Garland. "I married Richard Garland, an actor, and used his last name—Garland is also another family name, and I liked it. We met doing a play at the Hollywood Players Ring Theater, 'Dark of the Moon.' We were married for four years. He was drinking more and more and we eventually divorced (in '53) when he had an affair with my best friend. My career was going great—I won an Emmy for the pilot episode of 'Medic' with Richard Boone and Lee Marvin. Because I had gotten a lot of publicity out of the name Beverly Garland, I didn't want to change it when we divorced."
"Later ('60), I met and married builder-developer Fillmore Crank, whose wife was killed in a car wreck. He had two children, Fillmore Jr. and Kathleen, who works in my hotel. (Beverly Garland's 255 room Holiday Inn on Vineland Avenue in North Hollywood.) In 1964, Fillmore and I had a daughter, Carrington, and in 1968 we had a son, James. Fillmore died the last of March 1999, primarily of cancer. He was sick only two weeks!"
The typically strong, independent women she plays on screen are, Beverly reveals, "like me. I can't play a wallflower; a clinging vine. I am a strong woman—not namby-pamby. In fact, because of the roles I often played, my agent didn't want to send me on the interview for Fred MacMurray's wife in 'My Three Sons' (Beverly joined the cast from 1969-1972). He said, 'You've played alcoholics, sheriffs, tough broads, and you are not known for the typical housewife type.' I convinced him to at least send me, and I got the part! I went in, wearing a June Allyson-like dress with a Peter Pan circular collar. (Laughs) The first show I did, Fred was teaching me to play golf. He said something to me and I barked back—in a Mary Tyler Moore to Dick Van Dyke kind of way—and they said, 'No. You cannot talk to him that way.' So, I had to shoot it over, saying the lines more softly! (Laughs)" June Haver, Mrs. MacMurray, "was on the set only once—during the wedding scene—otherwise, she never came."
In 1954 Beverly played in two Westerns, "Desperado" and "Two Guns and a Badge", with Wayne Morris. "I also was replaced (by Virginia Grey) in a movie called 'Fighting Lawman' with Wayne. In that one, they wanted to shoot the last scene first, where I am supposed to gallop a horse as fast as I can, ride up to the rocks, get my rifle up, shoot the bad guy. I started to get on the horse and they said, 'That's the wrong side. Get on the other side.' So, I got on the horse, and it took off—over hill and dale. I was hanging onto the horn! I now saw why they put the horns on saddles! (Laughs) Finally, the horse came back. By now, I was scared and had shaky legs. I tried it again but my hat fell off. So we had to try and do it again. I got on the horse, rode and bent down to pick up the rifle, which I was supposed to shoot! Nothing went right. The horse was looking at me, wondering who this was on its back. That horse couldn't believe I was in this movie (Laughs). The next time I tried it, instead of leaning to the side to pick up the rifle, I leaned forward—the horse threw his head back and did a belly laugh—and you could hear the crack! My nose was broken in three places. I got off the horse and they told me, 'Goodbye.' You had to do your own riding and I just couldn't do it right, at the time." As for Wayne Morris, "He was no longer a star. This was not Warner Bros.! He was nice, but heavy. He had to have a box to get on his horse! I didn't hang around with him so I didn't know about his drinking—but from his being puffy, I certainly suspected it."
In the Roger Corman produced and directed "Gunslinger" ('56), "I played a sheriff—and had to do all the stunt work. I go into a bar to clean up the town. I have a hair pulling fistfight with a madame (Allison Hayes). We did it inside, the last day of shooting. The following scene, however, was shot the day before. You see me running out of a building, leap onto a horse and ride out of town. I'm supposed to come down as fast as I can and get on this horse. 'Think high, think high.' (Laughs) Well, I really twisted my ankle coming down the stairs. At home, I took off my levis and boots. I put my leg in hot water, and it felt wonderful. The next day, it was three times its normal size! I couldn't walk on it! I called my boyfriend and asked him to get me to work. He told me to stay at home, but you can't stay at home, you have to go in, then you can go back home if the studio lets you! Otherwise, you're in big trouble! I told Roger, 'I can't do the stunts today.' Within one hour, a 'doctor' comes in with a big needle. He gives me five shots in my ankle. Wardrobe cut the levis and boot to get the foot in them. It felt great—but they practically ruined my leg! I didn't walk for three months after that—but Roger always came through! But they got the stunt of my fighting with the madame!" (Laughs)"
"We made 'Gunslinger' at Jack Ingram's location ranch. Very cold and very rainy. John Ireland and I have our only love scene up in a old, twisted tree, thank you Roger Corman, and the tree was the home of these very large ants. At 6 AM they were just getting up and they really resented the two of us who were sitting up in the branches trying to do this bloody love scene—going, 'Ouch'—being bitten alive. It was ridiculous! Also we had a wonderful dressing room. It was a shed with a dirt floor. Roger finally got us a little heater in there because we were freezing to death. Still more—beautiful Allison Hayes is riding up in the middle of town with John Ireland. The horses are stopped and we're talking about whether we should go to lunch or not. All of a sudden, Allison just collapses off her horse, right down on the ground and breaks her arm. I think because she really wanted to get off this terrible movie. Roger says, 'It's okay, Allison. We'll just bind it up and we'll film you so nobody knows your arm is broken.' So she went through the rest of the movie with a broken arm. (Laughs)"
I asked if she and Roger Corman were an item. "No. We went out to dinner a few times and became good friends. He even wanted to put me under contract, but I rejected the offer. Roger Corman is a very innovative man."
In 1999, Beverly attended the Memphis Film Festival along with Rex Reason, her leading man in "Badlands of Montana" ('57). "Rex looked wonderful! It was fun to see him again. He is a cute guy!"
Beverly's leading men in movies and the TV Western series she guested on reads like a laundry list of who's who in westerns. Richard Boone, her "Medic" co-star and star of "Have Gun Will Travel". "Richard Boone was such a good actor—a special man. Just wonderful. He was not good looking, he had bad skin and was very homely—but a brilliant actor. I was also called a good luck charm for 'pilots' as I did several, in addition to 'Medic,' which eventually sold!"
"The Saga of Hemp Brown" ('58) and Rory Calhoun: "What an adorable guy—such a cutie. I couldn't keep my eyes off him! Yvette Vickers, who had a tiny role, also had a small part in the play 'Dark of the Moon.' When we did 'Hemp,' she had a wonderful figure."
"Curucu, Beast of the Amazon," ('56) a non-western, starred John Bromfield (later the star of "U.S. Marshal". "I had never met John Bromfield before, and I haven't seen him since. He's a terribly handsome man. He didn't care if he acted or not—he wanted to go fishing! Which is probably what he's doing these days. John was just a love; a very handsome, good looking guy. Curt Siodmak, the director, could speak German, English, whatever. But John and I could only speak English. The rest of the cast spoke either Portuguese or German, whichever!"

Dick Powell: "Dick Powell could do anything! He was brilliant! And he had a good deal of charm."
Guy Madison on a "Zane Grey Theatre": "Frankly, I don't recall much about him. He didn't impress."
Robert Loggia: "We did the Disney thing "Nine Lives of Elfego Baca"; he was wonderful. Quiet; very intelligent. He had a lot of pizzazz."
Tom Tryon ("Texas John Slaughter"): "He became a successful novelist—a good one—and was very handsome."
Jock Mahoney: "Jocko was a close friend; I knew him when he was still a stuntman. We did 'Yancy Derringer' together. He was one of my favorite people."
Clint Eastwood ("Rawhide"): "He was quiet; didn't say much; but even then, he had a presence."
Eric Fleming ("Rawhide"): "We did 'Happy Birthday' on the road with Miriam Hopkins. He was heavy then and was dieting. He always ate scrambled eggs and tomatoes! When we later did 'Rawhide,' he looked great! Eric never wore shoes! He wore them when he worked, of course (Laughs). He was very spiritual."
Robert Culp ("Trackdown"): "I am not mad for him! It was awful for me to work with him. He didn't give me anything. Very selfish. I can't work with someone who doesn't give something back. I need feedback for me to do my work. I was out on a limb. If you don't get something, you can't give something back. I don't know about others, but Robert Culp just didn't give me anything!"
Steve McQueen ("Wanted Dead or Alive"): "I didn't do much with him, and I never witnessed, first hand, some of the wild stories that other people relate!"
Darren McGavin ("Riverboat"): "A wonderful actor, very giving."
Dale Robertson ("Tales of Wells Fargo"): "We got along great; everything was great; I like him very much."
Wayne Rogers ("Stagecoach West"): "A sweetie."
Jack Elam ("The Dakotas"): A good friend, a long-time friend!"
James Arness ("Gunsmoke"): "A favorite person of mine."
Neville Brand (Laredo"): "We did a lot of stuff together, including a picture in Japan. I stayed home and he went out with the girls; then at three or four in the morning, he would tell me all about them. What a drinker!"
Robert Horton ("A Man Called Shenandoah"): "We are still good friends. I talk to him at least once a week. His wife Marilyn is an incredibly wonderful girl. They live in George Montgomery's house which he built when he was married to Dinah Shore."
Lloyd Bridges ("The Loner"): "Always a favorite."
David Carradine: "We did 'Kung Fu' in '75. I remember his lying down in the middle of a street. I was not close to him! (Laughs)"
Robert Conrad ("Wild Wild West"): "Thank goodness we didn't have any love scenes together. I am taller than Robert Conrad, but then, who isn't? He's a tiny man."
When Beverly is called a 'star', she retorts, "A star is Ingrid Bergman, Bette Davis, Joan Crawford. I am a working professional actress. To me, acting is blood. To me, acting is like taking four quick pep pills. Acting is pleasure, excitement, abandonment. I get all that and security too."
Beverly's Western Filmography
---
Movies: Bitter Creek (1954 Allied Artists)—Bill Elliott; Desperado (1954 Allied Artists)—Wayne Morris; Two Guns and a Badge (1954 Allied Artists)—Wayne Morris; Gunslinger (1956 American Releasing)—John Ireland; Badlands of Montana (1957 20th Century-Fox)—Rex Reason; Saga of Hemp Brown (1958 Universal-International)—Rory Calhoun; Cutter's Trail (1970 CBS TV movie)—John Gavin.
Television: Lone Ranger: Beeler Gang (1950); Frontier: Cattle Drive to Casper (1955); Zane Grey Theatre: Courage Is a Gun (1956); Zane Grey Theatre: Hanging Fever (1959); Nine Lives of Elfego Baca: Move Along, Mustangers (1959); Nine Lives of Elfego Baca: Mustang Man, Mustang Maid (1959); Texas John Slaughter: Killers From Kansas (1959); Texas John Slaughter: Showdown at Sandoval (1959); Yancy Derringer: Fair Freebooters (1959); Yancy Derringer: Wayward Warrior (1959); Trackdown: Hard Lines (1959); Man From Blackhawk: Logan's Policy (1959); Rawhide: Incident of the Roman Candles (1959); Zane Grey Theatre: A Small Town That Died (1960); Riverboat: Three Graves (1960); Laramie: Saddle and Spur (1960); Tales of Wells Fargo: Pearl Hart (1960); Wanted Dead of Alive: Prison Trail (1960); Stagecoach West: The Storm (1960); Zane Grey Theatre: Jericho (1961); Rawhide: Incident at Sugar Creek (1962); Rawhide: Incident of the Gallows Tree (1963); Dakotas: The Chooser of the Slain (1963); Gunsmoke: The Odyssey of Jubal Tanner (1963); Laredo: Lazyfoot, Where Are You? (1965); A Man Called Shenandoah: The Onslaught (1965); The Loner: Incident In the Middle of Nowhere (1966); Pistols 'n' Petticoats: unknown title (1966); Wild Wild West: The Night of the Cut Throats (1967); Gallegher Goes West: Tragedy On the Trail (Part 1-2) (1967); Gunsmoke: The Victim (1968); Gunsmoke: Time of the Jackals (1969); Lancer: Devil's Blessing (1969); Gunsmoke: The Badge (1970); Kung Fu: Battle Hymn (1975); How The West Was Won: The Slavers (1979).