VIRGINIA GREY
Beautiful, honey-blonde, blue-eyed actress Virginia Grey is one child star who made it as an adult. Born March 22, 1917, in L.A., she was the daughter of movie director Ray Grey and Universal film cutter Florence Grey. "My father died when I was still a child." (age 8.) She attended studio school, then public school.
Virginia's big break came, at age nine, when Universal cast her as Little Eva in the silent classic "Uncle Tom's Cabin" ('27). "It's been released on video, and I have a copy—however, there is an important scene missing. They cut out a big sequence. I cannot remember if it was cut before the film was released, or if it has since been edited out. It was where I had fallen in the river and Uncle Tom saved me—it set up a good relationship between Uncle Tom and Little Eva. The director, Harry Pollard, hated James B. Lowe, or 'Tom', who, interestingly, called me several years ago. He was down in Long Beach, from Europe where he normally lived. He tried to get together with me, but it didn't work out. He was a real sweetheart."
As a young woman, Virginia landed a contract with MGM, where she made her first grown-up leading role in a western, "Secret Valley" ('37), but on loan to Fox. "That was with Richard Arlen, who had been a big star in silents, he'd slipped into the Bs by this time. We shot that on location up in Lone Pine."
Her last western feature was "No Name on the Bullet" ('59) with Audie Murphy, although none of her scenes were with Audie. "The Audie Murphy people—his foundation, have been haunting me about him. But I didn't know him at all. I'd work, go home, and not socialize with these people. The whole picture is very vague to me."
For a working actress, who made so many films, it's amazing when anything can be remembered. "I made so many pictures, that many are a blur in my mind." One that isn't a blur is "The Last Command" made for Republic. "We made ours before Duke made his 'Alamo'. There was a beef with Herbert Yates over the title. We shot it on location in Brackettville, TX, and the John Wayne version used our left-over sets. Although we were in Texas, I never got to San Antonio, so I never saw the 'real' Alamo—just the one constructed in Brackettville." ("Last Command" was Republic's most expensive picture ever at a negative cost of $2,193,939. Yates made the film to spite Wayne who had left Republic over a dispute which, ironically, centered on his desire to direct and star in his own version of the Alamo.—ed.)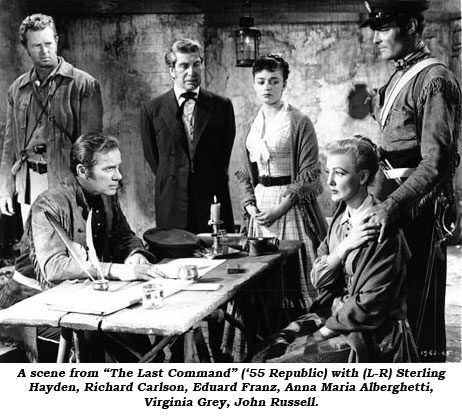 Virginia Grey did work with John Wayne, in the big-budget classic "Flame of Barbary Coast". "And it is 'Flame of Barbary Coast,' and not 'Flame of the Barbary Coast'. Almost everybody gets that title wrong. Ann Dvorak was in it…a big picture, a long shooting schedule…I was not under contract to Republic, but after I left MGM in '42 and started to freelance, Republic and Universal used me quite often after that. Yates seemed to like me."
"'Idaho' we shot on location in Kernville. Roy Rogers was the star, and he was a nice man to work with. This was before Dale Evans, though. Roy was married to another girl who shortly thereafter passed on."
As for "Bells of Capistrano", "The star was Gene Autry. I had heard tales he had a way with the ladies, but luckily for me, there was no problem. I think he must have known I was dating Clark Gable, and he'd better not try anything with me. (Laughs)"
While Virginia was starring with Gene Autry and Roy Rogers, "King of the Cowboys", she was dating the real movie king, Clark Gable. "That makes any man seem secondary, after you've dated the best."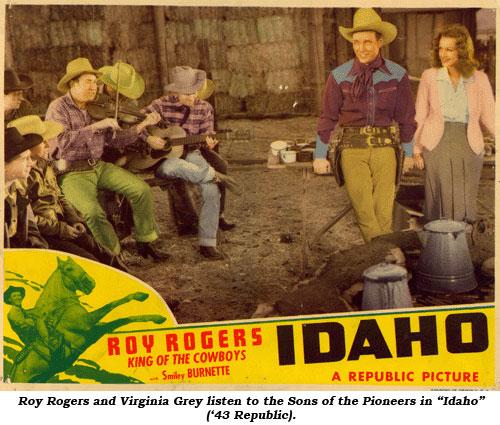 The films she did with Roy, Gene and Bill Elliott hold only dim memories for Virginia, "As do those TV westerns I did. I appeared on 'Wagon Train' several times, but I didn't get to know Ward Bond personally. It was a job; a routine."
One of her favorite pictures was a western, although an unusual one. "I played a character called Lorabelle Larkin in 'Slaughter Trail' with Gig Young. We made that picture twice. It was around the time Howard Hughes bought RKO-Radio. Howard DaSilva was originally cast in the part Brian Donlevy eventually did. Donlevy was cast after Howard Hughes said DaSilva was a Commie and was kicked off the picture! We reshot virtually the whole film, because Howard Hughes 'didn't want no Commies in his movies.'(Laughs) This made the picture a financial pleasure. It was way out in left field, a strange offbeat picture, but one of my personal favorites."
Regarding "Desert Pursuit" w/Wayne Morris, "It was filmed up in Lone Pine, halfway between the Valley and Mammoth Lake, about a three hour drive, so we stayed up there. We shot it in the Spring, or maybe the Fall, because the weather wasn't too bad. You have the danger of rains when you shoot then, but in the summer, it would be too hot. The desert scenes were shot just beside Lone Pine…that area resembled a desert (the dunes near Olancha—ed.) Fortunately, we didn't have to go to Death Valley. (Laughs)"
"Desert Pursuit" was Virginia's first of two pictures with Wayne Morris. "Even though we stayed on location, I didn't get to know him. We were too tired, and too dirty (Laughs) to socialize in the evening. Besides that, I don't recall there being any place to even go at the time. It surely has grown some, but in those days, there was literally nothing there. So, the cast would take a shower, jump into bed (separate beds, of course) (Laughs), grab their script, and study their lines for the next day's shoot."
Certainly not western, but a cult favorite, is the Cinecolor "Unknown Island" w/Richard Denning, Barton MacLane and Virginia. There's a story connected with "Unknown Island" which states a stunt man wearing a dinosaur outfit suffered from heat prostration while filming in the desert. When he collapsed, the producers left it in the picture, since it looked as though the cast had actually shot one of the creatures. Virginia says, "I don't believe it. You know, after a picture's been out for awhile, stories seem to circulate—stories that can no longer be verified, because everyone connected with the incident is dead. People will say anything to sell a book. As for our work with the dinosaurs, it was all done with a backscreen, so none of the actors saw the monsters, until we saw the picture. I liked doing it! It was a crazy picture, and I liked working with Richard Denning and Barton MacLane. They dyed my hair red, but left Denning's blond locks alone. It's been so long ago I don't remember why they did it that way. 'Unknown Island' was one of the fun ones."
Sadly, Virginia died at 87 July 31, 2004, at the Motion Picture Home in Woodland Hills, CA. Summing up her career, Virginia said, "I consider myself a professional who acts, not to express my soul or elevate the cinema but to entertain and get paid for it."
Virginia's Western Filmography
---
MOVIES: Secrets ('33 United Artists)—Mary Pickford; Secret Valley ('37 20th Century Fox)—Richard Arlen; Bells of Capistrano ('42 Republic)—Gene Autry; Idaho ('43 Republic)—Roy Rogers; Flame of Barbary Coast ('45 Republic)—John Wayne; Unconquered ('47 Paramount)—Gary Cooper; Wyoming ('47 Republic)—William Elliott; Slaughter Trail ('51 RKO)—Gig Young; Three Desperate Men ('51 Lippert)—Preston Foster; Desert Pursuit ('52 Monogram)—Wayne Morris; Fighting Lawman ('53 Allied Artists)—Wayne Morris; A Perilous Journey ('53 Republic)—David Brian; The Forty-Niners ('54 Allied Artists)—Bill Elliott; Last Command ('55 Republic)—Sterling Hayden; No Name On the Bullet ('59 Universal-International)—Audie Murphy. TV: Wagon Train: Major Adams Story ('58); Trackdown: Trapped ('58); Wagon Train: Kate Parker Story ('59); Yancy Derringer: V as in Voodoo ('59); Westinghouse Desilu Playhouse: Day the Town Stood Up ('59); Stagecoach West: Life Sentence ('60); Wagon Train: Beth Pearson Story ('61); Bonanza: The Artist ('62); Virginian: Nobody Said Hello ('66).