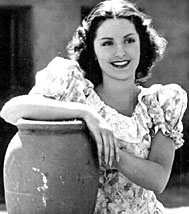 KAY HUGHES
by Boyd Magers and Merrill McCord

I've always believed Kay Hughes could have been one of Republic's brightest leading ladies—if she'd stuck to it. As it was, her star shone in two Republic serials (and one at Universal) and in a handful of B-Westerns.
Kay was born in Los Angeles in 1914. "My father thought California was God's country, which it is, and the streets were paved with gold. He's from Ohio. My sisters were born in Ohio. When he was first married, he brought his wife out here. I was born, then we went back when I was a year old. His mother was still alive and he wanted to stay near her as long as she lived. When she died, we came back. I was nine."
"I always wanted to be an actress or a dancer. I couldn't dance because I got a terrible infection when I was in Ohio when I was six years old. It was during the first World War, and they were dying like flies. I did survive, but they took out a piece of my rib and drained a lot of stuff out of me. When I was 17 in Los Angeles, it came back. They had to operate again and take pieces of six ribs out. So I couldn't continue with my dancing. But, I went on an interview with a girlfriend of mine. We were friends and danced together. We went on an interview for a musical, 'Broadway Melody of 1936'. I got it and she didn't. I felt badly. So, I did dance in my first movie, but it was so hard on me…" That film was in 1935 with Jack Benny and Robert Taylor.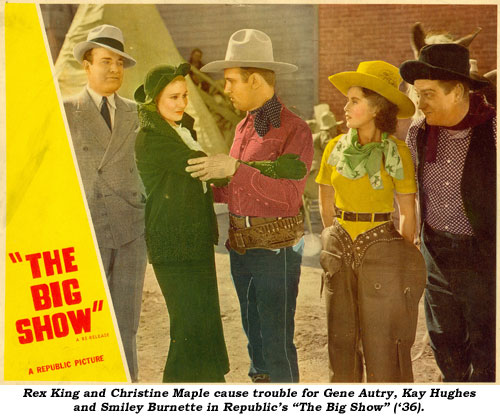 About the same time, the actress who became Carol Hughes was using the nom de plume 'Kay Hughes', and their credits in the mid-'30s are often confused by film chronologists who haven't seen all their films or shorts. "I never did the Stooges or Andy Clyde shorts. That was another 'Kay Hughes'. They made her change her name because it wasn't her real name. She changed it back to Carol Hughes."
"The first speaking role I had was 'After the Dance' ('35 with Nancy Carroll). Then, Warner Baxter was doing a picture, 'Robin Hood of El Dorado'. I got the third lead in that. I went on location to Sonora. I was engaged to Eric Linden, but I met my husband up there. He was a still photographer, one of the best in Hollywood, under contract to MGM. We were married for about 10 years—and then I was divorced. I was sad. Didn't stick it out."
Kay never had problems with 'male advances', except from director Bill Wellman on "Robin Hood of El Dorado". "Yeah, Wild Bill. He came to my cabin the night before my big scene was to be shot and scared me to death. He sat down on the bed with me. In these cabins, all there was, was the bed. (Laughs) I kept moving over and he kept moving over and finally, he looked at me and said, 'Are you a virgin?' I said, 'Yes,' and he left me alone. He left. I saw him later several times around Hollywood and he was always so respectful to me. So nice. But I just hate to tell stories on people. The only time anybody's…oh, and an agent, one time, made some passes at me."
I asked how the Republic contract came about. "All the agents get after you when you first start out and you're a new starlet. An agent got hold of me, signed me at Republic and I did one picture after another." Among them was the "Vigilantes Are Coming" serial in 1936 and two Three Mesquiteers films, all with Bob Livingston. "He was wonderful. We were very, very good friends." Kay says she never felt at the time that Livingston didn't want to be a 'cowboy' actor as has been written.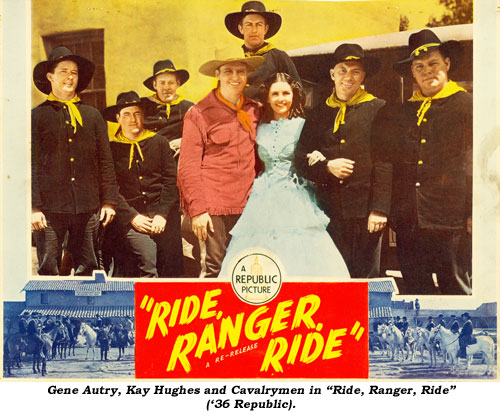 Kay was Gene Autry's leading lady twice in 1936…in "Ride Ranger Ride" and "The Big Show". Actually, she was scheduled to do one prior to those. "There was another I didn't even do. I don't remember the name of it, but we were up in Newhall. (Most likely "Oh, Susanna!" as Kay was only under contract from June-Dec. of '36 —ed.) They asked me if I could ride and I said sure. I'd been on a horse, but only in a riding stable. I think it was the first scene I did…they put me on this horse with a bunch of cowboys and we had to run into camera range and stop abruptly. Everybody stopped but me! I went over the horse's head and hurt my arm and back. I had to go home. So I didn't do my first Gene Autry. Also, the bus went off the road and several members of the cast were injured. We all went back together to the studio. I remember Al Teeter was on the bus going back. He was one of the crew and wrote songs. I still have some of the songs he wrote. He never did publish them. I think he went to Disney later on."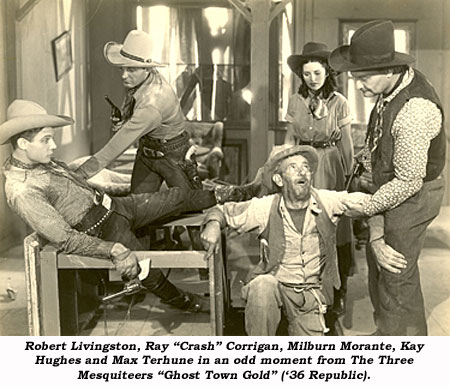 As for Gene himself, Kay recalls, "We were coming back from location in the limo and Gene was singing to me. I thought, 'Oh, dear, do I have to listen to this?' I think he's a wonderful singer, I really do. But at the time, you know, he was just singing. He wasn't trying to make a pass, he was just singing."
Kay was Gene's 4th leading lady to give him an on-screen kiss. Although it was her first screen kiss, she says she wasn't nervous, "It was just another scene. There's so many people around, you just do it and don't think anything of it. But there was something funny about that scene. It was at the end of the picture. I was sitting on a rock. He was supposed to pull me up and we were supposed to kiss. He didn't pull me up, so I pushed myself up with my hands. I had to push myself up to kiss him! But they didn't do another, just one take and that was it."
After only six months at Republic, Kay made a change. "My agent never had helped me. I wanted to do other things besides Westerns. He had Deanna Durbin over at Universal and he told me he could get me at Universal. Then, I wanted to go back east to see my uncle who was very sick. I was afraid he was going to die. Republic wouldn't let me go, so I broke my contract and went to Universal. But my agent didn't do anything for me at Universal. I got all the parts on my own."
It was here her name changed to Catherine Hughes. "My name is really Catherine, Kay is a nickname. I shouldn't have changed it on screen." Kay agrees she'd already built a following as Kay Hughes. "I thought I was going to go on to bigger and better things, so I thought I should use Catherine instead of Kay, which was very stupid. But, you do dumb things when you're young."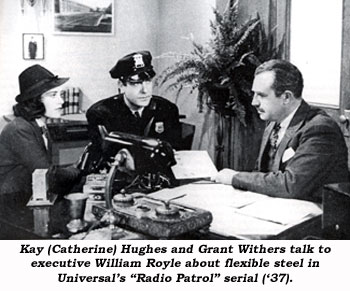 Unfortunately, Universal put 'Catherine' right back where she'd been! "Yeah, right back into a serial, 'Radio Patrol', although I loved that serial. It was fun dressing as a boy. I remember the little boy (Mickey Rentschler —ed.) was always grabbing me and pestering me. He was a nuisance. Then, I did a couple of B pictures including 'Trouble at Midnight' with Noah Beery Jr. I liked him very much. You tend to kind of fall in love with your leading man. Not all the time. You have a special feeling for them and I can see why these actresses, you know…of course, I didn't go on. I stopped and got married after Universal and had a baby in 1940."
Kay has no recollections of making "Riders of the Badlands" w/Charles Starrett and Russell Hayden at Columbia, released in '41. The film very likely was made in 1940 when Kay was pregnant and released in '41. There's an old adage, 'A woman is never more beautiful than when she's expecting a child,' and Kay is at her loveliest in "Riders—".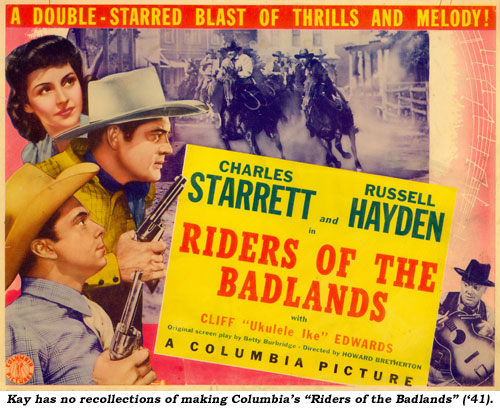 She made a minor comeback in 1945 at PRC with Buster Crabbe and Tex Ritter/Dave O'Brien B's. "They wanted me to go back. I tried but it wasn't the same. I decided to stay home and be with my daughter. Tex Ritter was charming but Dave O'Brien was my favorite. I was always crazy about him. But he was married to my girlfriend, Dorothy Short. She and I did modeling together." (Dorothy Short married O'Brien in 1936. They were wed 15 years when the marriage went sour and ended up in a bitter court custody battle. Short made a dozen westerns with Hopalong Cassidy, Tim McCoy, Ken Maynard, Bill Elliott and others, including O'Brien's "Capt. Midnight" serial.)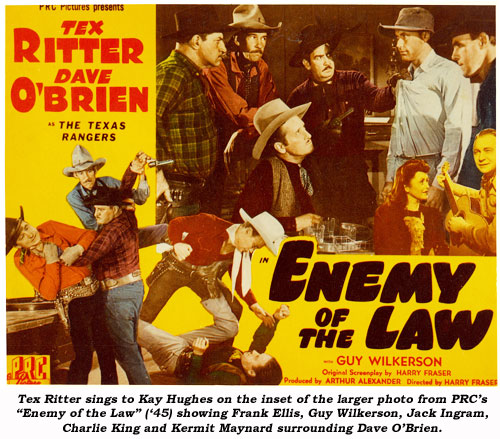 "I stayed home and took care of my daughter. I divorced and remarried in 1947. My husband moved me to St. Louis, MO, then Tulsa, OK. I was 50 when my husband died in 1964 and I remarried a year later. That husband traveled a lot. We sold the house, put the furniture in storage and I spent years traveling with him and living in motels and hotels; that was very interesting. Then we went to Reno, NV, and got a furnished apartment until we could get our things out of storage. In the meantime, he got sick and passed away. So there I was, stuck in Reno in a rented apartment all by myself. But the Lord took care of me. My sister called and said she wanted me to come down here and live near her." (Desert Hot Springs, CA)
At 84 the gracious Kay Hughes died in Palm Springs on April 4, 1998.