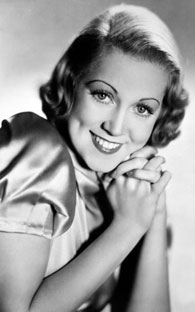 BETH MARION
by Boyd Magers

The B-Western heroine of a dozen mid-'30s Bs is true to an old Vaudeville axiom. "My blood father and my mother were both in the theatre. They were on the road at the time I was conceived, but they went back to Clinton, IA, for me to be born. So, I was born in a trunk. Mother used to take me on the road. She put me in a drawer of a big bureau instead of the bed, because she was afraid the bed might not be too clean. The first four years of my life, I was on the Vaudeville road with them. Until five weeks before I was born, Mother was performing on stage. She'd cinch in as much as she could."
"My mom and dad divorced, because Mother said they always had to be just ahead of the sheriff; she got sick of that. She knew she couldn't depend on the theatre. She went to school and became a secretary. When she married my stepdad, he legally adopted me; I was about 14. That's when my name changed. My real father never went by his name of Goettche. He went by George Paul. The George Paul who produced the news program '20-20' is my half brother. While I was at Northwestern I started to sing in a little trio called the Coeds. We sang with Paul Whiteman...on college nights. Then they hired us through the Summer to sing in the evenings. That's what got me started. I didn't complete Northwestern. I went two and a half years. When I decided I wanted to go to California I was about 22. It was really born in me. Mother was always helpful and interested in my going ahead. She decided, as long as her folks would let her go west at 18, in her day...in a repertory company, she guessed it was all right for me to go to California. Prior to that I did a lot of commercial photography in Chicago...and modeling...a lot of print stuff...Little Theatre. After being in California for just a year or so, I went into legitimate theatre, went back with Charlotte Greenwood in 'Leaning on Lettie'. We played Chicago for 49 weeks and went on the road."
When Beth was at Northwestern, one of her best friends was another B-Western leading lady, Eleanor Stewart. "We didn't either one know we were going to California. When we met each other in Hollywood we started to live together and had a couple of nice years. We didn't tell each other what we were going out for 'cause there's an old superstition, they might want to wish you well, but they were kind of envious, and maybe you wouldn't get the part. We were both doing the same type of thing. Ellie and I are still real dear friends. After I came back from 'Leaning On Lettie' and a stock company in Pennsylvania, I met Jimmy Stanley who started to handle me as an agent and got me into Westerns. The first ones that Jimmy got me were at Larry Darmour Studios."
Beth laughingly remembers she didn't know how to ride when she got into Westerns, and still doesn't. "But I did learn to mount and dismount really good. When they had running inserts, they had to cut them down shorter and shorter 'cause I kind of beat myself to death. One of the very first pictures I did, they put me on a little paint horse. It had been trained to be a parade pony. Every time they'd put the clapper down, the horse would rear. But I kept my seat, I didn't fall. But then to try and remember my lines as soon as we got into it again was tough."
Beth co-starred with all the early B-Western greats, Ken Maynard...Johnny Mack Brown...Bob Steele…"I had good fortune. Some were more friendly than others. I had heard some wild tales about Ken Maynard, and was almost afraid. My goodness, I had no encounters with him. And Johnny was very friendly. I got to know Bob Steele's wife a little bit. She was a dear person. I did get close to the stunt man, Yakima Canutt, his family and wife. I remember meeting Buck Jones' daughter and knowing her a little bit. She was a very sweet little girl. But Buck...I didn't know at all."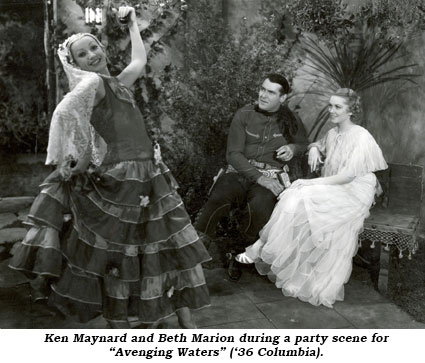 "I loved Kermit Maynard's wife Edith, and Kermit. He was such an excellent rider. He had been a circus trick rider. I don't think he felt second fiddle to his brother. They didn't associate an awful lot. They were different personalities. I don't think Kermit smoked or drank. Brother Ken made up for it. But they were friendly always. Edith liked Ken a lot. But he lived a different lifestyle entirely." Oddly, Beth was billed as Betty Lloyd in her film "Wild Horse Round Up" with Kermit. At the time she wasn't aware the studio, Ambassador, had done this and only learned of the name change when she attended film festivals in the late '80s.
Cowboy star Jack Luden was the nephew of William H. Luden of Luden's cough drops fame. "I remember one thing that was strange. Eleanor Stewart, who worked with and knew him more than I did, didn't remember this about him at all or hadn't noticed...he stammered! In one scene ("Phantom Gold"), we were in a cave. Jack was to come to the door of the cave and say 'Come on, let's get out.' Then, we were to take off. Well, he'd get to the front of the cave and say 'c-c-c-c-', and they'd say, 'cut,' because he was stammering. He'd start all over, come to the head of the cave and say 'c-c-c-c...' And we'd have to cut. Took a long time to get that. (Laughs)"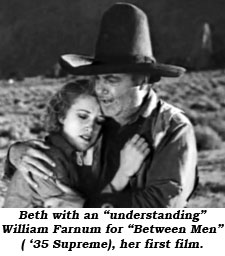 William Farnum, who had been a major star in silents, was now doing character work in the '30s. "He was on the first movie I ever did ("Between Men"). That was before Screen Actors Guild. We worked 24 hours straight. There was a big fight scene at the very end. I remember how understanding he was to me 'cause we were all dog tired. I was real flattered to think I was doing something with him."
As for John Ford regular, Ward Bond. "Yeah, I knew Ward. My little stunt double, Ione Reed, doubled me in 'Wild Horse Round Up' and Ward took us back to L.A. from location...Lone Pine, Bishop, somewhere."
And Tom Tyler…"He was a very handsome fellow. Very happily married. He also drove me back to town one time; we had a nice long visit. I was really shocked to hear he'd died early in life. He had surgery for, I believe, an ulcer and they cut the Vegas nerve. From then on, his health went right down. I always thought, more than over-pronouncing his words, he maybe had a little accent and was trying to overcome that."
Beth's last film was in '38 when she married stunt man Cliff Lyons (right) and he didn't want her to work. "(Sad laughter) He wasn't too encouraging for me to keep working. I met Cliff in Lone Pine when Ione Reed was his girlfriend. They were having a big fight then, and she was going on about him. So I knew all about him from her. We all ate together one night in the dining room at the Dow Hotel. That was all. I just met him. At least six months later, he called. Eleanor answered the phone. He asked for me. She said I had gone to Chicago with Charlotte Greenwood in a play. He said he had straightened up all of his affairs because he had decided to marry me. Every holiday that came along, remember—we were gone a long time, he sent flowers and things to me. He had asked me to please call when I got back to California. I called and Cliff took my mother and me out to dinner and to the races several times and he was very nice. He pursued it, we were married and had two sons. He had been working with John Ford a lot. Cliff was very nice to, and trained Chuck Hayward. He would be over at the house a lot. And Wally Wales, or Hal Taliaferro, I just thought he was wonderful. He was over at the house quite a lot. I guess he realized there was a lot of unhappiness there."
Beth's marriage struggled til 1955 and ended in divorce. Shortly thereafter she met Julian Koch."I had moved out of our home and was in a little apartment. My folks and I found this house Julian had built. (Smiles). After I bought the house, Julian kept coming over to fix this and fix that. We really have a good marriage now for over 40 years."
In recent years Beth has taken up art."I started my art about 12 years ago. It's come along pretty late to go all the way but I've done some really fine work...I hope to do more in the art world. It's opened a whole new era."
The gorgeous Beth Marion died February 18, 2003.
Beth's Western Filmography
---
Movies: Between Men ('35 Supreme)—Johnny Mack Brown; Trail of Terror ('35 Supreme)—Bob Steele; Silver Spurs ('36 Universal)—Buck Jones; For The Service ('36 Universal)—Buck Jones; Everyman's Law ('36 Supreme)—Johnny Mack Brown; Avenging Waters ('36 Columbia)—Ken Maynard; Fugitive Sheriff ('36 Columbia)—Ken Maynard; Rip Roarin' Buckaroo ('36 Victory)—Tom Tyler; Phantom Of The Range ('36 Victory)—Tom Tyler; Wild Horse Roundup ('36 Ambassador)—Kermit Maynard; Phantom Gold ('38 Columbia)—Jack Luden; Frontier Scout ('38 Grand National)—George Houston.