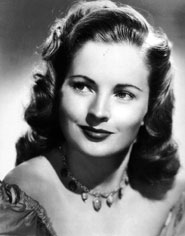 COLEEN GRAY
Beautiful Coleen Gray started her career under contract to 20th Century-Fox, where she was cast in several classic pictures, among them "Kiss of Death" and "Nightmare Alley." It was there she did "Fury at Furnace Creek" with Victor Mature. "I always was concerned about doing my best in the part. I wanted to do justice to the character, whatever it was. I went to the director, Bruce 'Lucky' Humberstone, to ask about the interpretation of the character. I wanted to know what the character was like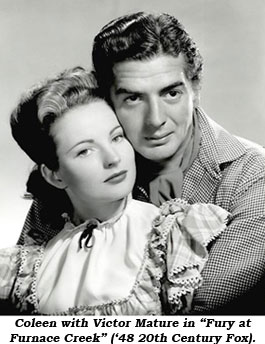 before the point where the script began. Mr. Humberstone barked, 'Just be like Betty Grable when it comes to lines—learn 'em, do 'em.' Victor Mature later ended up throwing him through a set, but it was on another picture, so I didn't get to see it!"
Her first Western was actually "Red River" with John Wayne. "The role was small, it came earlier than those other films. Fox wasn't doing anything with me, so they loaned me to Howard Hawks. Because of the picture, I got the part in 'Kiss of Death!'"
In 1956, Coleen had a small but showy role in Universal-International's Technicolor "Star in the Dust." "I met my good friend Randy Stuart when we did the film. We have that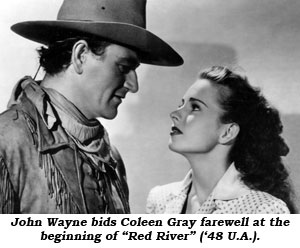 great fight scene. Our husbands stood on the sidelines and watched us fight. We got up, dusted ourselves off, but our husbands were pale and clammy and weak! (Laughs) Randy and I became great friends. I did the eulogy at her funeral." When asked about her smallish part, Coleen surprisingly reveals, "I always thought I'd never work again, so I usually took what I was offered."
When asked about the leading lady of "Star in the Dust", Mamie Van Doren, Miss Gray groans, "Oh goodness. She was from the blonde wig and tits era of Marilyn Monroe types. The producer of the film was Al Zugsmith. When she met him, she said, 'Glad to meet you, Mr. Smith.'" (Laughs)
About "Sand," made in 1949, "I was not impressed with the picture or the part."
"Apache Drums" ('51) was done after Coleen began free-lancing in 1950. "Val Lewton was a fine producer—very creative. It was great, a good Western."
"Tennessee's Partner" starred John Payne, Ronald Reagan and Rhonda Fleming. "Working with the future president was a great experience. I loved the picture because I got to be a bad girl again."
"Father is a Bachelor" (released in '50) sounds like a modern-day romantic comedy. "But it isn't. It's a Western drama, with accent on the drama! It was another loan-out from Fox. Bill Holden was fun. We were the romantic leads, but later in the picture, I have this other fellow who I tricked into proposing. This actor was afraid of horses! (William Tannen—ed.) There was a birthday party scene and he was to drive me in a surrey while I held onto the birthday cake. But he couldn't do it, so I told them to let me drive the surrey and let him hold the cake! (Laughs) This isn't so surprising because I was raised on a farm in Minnesota. My father had 40 acres and I knew how to ride a horse sidesaddle, bareback, whatever. I could drive a covered wagon. When we would gather a load of hay, I would drive a team of horses. A sad part of 'Father is a Bachelor' revolved around the music. It wasn't a musical, but there were songs in it. They used everybody's voice—mine, Gary Gray's, the others—all except for William Holden. He was dubbed by Buddy Clark who sounded just like you would imagine Bill would sound. At the party scene, there is the song 'A Very Merry Birthday' because 'Happy Birthday to You' was copyrighted and they couldn't get the rights. We were all in tears during the filming because Buddy Clark had been killed in a plane crash several months before. He was a great singer."
One of Coleen's best Westerns was "The Vanquished" ('53) with John Payne and Jan Sterling for Paramount. "Jan was fun to work with and John Payne was a fine man, deeper in person than some of his roles would have you believe. He was into philosophy, religion, history."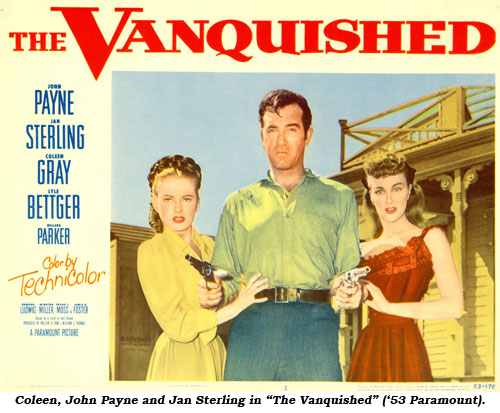 About "Frontier Gambler": "It was another 5-day picture, but I liked that one. I saw it again and it was remarkable—all those changes. Handling all the hair and clothes—that was truly genius, how it was done at such a fast pace."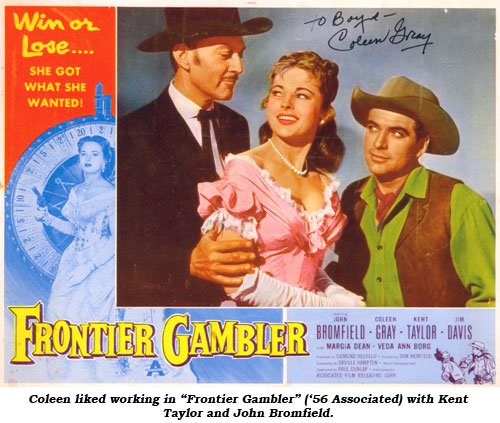 "Black Whip": "Charles Marquis Warren was the director. Angie Dickinson was the most talented thing in the picture. We enjoyed each other. She is a great conversationalist."
"Copper Sky": "It was another Charles Marquis Warren picture—sort of a remake of 'The African Queen.' We had high hopes for it, unfortunately, things didn't turn out that way. I went to see it at Westwood Village. The college kids were laughing at everything, so I put my scarf around my head so nobody would identify me. I never wanted to hear the name 'Copper Sky' again. It was fun doing it, and I did see it later and thought it good, but I have this feeling that is hard to erase."
"Town Tamer" with Dana Andrews: "I saw it recently. I like it but I had such a small part. I wish I'd had more to do in it. Lyle Bettger, the villain in 'The Vanquished,' was again the villain. He's good!"
Memories of her TV shows are rather dim: "Have Gun Will Travel: Ben Jalisco": "Charles Bronson really impressed me, he was so good. It was a good little half-hour show, shot up in Lone Pine, where you can see Mt. Whitney."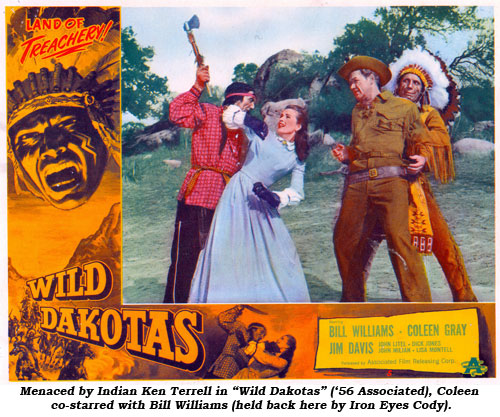 "Lawman": "I knew John Russell at Fox during the early days."
Of her career in general—"I've been conditioned through the years to be grateful to get anything." But her legions of fans are grateful for all the terrific pictures and performances Coleen has given.
Coleen's Western Filmography
---
Movies: Red River ('48 U.A.)—John Wayne; Fury at Furnace Creek ('48 Fox)—Victor Mature; Sand ('49 Fox)—Rory Calhoun; Father Is A Bachelor ('50 Columbia)—William Holden; Apache Drums ('51 Universal Int'l.)—Stephen McNally; The Vanquished ('53 Paramount)—John Payne; Arrow In the Dust ('54 Allied Artists)—Sterling Hayden; Tennessee's Partner ('55 RKO)—John Payne; The Twinkle In God's Eye ('55 Republic)—Mickey Rooney; Black Whip ('56 Regal/Fox)—Hugh Marlowe; Frontier Gambler ('56 Associated)—John Bromfield; Star In the Dust ('56 U-I)—John Agar; Wild Dakotas ('56 Associated)—Bill Williams; Copper Sky ('57 Regal/Fox)—Jeff Morrow; Town Tamer ('65 Paramount)—Dana Andrews. TV: Frontier: The Texicans ('56); Tales of Wells Fargo: The Journey ('60); Elfego Baca: Gus Tomlin Is Dead ('60); Deputy: A Time to Sow ('60); Shotgun Slade: Marriage Circle ('60); Lawman: Mark of Cain ('61); Maverick: Substitute Gun ('61); Tall Man: The Woman ('61); Have Gun Will Travel: Ben Jalisco ('61); Rawhide: The Devil and the Deep Blue ('62); Wide Country: A Devil In the Chute ('62); Dakotas: Terror at Heart River ('63); Branded: Seward's Folly ('65); Virginian: Men With Guns ('66); Virginian: Requiem For a Country Doctor ('67); Bonanza: The Crime of Johnny Mule ('68).