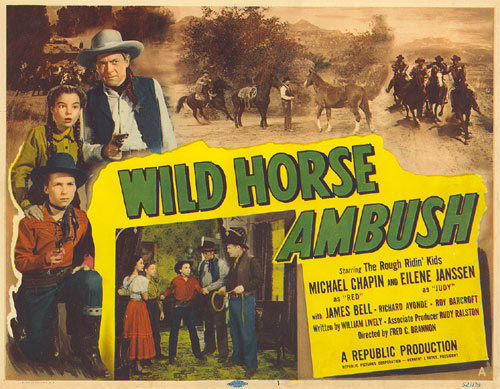 In the late '40s, Republic announced a nation-wide search for two youngsters to portray a "junior Roy and Dale" in their own series, The Rough Ridin' Kids. After two years, they signed 13-year-old Michael Chapin to play "Red", and as "Judy", 11-year-old Eilene Janssen.
Born May 25, 1938, in Los Angeles, the multi-talented Eilene had already been in pictures for a decade. "My father worked at Universal for 47 years. He was a sound mixer—but not when he started back in the silent days of the Carl Laemmle regime. In the late '30s, Baby Sandy, who literally was a baby, had her own series of "B" pictures at Universal. When Baby Sandy balked at doing something, my father stepped in and said 'Eilene can do that!' So, I debuted in 1940's 'Sandy Gets Her Man'. You can easily spot me in several scenes—particularly the one where 'Sandy' is lowered out of a second story window in a basket to the ground."
But this wasn't Eilene's first public appearance. "When I was 8 months old, mother took me to the doctor for a routine checkup. A photographer saw us and said I should be entered in the Adhor Milk contest—where the prettiest baby's photo appears on the side of their milk trucks. Mother took me, and I won!"
Long before her western days, Eilene was exposed to horses. "My grandfather, a Hungarian, owned a dairy ranch and I had several animals as pets. I learned equestrian riding at an early age, 18 months! When we did the series, Republic took Michael and I out to Ace Hudkins' stables three or four times a week to learn to ride for the movies—which was different. We had to learn to gallop, pull up fast and get off, how to hold the reins, do chase scenes, do stunt riding. Ace had a stable and rented horses to the movies."
In many of her movies Eilene not only acted, but sang, danced and occasionally played the marimba. "I took lessons at a very early age. I often played military bases during the war—with my marimba. I was only five or six but I would go down to the harbor and greet the ships—and do my little act. Of course, at the time, I had a miniature-size instrument, about a quarter the size of a real marimba."
In 1944, Eilene was crowned "Little Miss America." "As a result, I toured New York—stayed in the Waldorf Astoria Hotel, and was treated like a princess! At age 6, I won the Los Angeles HERALD AND EXAMINER's Better Baby Contest. I received Army, Navy and Treasury Department citations for my USO tours. I got a lot of publicity. Bob Hope even wrote in his then newspaper column I was the youngest child to get a Social Security card."
After numerous appearances in films such as "Where Are Your Children" and "Song Of Love", at the tail-end of Republic's interviews, she went in and answered some questions. "Rudy Ralston—Vera Hruba Ralston's brother and producer of the films, announced 'That's our Judy!' The publicity-buildup for the series was phenomenal. We were introduced to the press at a place in Encino called 'Buckaroo Town,' a small western village that was a play resort for kids. Around 4 in the afternoon Michael and I went there, met a group of orphans and signed autographs with many of Republic's big western stars, Monte Hale, Rex Allen and Allan Lane."
"Michael and I had our costumes made at Nudies and we rode in parades, like junior versions of Roy Rogers and Dale Evans. We rode in the Pasadena Rose Parade, the Hollywood Christmas Parade, the Shriners Parade, football games and at premieres. Roy and Dale became friends and they would have me out to their ranch in the valley. They also gave me presents from time-to-time. We were supposed to be 'young Roy and Dale.' Jimmie Fidler, the columnist, came up with the idea."
"As for school, we'd do a scene, run and get five minutes of schooling, dash behind some rocks, get 15 more minutes of school, that sort of thing. We'd arrive at the studio at six in the morning, have hot chocolate and donuts, rehearse our lines and go to school, unless it was time to shoot a scene. It was all such fun! I had fan clubs all over Hollywood—little girls' clubs and I'd make personal appearances."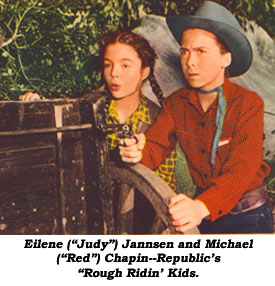 Questioned about her co-stars, Eilene has fond memories—Roy Barcroft: "He was always a badguy, big and gruff, but in real life, he was a sweet, nice man—with a heart of gold!" James Bell: "He was adorable. We worked together a lot after the series. He even played my dad in a couple of TV shows." Co-star Michael Chapin: "A good friend. Our mothers became fast friends. I knew his sister Lauren Chapin, but she was younger. When I did a 'Father Knows Best,' I played Betty's (Elinor Donahue) friend."
In "Buckaroo Sheriff of Texas" Hugh O'Brian and Alice Kelley had the grown-up leads. "Hugh was just starting when he did that. I didn't get to know him—and he didn't have me on a 'Wyatt Earp' either. I ran into Alice Kelley at a mall a couple of years ago. She looked exactly the same and I told her so. She told me, except for the missing pigtails, I also looked the same. Another person who looks the same is Danny Morton. He played the 'Dakota Kid'—a scary outlaw to me then, but he reforms at the end. He's a truly nice, nice guy."
Eilene Janssen continued to appear in westerns on TV. "I did a 'Rifleman' with Chuck Conners, and a 'Sugarfoot' with Will Hutchins. Will was really a nice, tall, lanky, good-looking guy. These men were older than me, so we never went out."
"There were only two actors I dated. One was Gary Gray—a childhood friend. We also did a short at Warners called 'It Happened in Springfield' and a feature at Fox, 'Rendezvous 24.' Ironically, Gary had won the same Adhor Bread contest two years earlier than me. We were both heavily photographed children, appearing (separately) on calendars and even the cover of WOMAN'S HOME COMPANION. The other actor was Tab Hunter—but that was only publicity."
"I recall Michael Landon at the beginning of his career. We did a 'Tales of Wells Fargo'. I remember Michael put peanuts in his Coca-Cola! He had a bit on the show—it was one of the first things he ever did."
About Hopalong Cassidy: ("Borrowed Trouble") "I just remember I knew my part—everything went fine and I got called back for other work."
About her Gene Autry TVer: "He was extremely nice to me and my mother. We'd go out to Pioneertown and shoot shows there."
Eilene's career lasted over 25 years. "I was the Weber Bread Girl (Note: Called Holsum and other names around the country.). My picture was on the side of their bread for years! Tom Kelly, a famous photographer, would take lots of pictures between movies. Magazine covers, billboards. I was on Challenge Butter's billboard. I was on Dolly Madison's cupcakes and Heinz 57 pickles. At one time I was the most photographed child in Hollywood."
"When I was a teenager, I landed the role of Donald O'Connor's girlfriend on the 'Texaco Star Theater'. I did three of the shows but was only 16 at the time. That year—at the Debutante Star Ball—I represented CBS—and Donald O'Connor was my escort—at the Cocoanut Grove. He was a terrific and talented guy."
"While on the lots at various studios, I'd see Monte Hale or Rex Allen at Republic, or Katharine Hepburn and Clark Gable at Metro—I'd see them in makeup, wardrobe, or at the commissary for lunch. All the stars—they were like 'Gods.' And they would always say 'Hello' to me! I keep in touch with a few of my contemporaries, like Carol Nugent and Anne Whitfield. I'm grateful for all the good times. I enjoyed it. It was a barrel of fun!"
Today Eilene is married, mother of five daughters and a grandmother of five.
Eilene's Western Filmography
---
Movies: Renegades ('46 Columbia)—Willard Parker; Borrowed Trouble ('48 United Artists)—William Boyd; Arizona Manhunt ('51 Republic)—Rough Ridin' Kids; Buckaroo Sheriff of Texas ('51 Republic)—Rough Ridin' Kids; Dakota Kid ('51 Republic)—Rough Ridin' Kids; Wild Horse Ambush ('52 Republic)—Rough Ridin' Kids; Escape From Red Rock ('58 Regal)—Brian Donlevy. TV: Gene Autry: T.N.T. ('50); Range Rider: Romeo Goes West ('52); Gene Autry: Ghost Mountain ('53); Tales of Wells Fargo: Shotgun Messenger ('57); Tales of Wells Fargo: The Kid ('57); Sugarfoot: Mule Team ('58).