Versatile character actress Victoria Horne told us, "I was born November 1, 1911—which is five 1's together—11-1-11! My family lived in the country, in New Jersey, and I would ride a canoe on Hopatcong Lake, following the gold path of the setting sun. I was a good swimmer and also could ride horseback. Later, when I was in New York, I would ride in Central Park in the morning. I loved to ride."
Vickie, as her friends call her, has been asked many times if she is the daughter of noted director James Horne, "It's not true. I never even met the man. He died in 1942 and I didn't arrive in Hollywood til 1943."
Vickie first acted on Broadway in the '30s. "Leslie Howard was in 'Hamlet' and I wanted to be in it. We had the same business manager, so I was able to meet Leslie Howard. We had a tea date, and I read for him! I was a graduate of the American Academy of Dramatic Arts in New York, and I went to England for a season at Stratford-On-Avon. Then, I returned to New York to understudy the part of Ophelia opposite Leslie Howard, in 'Hamlet' ('36)."
While in New York, the actress appeared in a number of stage productions, including "The Emperor's New Clothes," ("I played the Empress"), "On the Rocks" and "Aries is Rising". "When I was in 'Life With Father' with Louis Calhern and Dorothy Gish, we were on tour in L.A. I was taken by Mr. Calhern and Miss Gish to the Players Rest in Hollywood where they introduced me to Jack Oakie. I stopped breathing when I met him, and I haven't started breathing since! He was a wonderful man to live with, and a wonderful husband!"
It wasn't long before Vickie landed her first screen assignment, as Doris Lloyd's frightened employee who copied Aurora's hideous hat for Fay Helm in the film noir classic, "Phantom Lady" ('44).
"I worked a lot at Universal at first. Since I rode back east, I could sit a horse. But whenever they would give me a horse for a film, they would give me a motion picture horse, trained by their owners to understand their picture is being taken by a camera! (Laughs) Many is the time I sat on a horse, being held back by two trainers, who were keeping the animal from going right for the lens. When the director said, 'Camera,' I had to keep waiting because the horse wanted his picture taken! (Laughs) The horses would go to have their picture taken—even if it wasn't their turn." (Laughs)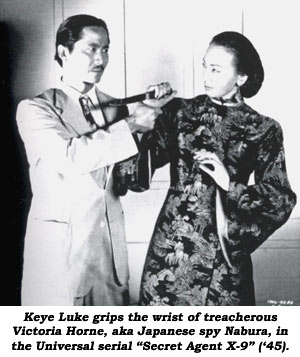 Victoria's first western at Universal was "The Scarlet Horseman" serial ('46). "There were 13 chapters, so I consider it 13 westerns I made!" Victoria co-starred as Virginia Christine's faithful Indian companion Loma in "Scarlet Horseman". "Paul Guilfoyle (the Scarlet Horseman) was an old friend of ours by this time—he worked with Jack quite often at RKO-Radio in the '30s. Paul came with me to our house (named Oakridge) in Northridge one night—it was all hills back then—now there are houses and buildings all through the valley. We had just left the 'Scarlet Horseman' set and I was wearing my red Indian makeup. Jack saw us and exclaimed, 'Oh my God—the redcoats are coming to Oakridge.' (Laughs) Most of the Universal westerns were shot on location at Iverson's Ranch, at the crest of the hills far into the San Fernando Valley, going into Simi Valley. At Topanga Canyon and Devonshire Street, there was the old Chrysler Building—in the early days the tallest building around. Every day, Jack and I met there to go to lunch when I was working."
Also in '46, Vickie went to Republic to appear as Ma Dodge in "In Old Sacramento" with Bill Elliott. "I played Lionel Stander's wife (Laughs), but my scenes were shot so fast, I recall very little about that experience. And I didn't get to know any of them that well."
When Jack went on location for "Northwest Stampede" ('48) with James Craig, he was joined by Vickie. "It was shot in Canada, near Calgary...you know, the famous Calgary Stampede? We were up there for months!" The same for "Tomahawk" (Universal-International, '51), "We went up to South Dakota, where up in the rocks you could see the carvings of the four presidents. Mrs. Gutzon Borglum, the wife of the artist who carved them, came to meet Jack and me on the set—and we became friends. Jack called them the Four Marx Brothers (Laughs). There was a souvenir shop, and Jack bought me two pins that are sunbursts, made of Black Hills Gold—he got the largest and the smallest they had!"
Victoria's last role to date was in "Wonderful Country" ('59). "That was just a bit part I took because Jack was in it and I was there."
When Vickie married Jack Oakie, they lived in a mansion purchased from Barbara Stanwyck and her then-husband Frank Fay at a mere $30,000! "It had eight bathrooms—Jack boasted about that and a couple of hundred acres as well!" Sundays were party time for the Hollywood crowd, "But recently, I donated the property to USC, where the Jack Oakie Chair in Comedy has been established. It's the first university chair in comedy in the country. Also, there are the Joakie Awards, started in honor of this great man."
Victoria Horne died October 10, 2003 at 91.
Victoria's Western Filmography
---
Movies: In Old Sacramento ('48 Republic)—William Elliott; Wonderful Country ('59 U.A.)—Robert Mitchum. Serials: Secret Agent X-9 ('45 Universal)—Lloyd Bridges; Scarlet Horseman ('46 Universal)—Peter Cookson.