ELEANOR STEWART
by Boyd Magers

The gorgeous leading lady of 16 '30s-'40s B-Westerns, including three with Hopalong Cassidy, Eleanor Stewart, attended Northwestern University with another B-heroine, Beth Marion. "We roomed together for several years in Hollywood. We'd known each other at Northwestern. I went to a girl's school in Evanston (IL) and then Northwestern. We made westerns with many of the same stars."
During the difficult depression years, Eleanor became a well known model before winning a CHICAGO TIMES MGM screen test. Altho she landed a two year contract with MGM, someone missed the boat in not utilizing her talents more. "I was in one short subject on ping pong (Pete Smith's "Sports Parade: Table Tennis" ['36]) and just a line or two in 'Small Town Girl' with Janet Gaynor. That's where I met Les Peterson, to whom I was married for 30 years. He was in MGM's publicity department. MGM was very good to me."
Two of Eleanor's first Westerns were opposite Tex Ritter, "Headin' for the Rio Grande" in '36 and "Arizona Days" in '37. "Tex had just done 'Green Grow the Lilacs' on Broadway; later filmed as 'Oklahoma' with music added. You'd shoot with the rising sun and quit with the setting sun. But there was time for fun. We were on location with Tex at Idylwild. I had been warned about practical jokes. Thinking I was gullible, one group of actors decided to take me on a 'snipe hunt.' On a cold night, they took me out in the woods and left me with a little burlap tent and candle to wait for the pretty snipe to get caught in the tent trap. Well, I'd been on canoe trips and learned to hunt with my family. I pretended to play along with them but decided to add my own twist. I waited until they were out of earshot, then got out a gun loaded with blanks and a bottle of ox blood which the property man had given me. I fired, screamed, smeared the blood on my face, lay down and waited. As they came back, they weren't sure about this. I lay still as they poked me with their toes. Then they picked me up and carried me back toward the lodge. Finally, I began to laugh—and they dropped me on the ground! (Laughs) I passed out candy suckers I'd hidden in my coat. There were no more tricks after that!" This incident later appeared in Feg Murray's popular "Seein' Stars" panel in Sunday newspapers.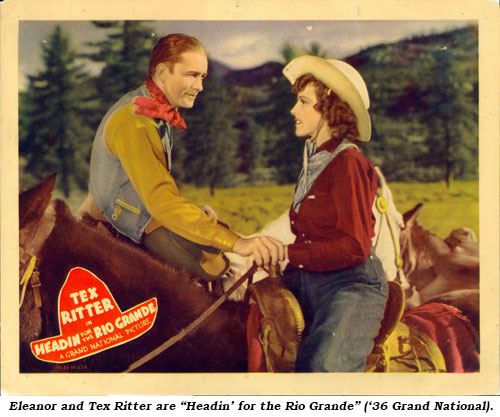 Eleanor remembers a close call on Tex Ritter's "Headin' For The Rio Grande". "At Idyllwild, we witnessed the most shocking thing I ever saw, and I've seen some very perilous stunts performed by stuntmen. This was no stunt. With the mountains on the far side, the company trucks lined up in a slant so the mountains on the other side of a field made a 'V', wide at one end and narrow at the other. A herd of cattle would be stampeded through the 'V' from the far field. The cowboys fired, causing the herd to mill, then they were driven into the 'V'. I believe it was Lindsley Parsons who stood in the path, with his own camera, as the cattle came toward him. Though we screamed at him, it was useless with the noise of the stampede. The whole company watched, horrified, as the running cattle thundered by him. Unbelievably, he was standing, unmoving, exactly where he had been when it was all over. Everything was absolutely silent for a minute. Then he came slowly toward us, got into his car and drove off without a word, to his home in Newport Beach. Several years later, he became a councilman there. Later on, the prop man told us he put dummies in front of stampedes many times and they were very rarely stepped on because cattle are afraid of breaking their slender, fragile legs."
It was one Western right after another for Eleanor and many blur in her memory of 60 years ago. But she recalls Bob Steele, her "Gun Ranger" leading man was "like a father to me. He made sure I had a comfortable cabin at Idyllwild, where we filmed. Robert Bradbury was the director—he was Bob's father. He drove me to the location."
Although not a Western, "Trapped By G-Men" gave Eleanor an opportunity to work with Jack Holt. "I remember Jack Holt, who was balding, holler out when he was starting a scene, 'Bring the skull doily.'"
The nephew of William H. Luden of Luden's Coughdrops fame and son of a jeweler, Jacob Luden, Jack Luden struck out in a different career entirely by entering the film business in 1925. In 1938 Eleanor was not only Jack Luden's co-star in "Stagecoach Days" and "Rolling Caravans", but she nearly became his off-screen leading lady. "Jack rode a horse like he and the horse were one. It was beautiful to watch. He was very nice. He wanted me to marry him. He and his mother were buying a house in Hollywood. He wanted me to come and meet his mother. I really wasn't much interested in him, maybe I was just curious. He went to a military school. He had a good education. He said he descended from a European family named Ludendorf. His uncle was the owner of Luden Coughdrops. In those days that was the only cough drop people used. It was a very wealthy company. For some reason, Jack never went into that. His mother, Anna, was a very domineering woman—the most domineering person I've ever met. I just knew anything between Jack and I wouldn't work out."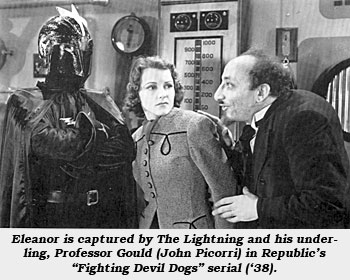 Eleanor starred with Bruce Bennett and Lee Powell in director Bill Witney's classic cliffhanger, "Fighting Devil Dogs". "It was fun. I got to watch how they make cobwebs. They spray them around. Also how they make windows out of candy that stuntmen jump through. It was fascinating."
Eleanor has many fascinating and varied memories of making Westerns, "Making Westerns was a wonderful experience. Of course, there were times we had to get up at 4:30 in the morning, times we shot when it was over 100º and sometimes when you had to crack ice off puddles. In one picture at Lone Pine it snowed during the night so they had to write that into the script."
"'Mexicali Trail' (Jack Randall) was one of the worst movies I ever made. Even for a tearjerker it was terrible." Eleanor also worked with Jack's brother, Bob Livingston. "Bob was just a delight. Always sweet, thoughtful and kind. I was very touched because he called his wife every night after he got through work."
"I worked with so many people that stood out. Victor Jory, J. Farrell MacDonald and silent screen actress Anna Q. Nilsson in 'Riders Of The Timberline'. She was thrown off a horse into a big cactus. Her body was just filled with cactus barbs. Some of them were very badly infected so she went back to her native Sweden into the hospital."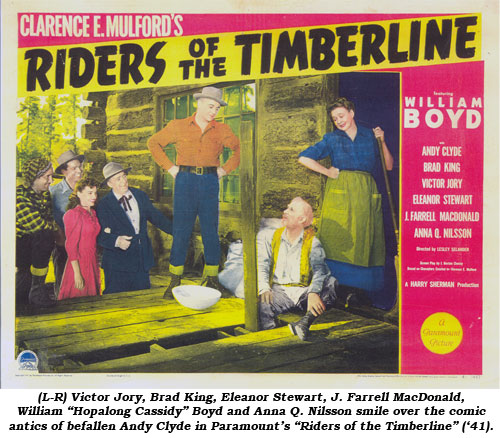 While under contract to Paramount, Ellie made three Westerns with William Boyd, "Riders of the Timberline" and "Pirates on Horseback" (both '41) and "Mystery Man" ('44). "Bill was so wonderful. The delight of his life was Grace. Bill told me, 'I hit the jackpot when I married Grace.' She never came out on the set, but when we were through shooting the two of them would take off and go somewhere for dinner. When Hoppy and I had a closeup face to face, he'd call out, 'Bring the box for Eleanor!' to tease me and to save me from standing on tiptoe. When he saw me without a seat, waiting around for the next scene, he had a folding chair with my name on it made for me. It was typical of his kindness to everybody. In one picture the script called for me to lead a posse of fourteen or fifteen men on horseback across a long meadow and up a hill, where I would tell the posse to go on to the right. I'd ridden in and out of scenes many times but always had a double for dangerous chases like this. Bill and Les Selander teased me into it. The horse they gave me was the biggest and tallest one I'd ever seen. He fidgeted a little bit but when he heard the faraway click of the sticks that start the scene, he took off! To my surprise, it was like sitting in a rocking chair. It was the most beautiful horse I've ever ridden. He raced across the field, up the hill, and right in front of the camera he danced and raised his front hooves a bit as the other horses passed by. I swear that horse was a ham. Everyone started clapping and I fully expected the horse to take the bow he deserved."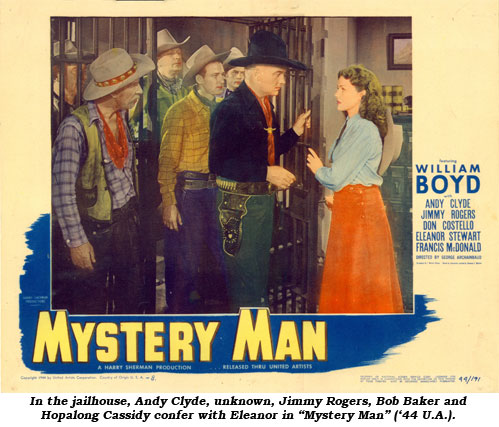 "I had ridden from the time I was young. My mother and Dad didn't own horses but we rented them and rode in the forest preserve. But we rode English. So when I came to California and got to ride in Western saddles I felt like I was sitting in a chair, they're so much easier to ride on. The only problem I ever had with a horse was Bill Boyd's Topper. Whenever they tried to take still pictures, Topper was terrible. He'd come up and nibble your shoulder. It was an honor to be in several Hopalong Cassidy pictures, including some of the last ones Bill made for Pop—I mean Harry—Sherman. Being a leading lady in one of Sherman's Westerns means a lot—because you can be human—he lets you dress smartly, and, even against an 1880 setting, you have character. You get to shoot at the villain, intelligently help the hero! Something about working out of doors that relaxes people. Cowboys are wonderful, kind, generous fellows. None of us in Westerns felt tense or nervous."
Suddenly, Eleanor disappeared from the screen in the mid '40s. "I left pictures when my daughter was born and did publicity as a volunteer for clubs, organizations and fund-raising charity events, worked in church and wrote a book in 1984, PRISCILLA, telling the real story of the Pilgrims. I'm a member of the Press Club in North San Diego."
"But the best was yet to come. When I was 77 years old! A year after my husband (Eugene James) died, I received a Christmas card from a friend I had known for 50 years but hadn't seen for 15. His wife had died the year before also. I had always admired him. Maurice Greiner and I were married the following May and have had an exciting life and many wonderful years. Thanks to the dear Lord, we are energetic and healthy and plan to go into the 21st Century with a gallop!"
Sadly, at 94, Ellie died on July 4, 2007.
Eleanor's Western Filmography
---
Movies: Headin' For The Rio Grande ('36 Grand National)—Tex Ritter; Arizona Days ('37 Grand National)—Tex Ritter; Gun Ranger ('37 Republic)—Bob Steele; Santa Fe Rides ('37 Reliable)—Bob Custer; Range Defenders ('37 Republic)—3 Mesquiteers; Rangers Step In ('37 Columbia)—Bob Allen; Where Trails Divide ('37 Monogram)—Tom Keene; Painted Trail ('38 Monogram)—Tom Keene; Rolling Caravans ('38 Columbia)—Jack Luden; Stagecoach Days ('38 Columbia)—Jack Luden; Mexicali Kid ('38 Monogram)—Jack Randall; Flaming Lead ('39 Colony)—Ken Maynard; Pirates On Horseback ('41 Paramount)—William Boyd; Riders Of The Timberline ('41 Paramount)—William Boyd; Silver Queen ('42 United Artists)—George Brent; Mystery Man ('44 United Artists)—William Boyd.