FRANCIS MORRIS
Character actress Frances Morris (her real name) has played many roles in her lengthy career—from mothers to secretaries to reporters. She can play sweet, or be her feisty self! When contacted at her home, spirited, no-nonsense Frances reported, "I'm 95 years old! I don't ever think of my so-called career!"
Born August 3, 1905, in N.Y.C., her film debut was a leading lady role opposite Bob Steele in 1931's "Ridin' Fool". "Most of the cowboys were large men with large hats on their heads. Bob Steele was a tiny man who didn't look like your typical cowpoke. However, he was a great rider—possibly the best horseman in the business. Since I am also tiny, Bob Steele liked me! However, the next time we worked together, in ('33's) 'Trailing North', I had a small part and Doris Hill had the lead. The last time I saw him was about 1957, when we did 'Gun For a Coward' at Universal. By this time, he and I were both doing little roles!"
As for those early westerns, Morris growls, "They were shot so fast, I barely remember them. It was almost 70 years ago! Westerns usually ran less than an hour, but I remember doing one (Bud 'n' Ben's 'Nevada Cyclone' '34) that was very short—maybe only 30 minutes. We only took two days to shoot it—maybe even one day!"
I asked her, "In 'Boss Cowboy' with Buddy Roosevelt you are hanging from a train trestle and then fall into the river. Was that you?" "You bet it was me! Those pictures were so cheap, there were no stunt people. You had to do your own stunts! The water was freezing and I caught a cold! Of course, the film took only (a few) days to shoot, so I was back home before the cold caught up with me. (Laughs) I thought you could tell it was me, but I haven't seen it in 70 years. I also had forgotten that it was Buddy Roosevelt—the pictures were shot so fast, you didn't have time to get to know anybody or play games, that sort of thing. The producers and directors all blur in my mind, I'm sorry to say. It just wasn't considered important. These westerns were considered bottom-of-the-barrel, the lowest you could go in the picture business. I knew how to ride. That was a requirement on those cheapie pictures. They were too tight to spend a dime on anything or anybody who'd delay their production."
As to being the only woman on location, "Seems like there never was another girl to help with wardrobe and things like that. I had to put on my own makeup! And as for the casting couch business, it was never a problem with me. Guess the guys didn't think I was pretty enough! (Laughs) I don't remember when it became a requirement, that you had to have an agent. Mine never did anything for me—they just collected their ten percent. They never fought for a part, or anything like that, and neither did I. I just enjoyed working—and although most of my roles were small, that was okay as well. As for now, I could care less. It's something I used to do a long, long time ago."
When asked about the use of the name Frances Wright for 1935's "Pals of the Range" with Rex Lease, she irritably told me, "It didn't help the career at all! It was another of those three-day pictures, slam, bang and it's over and forgotten. In most of those pictures, I had small, often unbilled parts. I'd work a day or two and that's all. So, I'd take the money and run, and forget about them!"
In the '50s, Frances made the transition to television, as well as appearing in big-budgeted westerns. In "Gun For a Coward" she supported Fred MacMurray. "Let me set you straight. Hollywood has a class system. Stars only talked to stars, featured players only spoke to featured players, and those of us in the small-parts only associated with one another. Therefore, unless I had a scene with the star, we never talked! Mr. MacMurray seemed like a nice guy, and I suppose he was, but I didn't really know him—personally. It was just a job to me."
Frances considers other titles her more memorable roles. "I had a small part in 'The Big Clock' as Ray Milland's secretary. I didn't have much to do, but I was on the picture a good little while, and I had scenes with Charles Laughton! That was very nice. A similar thing happened when I played a nurse in 'So Proudly We Hail' ('43). The part wasn't much, but I was on the picture a long time, and the salary turned out to be good as a result!"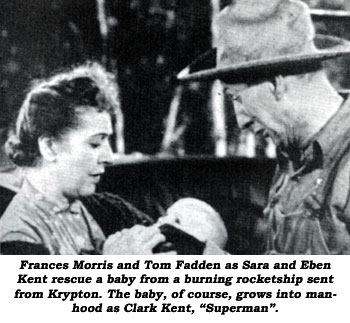 What is her most frequently recalled part? "Probably that opening pilot show for 'Superman'. I played the farmwife who adopts Clark Kent. Everybody seems to remember that! And, speaking of television, I did seem to get slightly better parts than I did in features."
Morris is more proud of her personal life. "I was first married to Russell Parker, a silent screen actor. Then, I was married to Antrim Short, who was also an actor. We even both appeared in the same picture, 'The Big Show' ('36) with Gene Autry, but we both had minuscule parts! He was from an acting family—his father was Lew Short, a silent screen actor, and his two sisters, Gertrude (who was a fat, comic-type) and Florence, were also actresses. Antrim appeared on Broadway in 'Carnival' ('29). He later became a casting director for both Samuel Goldwyn and Universal, where I was cast in numerous little things—nothing great. Eventually, he became a top Hollywood agent! I lost him in 1972. Our son, Michael Antrim Short, is a California businessman. For several years I belonged to the North Hollywood Science Of Mind Church. I've been retired for many years.
Morris died December 2, 2003, in Santa Clarita, CA.
Frances' Western Filmography
---
Movies: Ridin' Fool ('31 Tiffany)—Bob Steele; Guns For Hire ('32 Kent)—Lane Chandler; Trailing North ('33 Monogram)—Bob Steele; Boss Cowboy ('34 Superior)—Buddy Roosevelt; Nevada Cyclone ('34 Reliable)—Bud 'n' Ben (Fred Humes/Ben Corbett); Rawhide Terror ('34 Security)—Art Mix; Pals of the Range ('35 Superior)—Rex Lease; Big Show ('37 Republic)—Gene Autry; Woman of the Town ('43 U.A.)—Albert Dekker; Lumberjack ('44 U.A.)—William Boyd; Mrs. Mike ('49 U.A.)—Dick Powell; Fury at Showdown ('57 U.A.)—John Derek; Gun For A Coward ('57 Universal-Int'l.)—Fred MacMurray; Shoot-Out At Medicine Bend ('57 WB)—Randolph Scott. Serials: Dick Tracy Vs. Crime, Inc. ('41 Republic)—Ralph Byrd. TV: Wild Bill Hickok: Lady Mayor ('51); Wagon Train: Mark Hanford Story ('58); Maverick: Seed of Deception ('58); Restless Gun: Bonner's Squaw ('58); Man Without A Gun: Daughter of the Dragon ('59); Rawhide: Incident at Red River Station ('60); Deputy: Dark Reward ('60); Virginian: If You Have Tears ('63); Wagon Train: Ben Engel Story ('64).