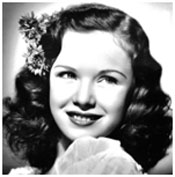 GLORIA JEAN
Born Gloria Jean Schoonover April 14, 1926, in Buffalo, NY, her family moved to Scranton, PA, shortly after that. Her father owned a music store while her mother, who had been a bareback rider in a circus, took care of Gloria and her three siblings.
Gloria's singing ability was discovered at a young age and by five she was singing in the Scranton area.
After auditioning for Universal director Joe Pasternack the soprano child star began her career in 1939's "The Under-Pup" and followed up with a string of successful pictures used to introduce new leading men such as Donald O'Connor, Mel Torme, Marshall Thompson and Keith Brasselle. Perhaps her most famous vehicles are "Never Give a Sucker An Even Break" ('41) with W. C. Fields and "Copacabana" ('46) with Groucho Marx and Carmen Miranda. "Whenever Carmen would get angry, she would take fruit off her hat and throw it at people. She was something else! The authorities threatened to shut down the set of 'Sucker' if ever W. C. was caught 'imbibing'. He'd go behind the curtain and take a swig out of a container—it was called medicine, if he were caught."
Concerning her few westerns, "I did guest on a 'Death Valley Days' as the title character in 'Lotta Crabtree'. Since it was the true story of the famous singer, there were songs in it—but I don't come on until halfway into the show."
"What was really western were the two 'Annie Oakley' shows that were done back-to-back. Douglas Kennedy was in both of them, and we went on location." According to location researcher Tinsley Yarbrough they were probably shot in Newhall along the Santa Clara River near Saugus. "It was rather rustic," she said. "Some things were pretty hard to come by. Douglas was a heavy drinker (Laughs), and he would get drunk! (Laughs). He'd hide the booze under his coat. Things like that. One day, he yelled out, 'Come on everybody—have a drink with me' and just as he did, he dropped the hooch and it smashed into a million pieces! (Laughs) I won't tell you what he said at that moment! (Laughs). But it was hard to get alcohol there."
Concerning the series star, Gail Davis, Gloria recalls her fondly, "She was real cute; just adorable. Very nice and easy to get along with. I liked her very much. Before she died, I saw her at one of those autograph shows. We were both in the ladies lounge and I spoke to her. A few months later, I saw her again at another show, and we had a good reunion. She confided in me that she had cancer, but to not let it get around. I had no idea it was as serious as it was—I do not think Gail knew how short a time she had. It was very, very sad."
Originally, it looked as if Universal had big plans for Gloria, but as she advanced into her teens the films grew less important. She did a tour of Britain and returned for "Copacabana". Years later she was "discovered" working as a restaurant hostess by Jerry Lewis who brought her back to films in "The Ladies' Man". Unfortunately, her scenes were cut from the film. In recent years Gloria worked as a receptionist for Redken Cosmetics where the company had a brochure printed up on her film career. Gloria, a divorcee, published her bio in '05 and now lives with her son and family in Hawaii.
Gloria's Western Filmography
---
TV: Death Valley Days: Lotta Crabtree ('54); Annie Oakley: Annie Takes a Chance ('55); Annie Oakley: Powder Rock Stampede ('55).