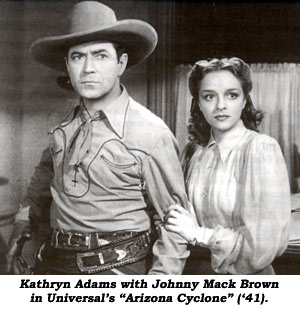 KATHRYN ADAMS
Beautiful, talented Kathryn Elizabeth Adams had a brief but memorable career in motion pictures. Born July 15, 1920, in Mankato, MN, "which is famous for the slaughter of 33 Sioux Indians (Laughs)," she got into pictures after being encouraged to enter a contest.
"In 1939, Lux Radio Show had a Gateway To Hollywood program. The winners would get a contract with RKO-Radio. A scout was sent to Minnesota, but nobody would enter. We were suspicious of Hollywood (Laughs). I was attending a small college in the Twin Cities, and my drama teacher said to go on and see what it's like. I won the midwest tryouts, although I lost the national finals. A big director, Gregory La Cava, was one of the judges who voted for me. He found out the contest was rigged and signed me for the second lead in 'Fifth Avenue Girl' with Ginger Rogers! (Famous dress designer) Howard Greer was doing the clothes for this little hayseed from Minnesota! Tim Holt played my brother—this was before he was a big cowboy star. He felt uneasy about doing this picture—it was not his style, but he was fine, and a really nice person. He later worked with Hugh Beaumont, my first husband. Everybody in the picture business was so warm and hospitable. There was a makeup man who wanted to make me, but generally I got along fine with everybody."
Kathryn Adams is a published author, with several short stories appearing in various children's magazines. Asked about her writing, she reveals her works have appeared in POCKET and in FRIEND, a Mormon magazine. I write under my current married name, Kathryn Doty."
An early credit for Kathryn was a small role in "Hunchback of Notre Dame". "I was supposed to play Esmeralda—then Charles Laughton, who was signed to play the hunchback, cabled he was bringing Esmeralda with him from Ireland. It turned out to be Maureen O'Hara, as they had just worked together in 'Jamaica Inn'. Maureen and I became good friends. The RKO backlot, or ranch, where it was filmed, was very interesting. William Dieterle, the director, was very tall and imposing. He was an ardent astrologer—he believed in it. He would start filming on the exact hour and exact day. He also wore white gloves. Charles Laughton took hours to be made up, and one time, Dieterle didn't get to start filming when the horoscope charts said he should, so he had to start all over, finding out the exact hour and day to shoot this and that! (Laughs)."
Her RKO musical short, "Molly Cures a Cowboy", starred Ray Whitley. "Ray is a very good singer—we shot it quickly, and they didn't let me sing in it, although I wish I had!"
When asked how she got over to Universal, Kathryn relates an unusual tale. "RKO didn't use me properly; I could sing, but they never let me sing in a picture. I had a small role in a Kay Kyser movie, 'That's Right—You're Wrong.' David Butler was the director. When he found out RKO was going to drop me, he said, 'I'm doing a Bing Crosby picture ('If I Had My Way') over at Universal. I'll tell them to put you under contract and I'll use you in the film. That was that—I never had a screen test or anything. It was all too easy for me! As a result, I didn't appreciate it at the time. I never had an agent. Although Myron Selznick did represent me for awhile, he didn't do anything."
Kathryn co-starred with Donald Woods in Universal's "Sky Raiders" ('41). (Advertised as "The most sensational sky-serial ever made.") "Donald was really, really nice. So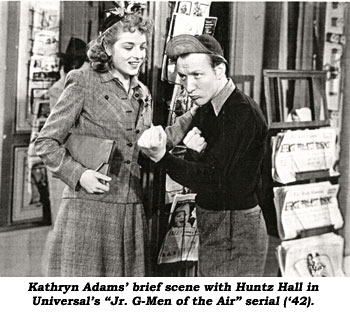 relaxed. I remember getting shot in the show. And of course the many stock shots they used. One time, the airplane plunges into water (Ch. 11)—they used a stock shot to show it. Although no one could have survived, in the next chapter, I did survive and am rescued, being seen sitting in a ship captain's quarters. There was another scene where they got a bear (Ch. 10)—now that was scary!" (Kathryn also had an unbilled bit as a girl on the street in Ch. 1 of "Jr. G-Men of the Air".)
Asked about interacting with the special effects, Kathryn relates, "Don Brown, a producer at Universal at the time, filled me in on off-screen stories and showed me how they put it all together. That was fascinating!"
"Sky Raiders" co-director Ray Taylor (with Ford Beebe) was "a director from Perham, MN. He was a very cordial to me. Ray was a great, wonderful man; very easy; so great. We Minnesotans stood together (Laughs). I had a flair for acting—but had so little experience. I was ahead of my time in that I was college educated before getting into the business. I was less interested in glamour and being 'sexy' and more into substance, but I only got the type of roles in style at the time. When watching the beginning of 'Sky Raiders' recently, I decided I wasn't as unprofessional as I remembered! (Laughs) It's fun!"
"(Actress) Helen Parrish was a good friend. I was at her wedding to (actor/writer) Charles Lang. The Andrews Sisters sang 'Apple Blossom Time.' I'd worked with them in 'Argentine Nights'. Another one I was close to was Evelyn Ankers, but we weren't as close as Helen and I."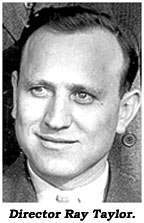 Director Ray Taylor also guided Adams through the first two of her three leading lady roles opposite Johnny Mack Brown at Universal. "Horses! I was not a horsewoman. The horses knew more about filming westerns than I did, so I just 'hung on' and they did the work! I knew nothing about horses—I was told, 'Don't worry. Just get on the horse. Hang onto the pummel.' When those movie horses heard 'Action,' they would back right out of the post, gallop down the street, and do their part—well. The director always had someone close to me, so I wouldn't jiggle off—or if I did, they would catch me before I fell off!"
"Johnny Mack Brown was very nice; gracious and helpful. 'Please be careful!' That was my most oft repeated farewell line to Johnny Mack Brown. (Laughs) Nell O'Day did more of the tomboy stuff. In the first picture, 'Bury Me Not On the Lone Prairie', remember the scene in the buckboard where I am riding? Well, it was not easy to gallop! There was nothing but the seat to hang onto—I thought I would jiggle down. There was no double for that, either! But, Nell O'Day—she was a fine horsewoman. She was a little tiny person (5' 3"), yet her horse was a huge Irish jumper chestnut, 17 hands. Such a large horse for a little person. Nell was down to earth, a nice person. She entered horse shows all over the area. I saw her perform in many of them. She did jumps and everything!"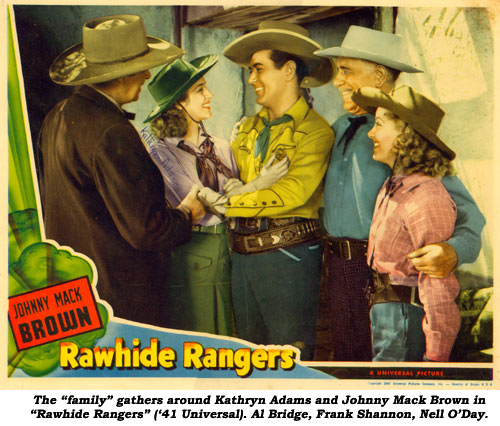 In "Rawhide Rangers," Nell sings and Kathryn plays the piano. "That was me; I could play piano as well as sing. On loan out from Universal, I was even supposed to be Gene Autry's leading lady in some of those musical westerns he did at Republic, but at 5' 7" I was told I was too tall! (Laughs)"
Another of her leading men was Richard Arlen, with whom she co-starred in Universal's coal mining adventure, "Black Diamonds." "Richard was another one from Minnesota. He was very nice and considerate. The difference in our ages didn't seem to matter. Andy Devine was a sweetheart, and Mayor of Van Nuys!"
Asked about her retirement, Kathryn says, "I married Hugh Beaumont, who was in the Gateway To Hollywood contest with me in '41. Our marriage, at first, was like the Janet Gaynor-Fredric March 'A Star Is Born'. My career was eclipsing his at that time. I did return to pictures in '46, in PRC's 'Blonde for a Day', to play opposite Hugh's Michael Shayne, but that was because Cheryl Walker, who was playing his girlfriend Phyllis, was expecting a child, and then later miscarried. So I stepped in for that one time only."
"When Hugh and I were getting married, Universal wanted us to actually get married on film, for the marriage scene sequence in Irene Dunne's 'Unfinished Business.' This was some stunt of Richard Birdwell, publicity agent for Jean Harlow. They thought it would be great publicity! I was horrified! I used various excuses to not have this happen, but they kept coming up with a reply. I told them we had no place to live right now and they said, 'We'll find you a place.' That sort of thing! I was aghast! Anyway, I did get out of that one! Hugh and I did marry in '41 and had three children—Hunter, born in '43; Kristan, born in '45, and Mark, born in '49. We bought an island in Minnesota, so we had a place to come every year with the children, just so they could see what it was like when I was growing up."
"I became a psychologist with the Footlight's Child Guidance Clinic at Hollywood Presbyterian Hospital. I was involved in that and never ever considered taking a role on 'Leave it to Beaver' (in which husband Hugh starred), or anything else, for that matter." (Hugh Beaumont died in 1982.)
"When I moved back to Minnesota, I continued as a psychologist. For the last 25 years, I have been Mrs. Fred Doty. Since retiring as a psychologist, I turned to writing—children's' stories and also my memoirs. One of my very best friends is Marge Raitt, who is married to singer John Raitt. So, I have known Bonnie Raitt all of her life!"
Although Kathryn Adams found most everybody (with the exception of that one makeup man) great to work with, "Maria Montez was not a pleasant person. She was one of the exceptions! (Laughs)"
About her career in general, Kathryn muses, "I didn't regret leaving it; I regret not appreciating it more at the time. It all came so easy, I just didn't think of it then, like I do now. Hugh didn't ask me to quit—I just quit to raise my children—it was a different world. Acting wasn't something I longed for—it just happened. I love the water and am a good swimmer. I also love the wilderness. I have a very good life now…I sport a tiny hearing aid, have all my own teeth, and absolutely no face lifts with the exception of tiny pierces in my ears for those endlessly intriguing rings, which weren't worn in westerns."
Kathryn's Western Filmography
---
Movies: Molly Cures A Cowboy ('40 RKO short)—Ray Whitley; Bury Me Not On the Lone Prairie ('41 Universal)—Johnny Mack Brown; Rawhide Rangers ('41 Universal)—Johnny Mack Brown; Arizona Cyclone ('41 Universal)—Johnny Mack Brown. Serials: Sky Raiders ('41 Universal)—Donald Woods; Jr. G-Men of the Air ('42 Universal)—Dead End Kids.