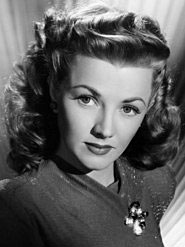 PHYLLIS COATES
by Bobby Copeland and Boyd Magers

Phyllis Coates has performed many roles in her acting career. However, she's best known as Lois Lane in the "Superman" TV series (which she played "…like a horse with a bit in my mouth, hard driving.") and as the star of the 1955 Republic serial, "Panther Girl of the Kongo".
WC: Where were you born?
PC: In Wichita Falls, TX, November 15, 1927. My father was a farmer and sheet metal worker. We later moved to Odessa, Texas, where I attended school. When I was sixteen, I left Texas to attend college in California. I started working in Ken Murray's vaudeville show. That did it; I decided then to become an actress.
WC: Is your real name Phyllis Coates?
PC: Oh, no, don't ask me that!
WC: (I later discovered her real name is Gypsie Ann Stell.) Since you're from Texas and made several Western films, may I assume you were a good rider?
PC: No, I was a lousy rider. I only got on a horse when I had to and got off as soon as I could.
WC: I know you have done stage and screen work. Which do you like best?
PC: There is no comparison. I like stage work best. There is nothing like working to a live audience.
WC: What was it like making serials?
PC: It was just a job. Really, it was very hard work. We had a tight schedule and limited budget. We had to work hard and fast.
WC: What was the difference in working in serials and B-Westerns?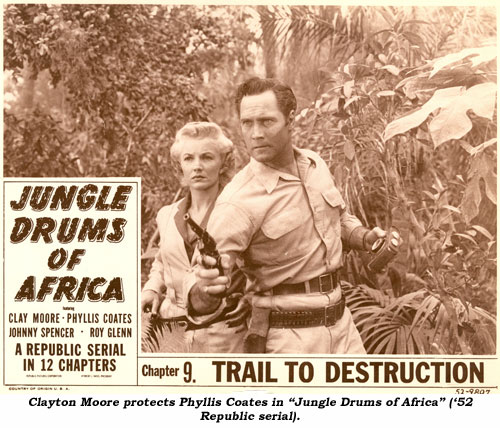 PC: There was very little difference. We would shoot a Western in about six days and a serial in about three weeks. Basically, they were the same type of film.
WC: You worked in a serial with Jock Mahoney. What was it like working with Jock?
PC: It was great! I'm sure everyone knows Jock is a fun loving guy. I enjoyed working with him. He was a great stuntman and horseman.
WC: You made several films with Whip Wilson, Johnny Mack Brown, Bill Elliott. Can you contrast their personalities?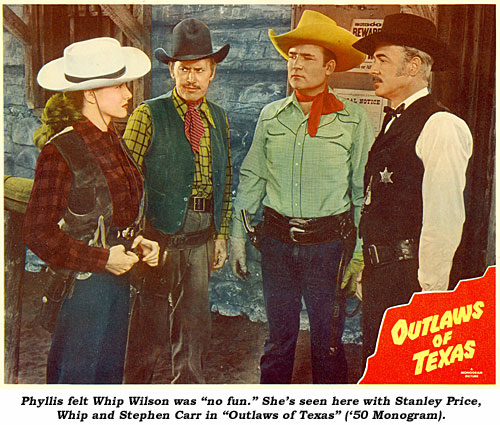 PC: Most of the cowboys were great. Johnny Mack Brown was a very sweet, loving man. Probably the best cowboy, even better than some guys I'd worked with who were bigger names and better looking, was Wild Bill Elliott. He was the best cowboy. The only cowboy I ever worked with that was no fun was that awful guy, Whip Wilson. All he had was his whip—and his ego. I admired Joel McCrea. He and his wife, Frances Dee, had a long and happy marriage.
WC: In the "Rocky" Lane film, "El Paso Stampede", you were blonde, and in a Whip Wilson movie you were a brunette. Why did you change your hair color?
PC: It was because of my role in the "Superman" series. I didn't want people to see me in films and relate me to the Lois Lane character. So, I changed my hair style and color so I would not be typed as that character.
WC: How about the way you wore your hair as Lois Lane?
PC: (Sour sounding) Ooohhh…that had to do with Mrs. Bob Maxwell…Jessica Maxwell. (Laughs) It was pretty funny, wasn't it? (Laughs) (Maxwell was series producer.)

WC: What was George "Superman" Reeves like?
PC: George was a very human sort of guy, complicated, but sweet. He was typed as Superman and couldn't find work after the series. Unfortunately, George took his life a few years after the series ended. No one imagined the interest (in Superman) would last this long. It's like a cult. (Whether Reeves committed suicide or was murdered is still a matter of debate.)
WC: You were TV's first Lois Lane, why did you leave the series?
PC: I've always had the hots to play comedy. My "Superman" contract expired. I left the series to do a pilot with Jack Carson and Allen Jenkins. We did the pilot for MCA; shortly thereafter Jack got sick, so it never followed through. That's why I left, not 'cause I was mad or anything like that. I loved George, I loved the crew. They offered me a large increase in salary to stay, but I really wanted out.
WC: Were you there on the "Superman" set when the wires broke holding George up in a flying position?
PC: (Laughs) Yes—I saw this…and it was the funniest visual…I got hysterical laughing! The only time George ever got mad at me, 'cause I couldn't stop laughing. (Laughs) Everything came loose…his rubber muscles…(Laughs) He wouldn't speak to me all day! It was the funniest sight…but that was the end of the wires! (Laughs) By the way, if anyone has a still from "Superman and the Mole Men", you might notice, the weapon the mole men used is an Electrolux vacuum cleaner! (Laughs)
WC: Can you think of some unusual thing that happened during your career?
PC: While we were filming "Superman", Robert Shayne, who played Inspector Henderson in the series, was arrested on the set for being a card-carrying communist. This was during the McCarthy era and there was a big communist scare. Shayne and many other Hollywood personalities had their careers ruined.
WC: Can you think of a funny incident?
PC: Once while filming, I missed my mark. We had marks on the floor to show us where to stop. In one of the action scenes, I went too far and actually got slugged. It wasn't funny at the time, but we had a good laugh later.
WC: Did you know Gene Autry?
PC: Gene's company produced "Death Valley Days" at the start. I did the first episode of that series. We shot in Death Valley in August! We lost a cameraman, an assistant director, some grips…it was so hot people were just falling over. But it was beautiful. And it was a good episode…it was exciting. They put a lot of money into that first production. I got a note from Mr. Autry, because everybody had been passing out and had to be shipped back home. Other people had to come replace them. He said, "Hang in there, girl." I've still got the note!
WC: Your first film work was in several Joe McDoakes one-reel comedies…
PC: I was under contract to Warner Bros. and they placed me in the series. The Joe McDoakes shorts were broad, slapstick comedy. That's where I really got the feel for comedy. I loved it. George O'Hanlon was a very funny man.
WC: What is your favorite piece of work?
PC: I enjoyed doing an "Untouchables" with a French director. I was not as fortunate as some actors…I didn't get rehearsal time. We made 'quickies'. We made an entire film in six days. There was no second take. If you took a second take, everybody pouted and got mad. They lit the cowboys and lit the cowboy's hat and the cowboy's horse. (Laughs) It was that kind of quickie stuff. So, when I got to work with a good director on an "Untouchables" where he took time and went in for some fine points in acting…I loved it!
WC: You worked on "Rawhide" and you've lived in Carmel where Clint Eastwood was mayor. Do you have any Eastwood stories?
PC: If I told the Clint Eastwood stories, I'd have a lawsuit on my hands! (Laughs) But he made a good mayor, everybody absolutely adores him. Carmel is overrun with people looking for Clint. He did what he went in to do (as mayor), got out and a friend of his is in now. I did two episodes of "Rawhide"…Charles Marquis Warren directed. Actually, I didn't have any scenes with Clint.
WC: Who did you work with that you respect the most?
PC: I did low budget things. But when you work with those directors…Tommy Carr, George Blair, Lee Sholem…they were guys who knew how to make a movie and knew what they were doing. They were all action guys. There was no time for analyzing or rehearsing. They got in and shot a movie. I liked 'em all. I did enjoy working with Ida Lupino as a director on an "Untouchables". As far as actors there were a lot of them…George Reeves, Jock Mahoney, Walter Reed…it's hard to pick out specific people. It was a combination of people that made things work.
WC: Your marriage to director Norman Takar ended in 1965, leaving you to raise a 15 year old daughter and 8 year old son. You remarried to a doctor but didn't work. Why?
PC: My husband didn't understand the movie business, so I gave it up and helped him run his business.
WC: You're once again single. What's in your life today?
PC: A few years ago I came out of a long retirement to resume my acting career. I completed a film called "Goodnight Sweet Marilyn", where I played Marilyn Monroe's mother. It's a good part and I'm very pleased with my performance. I was Lois Lane's (Teri Hatcher) Mom on the new Superman—"Lois and Clark"…and did some commercials.
Phyllis' Western Filmography
---
Movies: Outlaws of Texas ('50 Monogram)—Whip Wilson; Canyon Raiders ('51 Monogram)—Whip Wilson; Longhorn ('51 Monogram)—Bill Elliott; Man From Sonora ('51 Monogram)—Johnny Mack Brown; Nevada Badmen ('51 Monogram)—Whip Wilson; Oklahoma Justice ('51 Monogram)—Johnny Mack Brown; So You Want to Be a Cowboy ('51 WB short)—George O'Hanlon; Stage to Blue River ('51 Monogram)—Whip Wilson; Canyon Ambush ('52 Monogram)—Johnny Mack Brown; The Gunman ('52 Monogram)—Whip Wilson; Fargo ('52 Monogram)—Bill Elliott; The Maverick ('52 AA)—Bill Elliott; Scorch-ing Fury ('52 Fraser)—Richard Devon; Wyoming Roundup ('52 Monogram)—Whip Wilson; El Paso Stampede ('53 Republic)—Allan "Rocky" Lane; Marshal of Cedar Rock ('53 Republic)—Allan "Rocky" Lane; Topeka ('53 AA)—Bill Elliott; Blood Arrow ('58 Regal/Fox)—Scott Brady; Cattle Empire ('58 20th Century Fox)—Joel McCrea. Serials: Jungle Drums of Africa ('53 Republic)—Clayton Moore; Gunfighters of the Northwest ('54 Columbia)—Jock Mahoney; Panther Girl of the Kongo ('55 Republic)—Myron Healey. TV: Cisco Kid: Wedding Blackmail ('50); Range Rider: Trail of the Lawless ('51); Cisco Kid: Haven For Heavies ('51); Cisco Kid: Phony Sheriff ('51); Cisco Kid: Uncle Disinherits Niece ('51); Death Valley Days: How Death Valley Got Its Name ('52); Range Rider: Pale Rider ('52); Lone Ranger: Stage to Estacado ('53); Lone Ranger: Perfect Crime ('53); Kit Carson: Riders of the Hooded League ('54); Kit Carson: Hermit of Indian Ridge ('54); Lone Ranger: Woman In the White Mask ('55); Frontier: King of the Dakotas ('55); Death Valley Days: Solomon In All His Glory ('56); Gunsmoke: Wild West ('58); Tales of Wells Fargo: Alias Jim Hardie ('58); Desilu Playhouse: Trial At Devil's Canyon ('59); Black Saddle: Client: Dawes ('59); Rawhide: Incident of the Judas Trap ('59); Rawhide: The Little Fishes ('61); Gunslinger: Johnny Sergeant ('61); Tales of Wells Fargo: Bitter Vengeance ('61); Death Valley Days: A Gun Is Not A Gentleman ('63); Death Valley Days: Lucky Cow ('64); Gunsmoke: Homecoming ('64); Virginian: Smile of a Dragon ('64); Death Valley Days: Left Hand Is Damned ('64).