JUDY CLARK
Vivacious, bubbly, blonde and beautiful, Judy Clark hails from Rockville Centre, Long Island, N. Y., getting her start in show business on the stage.
Born June 9, circa 1921-1924, Judy says, "My mother, bless her heart, was one of those stage mothers determined her daughter would be the next Shirley Temple, or at least a star! So, we went west where I landed a part in the second Broadway version of 'Meet the People', which also had Jack Gilford, Jack Bailey and June Haver. Another girl in the show was Joyce Horne, a dancer and later one of Universal's Jivin' Jacks and Jills. Joyce married a Jivin' Jack, Jimmy Vecchio, and along with another 'Jack', Roland DuPree, we made a foursome—always having fun together."
It wasn't long before Judy was pacted at Republic in 1942. "Old man Yates didn't have an original idea in his brain." In her first film, "South of Santa Fe" with Roy Rogers, "I did those crazy, kooky, zany Betty Hutton-type of numbers—bouncing around while singing and dancing. Betty had signed with Paramount and made a huge splash in her first feature picture, "The Fleet's In" ('42), "So I was signed by Republic to be their answer to Paramount's Betty Hutton. I enjoyed doing those fun things, but it's never very good to be a second anybody. One Betty Hutton was enough, and I somehow got stuck in that mold, yet I did do several dramatic things. Alas, the casting people generally thought of me only as a comedic type, and that led to many downsides to my career."
"King of the Cowboys" also starred Roy Rogers. "What a little guy he was—kind of stand-offish, the complete opposite of Dale Evans. I didn't know what she saw in the guy—except for the old saying, 'opposites attract'. But, they were married over 50 years, and that must be some sort of record."
It's obvious Judy had riding experience prior to her appearance in westerns. "Oh, sure, I could ride. Joyce Horne could ride, but her husband Jimmy won't get near a horse. (Laughs) He was afraid of 'em, so the four of us never went riding together. (Laughs) The guys were too chicken."
During some slow times in her career, Judy Clark relied on her friends for food, both for herself and her mother. "I'd call up Joyce Horne and ask if she were fixing stuffed artichokes and she'd say 'Yes. Come on over and bring your mother.' Oftimes, on dates, I'd have to take a doggie bag home, so my mother would have something to eat. This even happened when I was dating Ronald Reagan. He's a very nice man, and would take me to these great places for dinner—I'd get a doggie bag and let my mother have the leftovers. After he started dating Nancy Davis, he 'cheated' on her by asking me out again. It was even written up in PHOTOPLAY. The next thing I knew, he and Nancy were married and she was expecting their daughter, Patti. (Laughs)"
Judy says Republic "…was a very small studio, where everybody knew almost everybody else. It was like a little town, and everybody, for the most part, was so warm and friendly. It was the first place I worked, so at the time I didn't have anything to compare it with—but they were kinda cheap—I mean, you didn't get rich under your Republic contract, unless you were Vera Hruba Ralston and married Old Man Yates. (Laughs) But we had a lot of fun, and I got my start, and was well equipped when I went over to Universal and did those musicals with Gloria Jean, Vivian Austin, Lois Collier…we became lifelong friends… Edward Norris, and my 'Meet the People' co-star Jack Gilford. Universal even put me in a dramatic, but tiny role, in 1945's 'Strange Affair of Uncle Harry' with George Sanders. From there I could at least tell the casting people I did a dramatic role, for a change!"
Judy also worked for Columbia, supporting Jane Frazee in '44's "Beautiful But Broke". "That was a lot of fun to do; Jane was such a sweet girl—and Joan Davis was a real riot. That picture was one laugh after another—such fun. I also worked with—gulp (Laughs) the Bowery Boys in 'In Fast Company' ('46) and the first of the 'Teen Agers' pictures, 'Junior Prom' ('46) with Freddie Stewart and June Preisser—both at Monogram."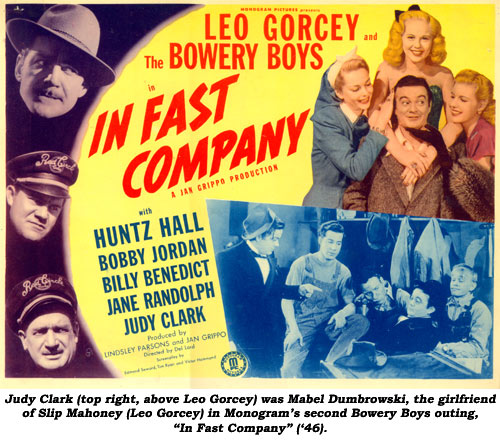 "It was PRC that gave me my first 'dramatic musical', '44's 'Minstrel Man'. Although a low budget film, it's noted for the song 'Remember Me to Carolina'. I keep stressing dramatic pictures, because I did do some things that were totally dramatic, like the 'Bruce Gentry' serial. ('49, Columbia starring Tom Neal) Tom was a little, cocky guy—I am fairly tall and Tom was fairly short, and I don't think he appreciated that fact at all. (Laughs) Ralph Hodges, my brother in the serial, I had known, because he was one of the kids…not a Jivin' Jack mind you, but he was in that type of picture. I don't know why he didn't go further than he did."
Judy does some horseback riding in "Bruce Gentry". "As I said, I already knew how to ride, so that was never a problem. A lot of girls would lie and say they could ride; then have to find a riding stable and learn how. Being prepared for any breaks that came my way, this wasn't a problem at all. We shot most, if not all, the locations up in Lone Pine. Most things I did, I did at the studio, but this one had a lot of location work to it. The chapterplays were done as inexpensively as possible, so if I could, I would do any of the riding that was required—and as I recall, you can see it's me! And remember, Sam Katzman, Mr. Cheapo, was the producer! (Laughs)"
Doing "Bruce Gentry" at Columbia certainly prepared the star for her next serial, "Desperadoes of the West" ('50) at Republic. "By this time, they knew I could do something other than musical things—I did a lot of musical shorts, and even a musical specialty in 'Lone Star Moonlight' ('46) with Ken Curtis. But I had some good dramatic parts under my belt, and Republic had no qualms about putting me in 'Desperadoes...'"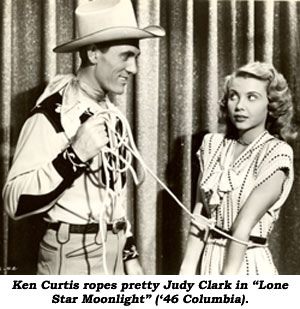 Former western cowboy star Tom Keene used the name Richard Powers in the serial. "I don't recall that at all! Everybody called him Tom Keene, as far as I knew. He changed his name to get out of the western mold, which was silly, since he was a big, big star. He was so nice; so handsome…a real dreamboat. Always immaculately dressed. He looked like a million, even if he were wearing cowboy clothes. He was quite a bit older than I am, and we didn't have any romantic things together, but I liked him a lot; I enjoyed working with him. He was such a kind, sweet man—I wish he would have accepted his western fate." (Actually, by 1950 Tom Keene was no longer a big western star, having made his last for Monogram in 1942. He'd worked in westerns and action films at RKO as Richard Powers. It's possible Republic felt if he/they had reverted to Tom Keene, exhibitors would have felt it was an old serial. Republic did use the Keene moniker that same year when Tom guested in Roy Rogers' "Trail of Robin Hood"—but that was for the specific western association. Other than that and for Ed Wood who insisted on using Tom Keene—he preferred to stick with Richard Powers. —ed.) Some of the serial was shot on location, "Up at Iverson's Ranch, which isn't as far from Hollywood as Lone Pine is—but at the time, it seemed like it was a long ways out into the valley! (Laughs)"
Judy's father in "Desperadoes..." was Cliff Clark, "But we aren't related. A fine character man, but we did our scenes virtually at the same time—I had a couple of changes of clothes, but those scenes were shot pretty much at the same time—then Cliff Clark went on to work in another of the million pictures he made!"
Nor is Judy related to oldtimer Steve Clark or Roger "Whit" Clark… "although Roger also comes from New York, as I recall. His wife was Jan Wiley, who did serials and westerns, but they had split up by the time we did 'Swing Your Partner.'" As for other Republic co-stars, "Dale Evans was in 'Swing..', just starting her picture career. She was very nice, ambitious and beautiful. I'm glad she made it so big. Ken Curtis, who was Festus on 'Gunsmoke' had the lead in 'Lone Star Moonlight', but he was so different as Festus I almost didn't realize it was the same guy!"
In 1951, Judy toured the country for one season with Gene Autry's aggregation which also consisted that year of Smiley Burnette, Rufe Davis, Eddie Peabody ("King of the Banjo"), Pat Buttram, the Jemez Indians of New Mexico, Carl Cotner and the Melody Ranch Boys, Johnny Bond, Frankie Marvin, the Pinafores, Barbara Bardo (rope spinner), The Knapps (trick roping/dancing) and the Winter Sisters (acrobatic dancers). Judy, billed as the 'Bombastic Vocalist' sang several non-western tunes—"Lady, Be Good", "Nevertheless" and "Lonesomest Gal In Town". Judy also injected humor into her act.
One of Judy Clark's last features was '55's "Crooked Web" (Columbia). "I only had a singing spot in it, but it was a good murder drama. I did a 'Burns and Allen' as one of the kids with their kid, Ronnie Burns, and I always did a lot of USO shows. It was there where I met my future husband, Ron Zalimas, who is 15 years younger than me. In mid-2000 he retired from his job at the Pentagon. His work resulted in our traveling around the world many times!" In '98, Judy contacted a rare and extremely strong case of the flu. "Some people died from it, and it left me with emphysema. So, we now no longer travel around the country, but I've been enjoying seeing my films again…it's fun, remembering 'the good old days'."
Judy's Western Filmography
---
Movies: South of Santa Fe ('42 Republic)—Roy Rogers; Hi Neighbor ('42 Republic)—Roy Acuff; Chatterbox ('43 Republic)—Judy Canova; Swing Your Partner ('43 Republic)—Dale Evans; King of the Cowboys ('43 Republic)—Roy Rogers; Lone Star Moonlight ('46 Columbia)—Ken Curtis; Western Whoopee ('48 UI)—Tex Williams. Serials: Bruce Gentry ('49 Columbia)—Tom Neal; Desperadoes of the West ('50 Republic)—Richard (Tom Keene) Powers.