JANE GREER
The term 'film noir' brings to mind a beautiful and extremely talented actress, Jane Greer. Beginning her career as a singer and model, she soon landed a contract with RKO, eventually starring with Robert Mitchum in two film noir classics, "Out of the Past" ('47) and "The Big Steal" ('49) "No one wanted to work with Bob after his drug bust, but when they asked me about doing 'The Big Steal', I jumped at it."
Jane managed to make a couple of westerns around the same time—one an 'A', the other a 'B.' "'Sunset Pass' ('46) was really a funny picture. James Warren was the star, but we only had one scene at the train station. I never really got to know him very well, or John Laurenz for that matter. He played Chito Rafferty instead of Richard Martin. I don't know why. Dick was a very lovely man, married to a great gal, Elaine Riley. Steve Brodie was in it; also Robert Clarke. Both great guys I knew quite well at RKO. In fact, a few years ago, I was trying to round up a group of the RKO players and was having trouble getting to Steve. By the time we had the function, he had died."
Asked about some of the production problems on "Sunset Pass", Jane laughingly says—"We were up in Lone Pine and I caught the flu. I still had three scenes to shoot, but I was eventually sent home and they simply dropped all three! I was doing a scene with Nan Leslie, and she says the line, 'We met on a train.' I started laughing and couldn't stop. It was the most stupid line. Every time she would start it, I would laugh. I knew this was costing the studio money, but I couldn't help it. I also felt lousy. Somebody finally called the studio nurse, who put a thermometer in my mouth, told me I had 104 degree temperature and had me sent home immediately. I was dizzy, so I went to bed. They filmed the rest of the picture without me. Someone says, 'Where is Conchita' or whatever my name was, and it goes to a scene where I am still up a tree—four feet high—and in someone else's dubbed-in voice, 'Help, help, please help.' (Laughs)"
When asked if "Station West" ('48) with Dick Powell was a better experience, the star states an emphatic, "No! Dick Powell was very nice, but the director, who shall remain nameless, (Sidney Lanfield—ed.) was a real son-of-a-bitch. He was terrible to me—in fact, terrible to any woman. Can you imagine, this guy says to Agnes Moorehead, 'Do you think, when you say a line, hatchet-face?' She came back with, 'I've taken enough. The boat just sailed and you're on it.' She refused to work with him, so another director had to do her remaining scenes. As for me, I was a basket case—in tears! He'd say something ugly to me just before I started a scene. I was glaring and had tears, and he'd ask what was the matter with me! Finally, when we were back from location in Arizona, he was told—'It's either you or her, and we have her under contract.' After that, I wasn't touched by him." Asked about her co-stars, such as Raymond Burr: "I got to know Ray quite well at RKO. Because of everything that happened, he had to coach me for 'Station West.' I certainly received no help from that director. (Laughs)"
Another actor in the film was John Kellogg. "He really let me have it! (Laughs) We had worked together the year before, in 'Out of the Past.' We were on location out in the valley, and the guys taught me how to play poker. I liked it! Well, John Kellogg came in—and he starts playing. He asked me, 'Have you got anything better than two jacks?' I said 'sure,' but of course I was bluffing. I wasn't about to let him know what I had in my hand. He said, 'OK, take it.' Then he asked, 'What did you have?' I said, 'Nothing.' He came back with, 'But you took the pot!' He was ready to kill me! (Laughs) He started swearing at me—and he took my money back! He then asked, 'What are you doing in this picture?' Of course, I told him I was the star! I saw him years later, apparently when we did a 'Zane Grey Theater', and he brought up the poker incident again. Of course, I still remembered it!"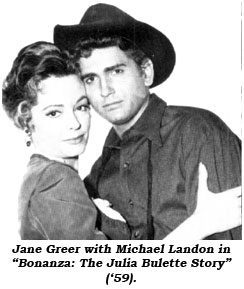 Asked about some of the TV Westerns she did, Jane states she was especially fond of "Bo-nanza: The Julia Bulette Story." "It was one of the first ones they did—in '59, and it was a good part. I just saw it again recently. It was great. I also remember doing a Western with Eddie Albert, directed by David Niven ("Zane Grey Theatre: The Vaunted"—ed.). It was the first thing David had directed and he was scared stiff. Eddie put him on all the time…scaring David all the more. I also did a 'Stagecoach West' with Wayne Rogers and another old RKO pal, Robert Bray. I saw it recently and enjoyed it very much. Too bad the series wasn't a hit—it holds up well."
In 1982, Jane appeared as Tom Selleck's mother in "Shadow Riders." "I just had a one day job. We shot it up in the gold country and I did go on location. There's a scene where Tom sees me for the first time in years. He grabs me really hard and cracked my ribs, hugging me! You could hear the snap. The pain was killing me, but the director, Andrew McLaglen, wanted one more take! So, I held my breath and let Tom grab me again! (Laughs)"
Jane Greer, a most gracious lady with many good stories to tell, died August 24, 2001, at 76.
Jane's Western Filmography
---
Movies: Sunset Pass ('46 RKO)—James Warren; Station West ('48 RKO)—Dick Powell. TV MOVIES: Shadow Riders ('82)—Tom Selleck. TV: Zane Grey Theatre: A Gun For My Bride ('57); Zane Grey Theatre: The Vaunted ('58); Bonanza: Julia Bulette Story ('59); Zane Grey Theatre: Stagecoach to Yuma ('60); Stagecoach West: High Lonesome ('60).