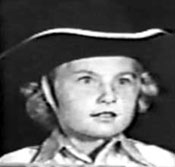 SUGAR DAWN
Finally located after years of searching, Sugar Dawn, the bubbly, trick-riding child star of several Monogram westerns of the early '40s was born Mervelyn Sugar Steinberg November 14, 1931, in San Francisco, CA. "I was raised on the peninsula, 30 miles south of San Francisco. It wasn't really rural, but there were open spaces, and horses. In those days, I even rode my pony to school."
Asked how she came by the name Sugar Dawn, "It's a long story. When Dr. Bone delivered me to my mother, she started to cry. Dr. Bone had to tell her 'She's not glass; she won't break. She's not butter, she won't melt. She's made of sugar, because she is sweet.'" As for the name Dawn, "My father was in the neon lighting business, which was new at the time, in San Francisco. The term "dawning" is associated with neon lights, and that's where the second name of Dawn came. I still go by Sugar today."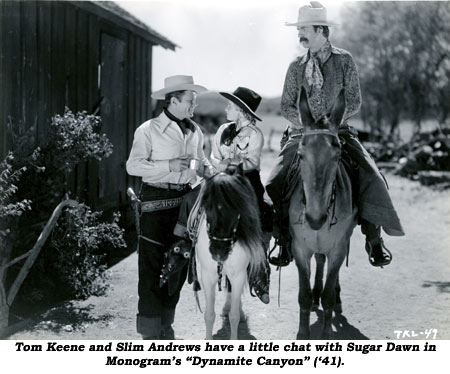 Since Sugar started riding at such a young age, it was important to find out just how it all came about. "I started on a mule at the San Francisco zoo. My father put me on it all the time—I could ride very early, even before I could walk! We moved to the peninsula so I could have a pony, and my father could have a horse. His horse was 17½ hands—and I rode that horse, too. I rode my pony Chiquita in horse shows at age 4 to 5, doing exhibitions, tricks. I put Chiquita through her paces. Taught her lots of tricks."
As for getting into pictures, "I was at the '39 San Francisco World's Fair—at Treasure Island. I performed on Chiquita under black light. It was pretty keen. Billy Rose was there with his aquacade, too. I was seen by a lot of people, so I was requested to play Bonnie Blue Butler in 'Gone With the Wind'. I remember David O. Selznick, Clark Gable and Vivien Leigh. I had been fitted for contact lens and had my hair dyed to fit the part. I still have some 35mm color footage taken at the time. Then, a politician from the south came in, saying the picture would not be shown in the South unless his niece played the part. So I was out, but they wanted me to double for her in the riding scenes, but I refused! Years later, when I tested for the part of Velvet Brown, and lost to Elizabeth Taylor, they wanted me to double Elizabeth on Pi, but I also refused that. I had done too much by then to be an unbilled double!"
As for Monogram, "Universal was going to write in a part for me in 'Destry Rides Again', but I had a pony at stables run by Victor McLaglen. I fell off the pony and got a case of poison ivy. That kept me out of 'Destry'. But, Robert Tansey at Monogram contacted my father about doing westerns, and that was how it began."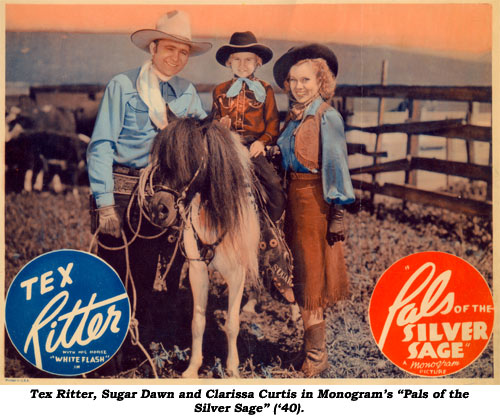 As to acting lessons, "No, I am a natural born ham (Laughs), so I never had any acting lessons—I had performed since I was a small kid, so it all came naturally to me."
Commenting on her co-stars, "Tom Keene was a very, very nice gentleman, a good rider, we had lots of fun. The same can be said for Tex Ritter, who also had a good singing voice. We had lots of fun on those pictures. It wasn't like work or making movies, it was like playing, like make-believe. It was wonderful!" As for the leading ladies, "Betty Miles I remember well. She was a pretty lady, but they all were very pretty and very, very nice.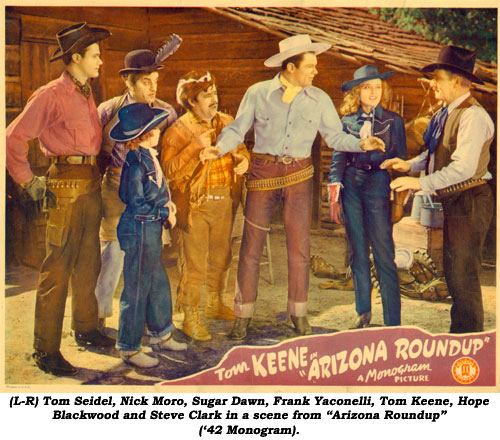 As to locations, I remember going to Prescott, AZ, and to the Tejon Ranch (near L.A.)."
Accidents? "There were none in the pictures—oh, I might have fallen off the horse, but I wasn't hurt. I did have accidents when I was riding close to where we lived. I fell off; broke my nose, arm, leg. Once I cut my head open—but again, none of this happened when we were making the pictures. Of course, my mother didn't like it—the rodeos and horse shows and everything, because it was all dangerous, but it was exciting!"
During and after her film career, Sugar did many charity benefits. "I did bond rallies and traveled with a captured Japanese sub, appeared at hospital wards, did many exhibitions and competitions at rodeos, and rode in the Rose Parade in '41. The hospital visits were very unique. I'd take my pony to the hospital, put rubber shoes on Chiquita, and go into the wards where the more critical children would be. We would perform for them and outside we could do more, tricks and things, for the kids who could come. I didn't ride inside—of course, but I performed tricks with Chiquita even after I was too big to ride on her." During the war, Sugar continued to perform. "I did a rodeo with Jane Withers; I did shows with Mickey Rooney and Judy Garland; Bonita Granville and Bob Hope. I never kept in touch with anyone after it was over, but I did enjoy everything I did. I rode until the pony, or Dad's horse, died. I can't recall which one went first."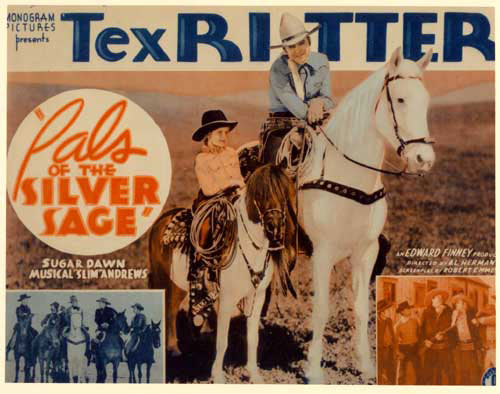 Regarding her education, "I was making so many movies that I never learned to spell! (Laughs) I had two years of Junior College. I had a radio program in San Jose, just as television was coming in. After my first husband, I married Loren Tower in '65, and we had a daughter, Dawn. With Loren, we were in the carnival business—he was general manager for the largest show this side of the Rockies, and together we owned many rides and special attractions. We used to travel extensively in the off-seasons when we weren't working. Before Loren died in '97, he told me to continue to travel, and that's what I do—I golf, swim and see the world. I took a cruise to the war islands of WW II, like Iwo Jima and Midway. As Loren died from a war-related illness, I was interested to see where he served. I was interviewed by representatives from the Library of Congress, after they found out about my war efforts, and it became part of a WWII documentary, airing on the History Channel. I also went to Antarctica. We were on an icecutter, we did wet landings and walked among penguins, seals and icebergs, which have gorgeous colors. It's like a fairyland down there."
Sugar's Western Filmography
---
Movies: Pals of the Silver Sage ('40 Monogram)—Tex Ritter; Wanderers of the West ('41 Monogram)—Tom Keene; Dynamite Canyon ('41 Monogram)—Tom Keene; Riding the Sunset Trail ('41 Monogram)—Tom Keene; Lone Star Lawmen ('41 Monogram)—Tom Keene; Arizona Roundup ('42 Monogram)—Tom Keene.