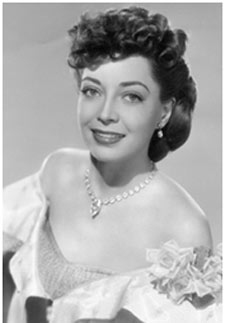 MARIE WINDSOR
Exotically beautiful 1984 Golden Boot winner Marie Windsor was a tall (5'9") beauty contest winner ("I was even Queen of the Covered Wagon Days.") before going to Hollywood.
She began her career in the early '40s at RKO. "Then, I was under contract to Metro Goldwyn Mayer ('42-'48), where I did bits both at the studio and on loan out, as well as a short, 'The Lady or the Tiger'. I used to go to Clark Gable's ranch to ride."
Marie worked as a telephone girl and even a dancing teacher before hitting the big time. She studied drama for two years at Brigham Young University in Utah. "I was trained in dramatics by Maria Ouspenskaya. I lived at the Hollywood Studio Club, where one of my friends was Carole Mathews. I was very fond of Carole. The actresses worked together in "Swamp Women" in '56.
By 1949, Marie was getting leads. "I'd rather star in B-pictures than do parts in A-films." Her first western was "Fighting Kentuckian" with John Wayne, Vera Ralston and Oliver Hardy. "It was the first time I worked with John Wayne and it was a great pleasure! He was young, fun and feisty in those days. He introduced me at a party as one of his ex-wives. (Laughs)" As to director, George Waggner: "A lovely man. Oliver Hardy was a joyful, sweet fellow. My part was all done at Republic on the set. No locations for me; Vera did her chase scenes someplace, but I never knew where." As to the studio itself, Marie smiles, "Republic was a cozier and smaller studio."
"Hellfire" soon followed. "I have three favorite pictures— 'Narrow Margin', 'The Killing' and 'Hellfire'. I loved it. I was so thrilled to get that well written part of a male bandit, Doll Brown. (Laughs) Karin Booth went to Mr. Yates, because she wanted to play it. I felt badly, because by rights, the part should have been hers. She was under contract to the studio. So, I sent her a dozen roses. There were a lot of good actors in 'Hellfire'. The gentleman cowboy, Bill Elliott, taught me how to twirl a gun and holster it quickly. Bill had a high academic and social background. He couldn't hide that quality whatever western clothes he wore. At his own expense, Bill set up an opening publicity tour in Salt Lake City for 'Hellfire'. As for horse riding, it was wonderful being taught no-stirrup mounts! Recently, I received a package of negatives—a couple of them show me doing the leaping mount—onto the butt of the horses!" As for any accidents, Marie recalls, "I never had any. And I did most of the stunt work."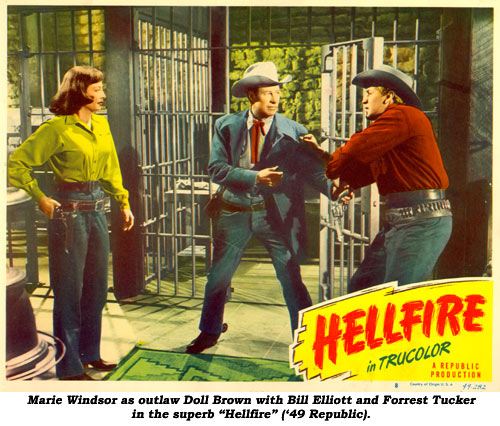 "Dakota Lil" was next on her western schedule. "We shot this on location somewhere in Nevada. I had Rod Cameron's sister as my double, but she couldn't ride a horse! I'm from Utah (born Emily Marie Bertelsen 12/11/19 in Marysvale, population 300), and I learned to ride horses bareback, because my family didn't have enough money for a saddle. My horse's name was Silver. I was a good rider in my younger days."
As for anything further regarding Rod Cameron, "We did another picture, 'The Jungle' ('52) on location in India. At that time, he was married to a part Portuguese and part Chinese woman. Rod and I had dated slightly prior to this, so it was an odd relationship there. The producer offered to give me a monkey. Rod's wife made such a fuss, because she wanted it, that I finally said, 'Take it!' She had a terrible time getting it into the United States. And, it messed up her house pretty bad! (Laughs)"
George Montgomery was the other star of "Dakota Lil". "George was a good actor and good on a horse. I always felt he was more serious than other western actors; very meticulous. Perhaps it's the artist in him, but he didn't let his hair down, if you will."
"Frenchie", a Technicolor remake (with many changes) of "Destry Rides Again" was Marie's next western. "I had a great fight in it. There were no doubles. Shelley Winters and I talked it over and decided to do it ourselves. Everybody was happy we did. The fight scene took a day and a half to shoot. We didn't get punched on the nose—but there were a few accidental scratches!"
"I had another fight—with Dolores Dorn, in 'Bounty Hunter' with Randolph Scott. We had a fight in the dust that was very dirty—literally! Randolph Scott was such a gentleman, and as for Ernest Borgnine, I sure like that man—he's a good actor, too!"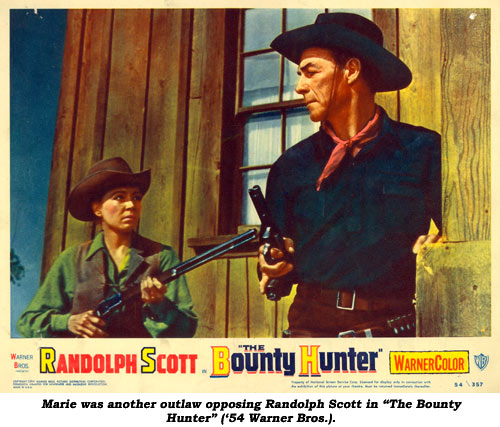 In "Frenchie", the star was Joel McCrea: "A sweet gentleman. A guy like John Wayne—ready and professional. He did everything—and he was so nice to the crew. I met his wife, Frances Dee, later and we talked about the movie, and Joel."
"The Showdown" was a murder mystery as well as a western. "It had the same producer and director as 'Hellfire' and a wonderful cast, too. I didn't go outdoors—all my scenes were shot on the set. I don't even know if the campfire scenes were done on a set or on location. Probably on a set." ("Hellfire" was written and executive produced by Dorrell and Stuart McGowan, produced by William J. O'Sullivan and directed by R. G. Springsteen. The McGowan's adapted "Showdown" from an ESQUIRE story as well as directing it under producer O'Sullivan and Elliott himself.)
"Little Big Horn", produced by Charles Marquis Warren, was next. "Lippert made the movie. They announced on the set they were out of money. They tore pages out of the script—so we finished early and without certain scenes! The same thing happened to me a couple of years later—on 'Cat Women of the Moon'. (Laughs)"
The posters for Ron Ormond's "Outlaw Women" (released by Howco) proclaim: "Meet the Babes Who Put the Bad in the Bad Men." "That was an exciting picture. There were two sets for us—I had more change of wardrobe than I did acting. I would run from stage to stage! I was quite annoyed about the picture, though. Jacqueline Fontaine was the girlfriend of the producer or some big shot, and she got privileges she didn't deserve. Richard Rober, that poor guy, was killed in a car wreck before the picture was released." (Rober, also in "Sierra", "Man In the Saddle", died 5/26/52 in a Santa Monica auto wreck. "Outlaw Women" was released in June '52). "Allan Nixon, who was also in it, was a very sweet man. The makeup man was Parley Taylor. I went to the makeup department and sat there a little while. Finally, he asked, What color makeup did I want. I applied the makeup myself. When I finished, someone asked for me. Until then, Parley didn't know I was the star!"
Marie Windsor has the ability to change her appearance from film to film, whether in hair color or hair style. "Mostly, that was my own idea. Once, I changed because of Andrew McLaglen. The only time I wore a wig was in 'Support Your Local Gunfighter'. I replaced Marilyn Maxwell. They didn't think she had the feistiness the part required. I felt badly about it. Marilyn and I had known each other since the early '40s and our days at MGM together. Also, we had done a TV movie, 'Wild Women', only a year or so earlier. I ended up wearing the red wig she was supposed to wear."
"The Tall Texan" starred Lloyd Bridges. "We did that in New Mexico—in an area where the dust was so fine that when we drove out to location, we'd be covered in this fine dust, even if the windows were rolled up tight. (Deming, NM, City of Rocks State Park) It was very, very dusty. Lloyd and I had done 'Little Big Horn' a couple of years earlier, and I was a friend of the family. Dorothy brought the kids on the set. Years later, I did a picture called 'Hearts of the West' and the star was Jeff Bridges. I knew him as a little kid, and worked with him when he grew up!"
Another for Lippert, "Silver Star", was headlined by character actors Edgar Buchanan and Lon Chaney Jr. "They were all nice men. In fact, on 'Silver Star,' Lon Chaney Jr. wasn't drinking at the time! I understand he was quite a boozer by this time, but on the film, and around me, he was always sober!"
One of Marie's lesser westerns was "Two Gun Lady" with Peggie Castle and William Talman. "I'm not fond of the picture—it was lightweight, and done in a hurry!"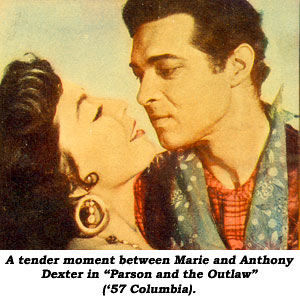 Golden Boot supporter Buddy Rogers both produced and co-starred in "Parson and the Outlaw." "Buddy and I were friendly before we did the picture. He was a sweetheart. Sonny Tufts was in it also. He'd been in 'Cat Women' with me. Sonny was a nice big fellow who tried to be very friendly. I don't think he ever cared much about acting, though."
At Universal-International, Marie played the girlfriend of outlaw Christopher Dark in "Day of the Bad Man" produced by Gordon Kay. "It was wonderful, working with Fred MacMurray. I made a good try, doing the character. I enjoyed that movie very much."
It would be six years before another western feature, this one with comedy dominating: "Mail Order Bride". "That was directed by Burt Kennedy. Burt and I have remained friends and he used me later on other films. As for Buddy Ebsen, I liked him both as a person and as an actor. He is one of my favorites."
In 1969, Marie worked for Burt Kennedy again in "The Good Guys and the Bad Guys". "Working on this with Burt, and with Robert Mitchum—could I ask for anything more?"
"Support Your Local Gunfighter" was yet another Burt Kennedy directorial job. "I loved that. James Garner was just great! Outgoing and warm."
"Cahill, U. S. Marshal" was the actress's last film with John Wayne. "It was directed by Andrew McLaglen, who had directed me in 'One More Train To Rob' in '71. McLaglen was a good director. This film was shot down in Durango, Mexico. The food was lousy! You would look out the dining room window and see a lamb tied to a stake. You knew what you would have for dinner, and you didn't like it!" In the film, Marie operates a boarding house on top of a hill. "There's a shot where I'm driving a wagon with two children. The longshot picks up at a distance from the house as we come down the hill. We got half way down the hill when Andy McLaglen yelled, 'Cut! Marie, take off those damn sunglasses.' (Laughs)"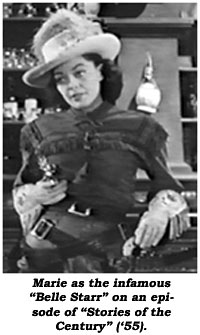 Marie has had a long and successful career, which includes the LOOK magazine award for best supporting actress of 1957 in the "The Killing".
Her television work is so extensive, it would make for yet another long interview. "On TV, I wish sometimes they didn't take the attitude, if you get all the words in, they print it. I did enjoy working in the various series Warner Bros. produced." One of her favorites also is the title role of "Belle Starr" in "Stories of the Century".
Married for 46 years to Jack Hupp, a Beverly Hils realtor, Marie was sidelined by crippling arthritis and several operations in 1996. The western world lost one of our favorite and most gracious actresses on December 10, 2000, shortly before her 81st birthday.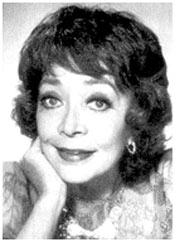 Marie's Western Filmography
---
Movies: Fighting Kentuckian ('49 Republic)—John Wayne; Hellfire ('49 Republic)—William Elliott; Dakota Lil ('50 20th Century-Fox)—George Montgomery; The Showdown ('50 Republic)—William Elliott; Frenchie ('50 Universal)—Joel McCrea; Little Big Horn ('51 Lippert)—Lloyd Bridges; Outlaw Women ('52 Howco)—Richard Rober; Tall Texan ('53 Lippert)—Lloyd Bridges; Bounty Hunter ('54 WB)—Randolph Scott; Silver Star ('55 Lippert)—Earle Lyon; Two Gun Lady ('55 Associated)—Peggie Castle; Parson and the Outlaw ('57 Columbia)—Anthony Dexter; Day of the Bad Man ('58 Universal)—Fred MacMurray; Mail Order Bride ('64 MGM)—Buddy Ebsen; Good Guys and Bad Guys ('69 WB)—Robert Mitchum; Wild Women ('70 Spelling Productions–TV) Hugh O'Brian; One More Train To Rob ('71 Universal)—George Peppard; Support Your Local Gunfighter ('71 U.A.)—James Garner; Cahill, United States Marshal ('73 WB)—John Wayne; Hearts of the West ('75 MGM/U.A.)—Jeff Bridges. TV: Stories of the Century: Belle Starr ('55); Cheyenne: Decision at Gunsight ('57); Cheyenne: Mutton Puncher ('57); Californians: Regulators ('57); Maverick: Quick and the Dead ('57); Yancy Derringer: Ticket to Natchez ('58); Bat Masterson: The Fighter ('58); Rawhide: Incident On the Edge of Madness ('59); Tales of Wells Fargo: Warrior's Return ('59); Deputy: Back to Glory ('59); Shotgun Slade: Salted Mine ('59); Alaskans: Winter Song ('59); Rebel: Glory ('60); Wyatt Earp: Wyatt Earp's Baby ('61); Rawhide: Incident of the Painted Lady ('61); Whispering Smith: Trademark ('61); Bronco: Equalizer ('61); Lawman: Wanted Man ('62); Maverick: Epitaph For a Gambler ('62); Destry: Nicest Girl in Gomorrah ('64); Rawhide: Incident of the Rusty Shotgun ('64); Branded: That the Brave Endure ('65); Legend of Jesse James: The Quest ('65); Bonanza: Five Sundowns To Sunup ('65); Gunsmoke: Trafton ('71); Alias Smith and Jones: High Lonesome Country ('72), Hec Ramsey: Green Feather Mystery ('72).