LOIS HALL
by Boyd Magers

"Speak of the past and look to the future," Lois Hall smiles. Her past? Lois was born August 22, 1926, in Grand Rapids, MN, but was brought up in Pengilly, MN. "The population was 300 in the winter and 500 in the summer. It had a one-room schoolhouse, which was the church on Sundays. There was one little store in town, then my dad built a combination store, gas station and post office and we lived upstairs. He was an inventor, an entrepreneur. He was in real estate and invented different kinds of plasters, sponge mops, fishing lures and...God knows what. As a point of interest, I'm a second cousin of Charles Lindbergh. Mom baby-sat for him."
What brought the family to California in the '30s? "The Depression for one thing, my mother's arthritis for another. We didn't know where we were going. We just kind of sold everything and left." Lois grew up in California and after graduation attended Pasadena Playhouse. "In high school I got into the stage crew. The teacher there, Ruth Burdick, was quite wonderful. She apprenticed under Norman Bel Geddes, actress Barbara Bel Geddes' father, an incredible man. It was through her I got a scholarship to the Playhouse...under set designing. Scholarships there mean you work for them for a year. I worked backstage in the prop department. For that year we got a stipend of fourteen dollars a month and were given your tuition. You do a little bit of everything, including acting. The first thing I remember about acting was not knowing upstage from downstage. While I was doing a scene, I heard people laughing and I thought, ohhh... all of a sudden, when the scene was over, I found out they were crying, and I thought...hey, this is good stuff. There was also Gilmore Brown's Play Box which was a theatre in the round. I'd worked there and nothing ever happened but, I was sitting in the audience one time—I had naturally blonde hair—a light was skewed and it hit me in the back of the head and was reflected. An agent, Gus Dembling, was in the audience. It just drew his attention to me. I guess he had seen me in some things and he signed me. I was with him for seven years until he died and we never had a contract. As I didn't have a car, I'd go on the bus to interviews and he'd meet me at the bus line and take me onto the set."
Lois' first film was "Every Girl Should Be Married" in 1948 with Cary Grant. As for her initial reaction to being in the movies…"Pure insanity. That was a walk-on for Dore Schary. The band played fanfare as we walked in and Cary Grant clowned around like a waiter. It was just...total unreality."
Lois told me at what point she thought she could make a career out of acting. "When it started paying the rent. (Laughs) I did a few more bits and then for some unknown reason, I got the lead in the infamous 'Daughter Of The Jungle' at Republic. I remember George Blair, the director. He was so sweet and so dear...absolute darling, and very patient.
In her first serial, "Adventures of Sir Galahad" at Columbia in 1949, Lois was the Lady of the Lake. George (later to be Superman) Reeves was Sir Galahad. "On 'Galahad', I remember particularly, there was an accident with the horses and people got hurt. Previously, I'd done a screen test at Paramount, Georgie Reeves did it with me. Georgie, whom I'd known at the Playhouse very well, was sweet and dear and lovely. I'd gone to parties at his little house many times after plays and things. The George I knew wouldn't have committed suicide. But he had some things happen in between and I don't know what that did to his psyche. When I was around him, he was happy-go-lucky, a great cook, just a wonderful guy and he never would have thought about suicide."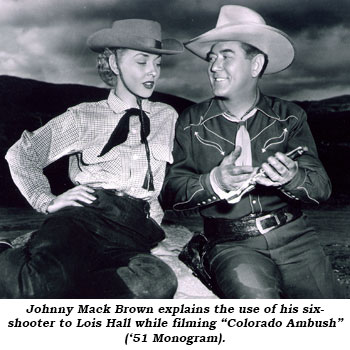 Lois started doing Westerns about 1949, including three with Johnny Mack Brown. "I feel the same thing everybody else says about him...a true gentleman. And a little distant. He wasn't one to sit around the set. He went back to his dressing room between things. But a very pleasant person."
As for her two-time co-star at Monogram, Whip Wilson…"At first I thought he was a little arrogant. It might have been just me, but he seemed to have that thing about him a little bit, more than other people. Because Western people, for the most part, are just great. But in retrospect, I am reminded what a dumb thing it is to judge people. Impressions can be misleading. Whip's friend, actor Bill Kennedy, later told me Whip was in awe of actors…felt like an outsider. Bill knew him better than I."
"Comedian Tommy Farrell was around in the Wilson film where the red ants got me. I had on a whole bunch of skirts and petticoats and apparently was standing on a red ant hill, unbeknownst to me, until they climbed up the petticoat and hit the place where the waist was very tight. There were hooks and eyes all the way up the back of the dress. I let out a yell because they were biting fiercely. The prop men were the first to get there and just sort of ripped the dress apart... hooks and eyes went flying. (Laughs) It was very embarrassing to have my dress whipped off. (Laughs)"
At Columbia, Lois supported Charles Starrett (The Durango Kid). "He was kind of like Johnny Mack, very gentlemanly when I was around, but a little aloof. Probably because he'd had such a succession of leading ladies and the shoots were so fast. Of the Charlie Starrett films, the thing I remember most is Fred Sears, the director, and his sweetness. A dear, dear man. Just a darling. A pure gentleman. I remember too the combination of Al Wyatt and Jocko Mahoney and the other stuntmen. I have always been fascinated with stuntmen."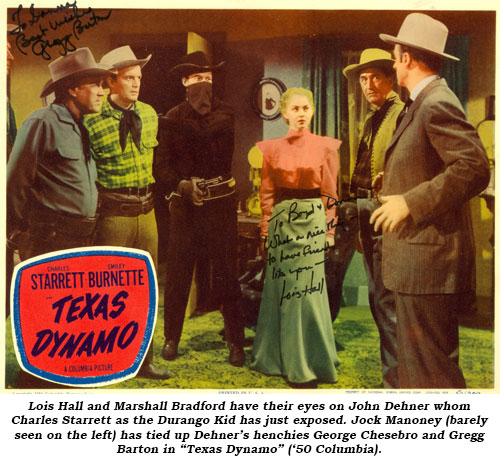 In 1952 Lois had the opportunity to work more directly with Jock Mahoney on his "Range Rider" series, filmed by Gene Autry's Flying-A Productions. "They were shooting three at a time. It was one of those situations where you'd look down at your wardrobe to find out who you were. We were going outside to do exteriors. I had a recurrence of childhood rheumatic fever. My knees and ankles started swelling and that was exceedingly painful. I couldn't walk. Eventually I couldn't get into my costume. Red Morgan, the stunt man, would kind of lug me around and prop me up. They'd have a double do the walking and the long shots. I went directly after the last day of filming to the hospital and was there for seven weeks. I remember very distinctly the director saying he would never use me again because I had back trouble. (Laughs) But Jocko and Dickie were as much fun off the set as they were on…it was a blast. They were fun and funny. Joking and playing tricks and hanging out with the wranglers, the crew and the cast. It was just a tight, fun family. I had a wonderful time doing those. Loved them."
Every Western lady seems to have a horse story and Lois is no exception. "When I'd go into a western, instead of going to the wrangler and saying, 'Oh, I know how to ride.' I'd say, 'I don't know how to ride very well, could you give me a really smart horse, who knows what he's doing?' They'd give me great horses. Always. Really helped. I did work out with a guy who had taught circus riders. Polly Burson doubled me in some films."
Lois was never injured on a film, actually the opposite is true. "I was supposed to shoot John Dehner in the hand and I kept pulling the gun down, up, sideways, to avoid hurting him. The director really got mad! He said, 'No. Just shoot at his hand. You won't hurt him, there's just blanks in there.' I still pulled a few times and he really got mad. Then John said, 'Oh go ahead, shoot at my hand.' I did and it filled his hand full of powder and off to the hospital he went. I felt horrible! Later, I think I was feeling so bad, that he was being comforting to me."
"Pirates of the High Seas", Columbia's 15 chapter 1950 unofficial serial sequel to their 1947 "Sea Hound", both with Buster Crabbe, gave Lois a chance to work with a childhood hero. "I was really quite thrilled because when I was a kid in Minnesota they had a theatre in the next town. We used to go to matinees. Buster Crabbe was one of the Tarzans at the time. So for me to be playing opposite him, when he had been the thrill of my childhood...of course, I had to say the obvious thing, 'You were so wonderful as Tarzan. I used to see you when I was a kid.' Which didn't set too well. He just smiled and moved on. He was still a great looking man and a good swimmer...which I was not. Even though my press releases all say, champion swimmer, I was never a swimmer because I sunburned too badly."
Lois worked in several B-Westerns with Myron Healey, including "Colorado Ambush" which Healey also scripted. Lois remembers Myron as "just a love...apparently a little bit smitten, so he was hinting around for a date and asked me if I'd go to lunch with him. I was completely putting him on. I said, 'Yeah, let's go to the Derby because they have hummingbird sandwiches there.' (Laughs). He said, 'Oh no, that's out of my league.' We became very good friends. As a matter of fact, there were rumors around there was something going on between us, because, when he wrote scripts for a while he would say 'the Lois Hall type,' for the leading ladies...He's a real dear."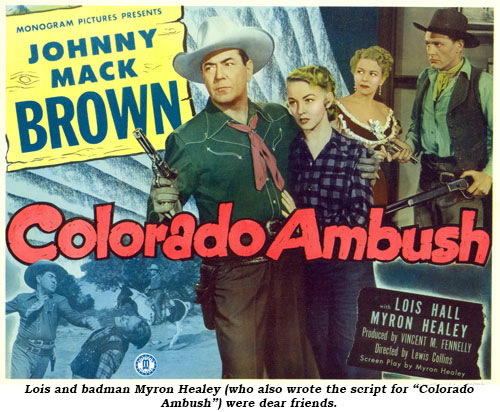 At last, moving away from 6-day Westerns, Lois co-starred in RKO's bigger budgeted "Slaughter Trail". "The star, Gig Young, was also a cousin of mine. My aunt had been a baby-sitter for him. He was fascinated when I said we were related. We started figuring out how, spent a lot of time talking about Minnesota. As sweet as anything. One of the other people I remember from that shoot was Terry Gilkyson who did the hit calypso song, 'Marianne'. He had done the songs for this film and was in it. All my life I had wanted to sing. It was always an 'everybody sing but Lois' kind of thing. (Laughs) So to sing in 'Slaughter Trail' was just great."
Originally Howard DaSilva played the lead in "Slaughter Trail", but after he was accused of Communist Party affiliations during the McCarthy hearings, RKO studio head Howard Hughes had all his scenes reshot with Brian Donlevy. "I came into it after they rejuggled. There really wasn't much buzz left on the set. Apparently they'd done a lot of long shots and outdoor stuff first. I think they used some of the DaSilva long shots...they just had to be careful he wasn't recognizable."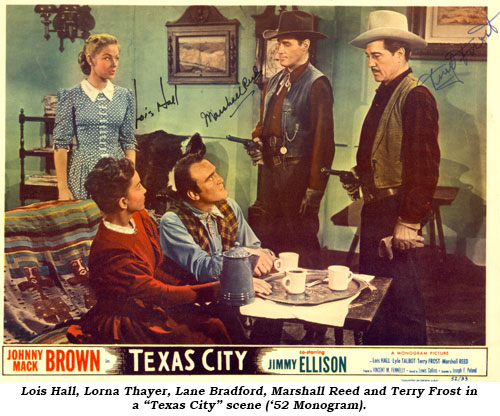 Early '50s live television was a learning ground for most actors. There were often incidents when actors would forget or blow their dialogue. Lois recalled, "On the soap opera, 'One Man's Family', somebody else went up. I turned to them and said, 'Well, I should think you could think of something better than that to say. And it brought them right back. (Laughs)"
In the '50s color TV "Cisco Kid" series Lois finally broke her leading lady mold and got to play a villainess. "I really enjoyed playing heavies. Leo Carrillo (who was Cisco's sidekick Pancho) was a sweetie pie and just old shoe. Really a neat guy. In some Westerns when we went on location, working hard and fast, there wasn't time to get shampooed properly. They used to dry clean my hair, which means they just poured dry cleaning fluid over your head. That was a fascinating thing! (Laughs) We do suffer for our art!"
At one point our B-Western beauty did a western pilot with Richard Arlen, "Rawhide Riley", which never sold. "We did six of them in Arizona. Dick was a very much go out with the boys kind of person. Hang out with the fellows."
About this time Lois met her husband, Maury, and entered into the Bahá'í one world faith. "I met Maury in '48. I had a crush on him. Eventually, at the very end of '52, he proposed and I was glad he did because if he hadn't, I would have. We were married on Jan. 31, 1953. I was still working quite a lot. It wasn't until '57 that I got out of the film industry. 'One Man's Family' went off the air, my agent died, and I was pregnant. Convergence of those three things. We lived in Arizona, then Hawaii and came back to the mainland in '67. I almost immediately got pregnant. Later I decided to see what film work was available. I found there was not a lot out there. Too many really good people stayed in and kept in contact. The first thing I did when I got back was 'Deadly Intrigue' with Keenan Wynn."
After being widowed, Lois continued to work, primarily in commercials. A loving, caring, interested lady, Lois asserts her values in life are "Strong work ethic, honesty and justice. Understanding every person is a noble being. It doesn't really matter what people do for a living, if they do it as a service to humanity."
Lois died at 80, December 21, 2006.
Lois' Western Filmography
---
Movies: Roaring Westward ('49 Monogram)—Jimmy Wakely; Horsemen Of The Sierras ('49 Columbia)—Charles Starrett; Texas Dynamo ('50 Columbia)—Charles Starrett; Cherokee Uprising ('50 Monogram)—Whip Wilson; Frontier Outpost ('50 Columbia)—Charles Starrett; Colorado Ambush ('51 Monogram)—Johnny Mack Brown; Slaughter Trail ('51 RKO)—Brian Donlevy; Blazing Bullets ('51 Monogram)—Johnny Mack Brown; Texas City ('52 Monogram)—Johnny Mack Brown; Night Raiders ('52 Monogram)—Whip Wilson; Seven Brides For Seven Brothers ('54 MGM)—Howard Keel. TV: Wild Bill Hickok: Dog Collar Story ('51); Kit Carson: Danger Hill ('52); Lone Ranger: Outlaw Underground ('52);Range Rider: Fatal Bullet ('52); Range Rider: Fight Town ('52); Range Rider: Blind Trail ('52); Cisco Kid: Vigilante Story ('52); Cisco Kid: Sleeping Gas ('52); Lone Ranger: Embezzler's Harvest ('53); Range Rider: Let 'er Buck ('53); Range Rider: Gold Fever ('53); Range Rider: Law Of The Frontier ('53); Cisco Kid: Quicksilver Murder ('53); Annie Oakley: Hard Luck Ranch ('55); Rawhide Kelly: 6 unsold episodes ('58); Little House On the Prairie: By the Bear That Bit Me (Pt. 1-2) ('81); Little House On the Prairie: Look Back To Yesterday ('83).