One of the '40's greatest beauties, Vivian Austin was a talented actress-singer-dancer who won many contests, including Miss Hollywood, before landing a stock contract at WB in the '30s.
Under her maiden name, Vivian Coe, she appeared as a dancer, dress extra, stunt double (for Rosemary Lane in "Hollywood Hotel"), and bit player ("Goldwyn Follies", "Yankee Doodle Dandy").
Her big break came when she was selected to appear as the feminine lead in Don Barry's 1940 Republic chapterplay, "The Adventures of Red Ryder", (directed by the legendary serial team of William Witney and John English.) "Frankly, fifty years ago, women in westerns didn't do much. Although I had the female lead, it seems like only a bit part, when compared to the men's roles."
At age 17, Vivian married playboy-millionaire auto dealer, Glenn Austin, but hadn't as yet changed her name professionally. "Glenn was a polo player and he had to exercise the polo ponies. I helped him do it. I could sit a horse, this led to doing my own stunts in 'Red Ryder'. I could shoot to the back of me while horseback riding. I did a lot of stunt work, even before the 'Ryder' serial. Republic used me to great advantage as a result."
Queried about the star, Don Barry, Vivian hesitates as she replies, "He had such a temper! He would walk off the set—often! Stopping production just because he disagreed with Bill Witney, or somebody, about some minor thing. I don't like saying negative things about the departed, but he wasn't a very nice fellow when we worked together."
In 1943, Universal signed Vivian to a stock contract, after giving her a screen test in the Technicolor "Cobra Woman" w/Maria Montez. "They were too cheap to give me a regular screen test. I didn't tell them about the serial—I was now using the name Vivian Austin. So, my few lines and a couple of closeups in 'Cobra Woman' were my screentest. From that, I went on to sing and dance in a Gloria Jean musical, 'Moonlight in Vermont' and then to a variety of roles."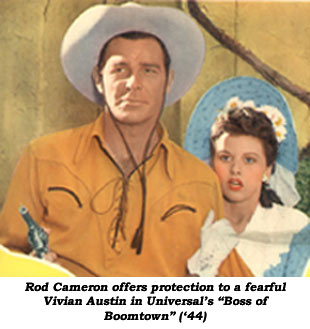 About the Rod Cameron pictures in which she co-starred at Universal ("Trigger Trail", "Boss of Boomtown", both '44) Vivian said, "Rod was the exact opposite of Don Barry. Rod never lost his temper. He was very serious; very quiet. I liked him a lot. I got to ride a horse in one of them, but for the most part, I didn't do any stunt work—not like I did in the serial. I guess Universal thought I was too important at this time. Of course, I had much more to do in those pictures—I enjoyed the experience very much. Fuzzy Knight, whom I worked with several times, was also nice, but not very talkative, a loner. Marie Austin was so very, very small! A comedienne, she was not related to my husband Glenn Austin, or to the singer Gene Austin either."
"Twilight In the Rockies" is one of Vivian's favorites, "I got to dance and sing in that one—I sang with Johnny Downs, who was very nice. I liked him a lot; everybody liked him. He was always laughing and never got mad."
After leaving Universal, Vivian signed a term contract with Eagle Lion Films. "The studio head didn't like the name Vivian, so he changed it to Terry, I don't like the name Terry Austin. So, when I left, Jan Ford asked me if she could use my name and I agreed. Jan became Terry Moore."
Vivian did five films at Eagle Lion as Terry Austin including two Philo Vance mysteries.
Health problems forced her early retirement from pictures. Tragically, she went blind, and like the woman in "Magnificent Obsession", she traveled the world over, searching for a cure— none was to be had. One day Dr. Ken Grow, a doctor working in Palm Springs, told her he thought he could cure her. "Thinking I had nothing to lose, I agreed, but was skeptical. But you know something? He DID restore my sight, and we were eventually married."
Vivian Austin died at 84 on August 1, 2004.
Vivian's Western Filmography
---
Movies: Boss of Boomtown ('44 Universal)—Rod Cameron; Trigger Trail ('44 Universal)—Rod Cameron; Twilight on the Prairie ('44 Universal)—Johnny Downs; Serials: Adventures of Red Ryder ('40 Republic)—Don Barry.