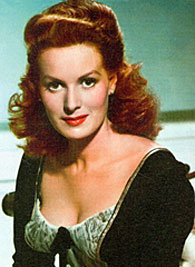 MAUREEN O'HARA
Interview by Guest Columnist Ray Nielsen
Confident, determined, spunky—Maureen O'Hara (born Maureen Fitzsimmons in Ireland, August 17, 1920) grew up in Dublin. After appearing with the Abbey Players she made her screen debut in 1938. It was six years later before the fiery redhead made her first Western, "Buffalo Bill". Still working, Maureen will be seen later this year in "Christmas Box" on CBS. The excellent actress recently spoke with Ray Nielsen of AETN (Arkansas Public TV).
RN: In your swashbuckler and western films you engaged in the action much like the typical male lead.
MO: Fencing, horseback riding and Judo...It was all me... When you do stunts where you fall and in fight scenes, you use a lot of Judo. The things you learn in Judo give you the agility to make it look believable. I worked at Judo when I was a teenager in Ireland. I loved sports.
RN: Did you like location work?
MO: I went on all the locations. Don't forget, I was born and raised in Ireland, so to be able to see all those different parts of the United States of America...I loved it. I loved the old cowboys and I loved being around them. I enjoyed their company and working with them.
RN: All the amenities stars may have been used to in Hollywood weren't there. Did you miss any of that?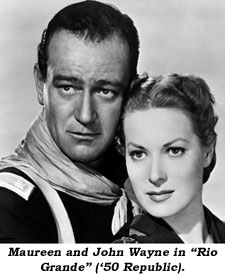 MO: In "Rio Grande", with John Wayne and Victor McLaglen...we worked in...what was supposed to be the Rio Grande. They used to say it was too thin to plow and too thick to drink. The heat was unbearable. It was so bad they dug a huge pit in the ground and cut steps in the side of the pit down...then put some metal camp beds down there and a tarpaulin over the top. Victor McLaglen and all of us, when we'd have an hour of so off where we weren't needed, we'd go down in that pit just to stay cool and not die in the deadly heat. It was Monument Valley, near Moab, Utah.
RN: Did you do most of your own horseback riding?
MO: No, not so much of the horseback riding...most of that was done for me by Lucille House, whose family were the great horse people...other than Ben Johnson's horses...to the picture business...her father. Because I had fallen so many times, I gave up. But the stunts, the running, the jumping, the falling, the jumping out of two-story windows, everything else...that was all done by me.
RN: Didn't studios frown on that because of the insurance problems?
MO: There were certain things women were not permitted to do under any circumstances. The jump through the plate glass window, for example. In "McClintock" that was done by the great Olympic runner Dean Smith in my clothes. The beginning of the jump and the landing...or falling on the ground, tumbled upside down, was me. The studios and the insurance companies would not permit a woman...they wouldn't even permit a stunt woman to do it, it had to be a man.
RN: Since you mentioned "McClintock", there's a famous sequence where everybody's sliding down into the mud pit...
MO: That was me. One take. Because it was so perfect. They never thought I would do it, they didn't think it would work out so wonderfully. If you look at the film, I'm shouting at Duke all the way down. I'm on my back and I'm yelling at him the whole way. That was me.
RN: You liked hanging around the stunt people and the wranglers and those sort of guys...
MO: Being a tomboy. I enjoyed that. Always. My Dad owned 25% of the top soccer team in Ireland. So boys were all nice to me because if they were nice to me, they got into the soccer game free.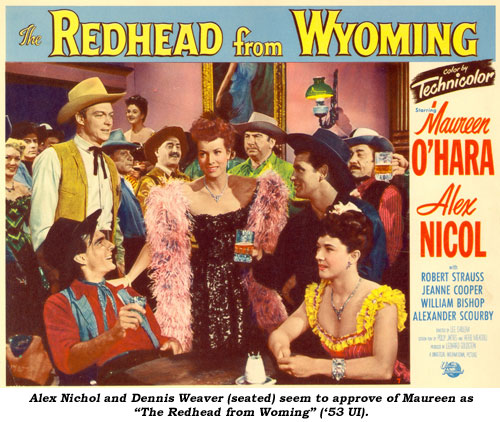 RN: I remember a Western you did in Australia. I think it was the first American film done down there. "Kangaroo". Lewis Milestone directed.
MO: Peter Lawford and Richard Boone and of course, that wonderful man, who to me is the star of the film and the star of everybody's life, Finlay Currie. A sweetheart and a wonderful, wonderful man. He had a gorgeous wife who was American. She used to be Maude Courtney, the girl who sang the sweet songs in the great, early days in the United States music halls. I'm amazed nobody has ever tried to do their love story, because it is wonderful. Even as old people, they were still romantically in love with each other. It was wonderful just to be around them.
RN: On "Kangaroo" you were taught how to use a whip?
MO: Yes. I had used an American bullwhip before in "Comanche Territory." I was taught to use it by the wonderful man whose name I don't remember who taught everybody that used bullwhips in movies in Hollywood. But the Australian bullwhip they used to herd cattle on horseback is different. The American whip is hard handled but slowly and slowly gets softer, it's all one piece. The Australian bullwhip has a hard handle. It has a knot and then the rest of the whip hangs limply. It feels different and you have to use it a little differently. I took lessons from Ben Johnson, the wonderful old cowboy, the stunt man. He taught us. The day I went for my first lesson was the first day Dick Boone took his first lesson on how to ride a horse. When I was there he didn't even know what side of the horse to get up on. He took his first lesson from Ben Johnson and told me at the time he was a hoofer from New York, danced in stage shows and didn't know anything about horses or the West at all. I will say for him, he did learn because he handled a horse beautifully afterwards. Of course he had a fabulous teacher in Ben Johnson.
RN: "Deadly Companions" with Brian Keith, directed by Sam Peckinpah...
MO: I didn't enjoy Sam at all. I have to be honest. I didn't think he was a very good director. I think he was lucky that whatever happened in his career happened. I think it was luck, not talent. I'm sorry. You have to forgive me. He was not a good director and if his films turned out successful, that was luck...and people protecting him, like the cameramen and the producers. Different people protecting him made him look good.
RN: In Westerns you worked with the likes of Joel McCrea, Jeff Chandler and of course, John Wayne in three Westerns, "Rio Grande", "McClintock" and "Big Jake". Everyone knows how much you liked Wayne, you said it many times. You testified before Congress in an effort to get him a medal...

MO: Yes, and that medal has 'John Wayne, American' on it because I asked for it. I understand people are using it without giving me any credit which kind of hurts my feelings. 'John Wayne, American' would not have been on the medal if I had not thought of it and had not asked Congress to do it.
RN: What set John Wayne apart from other western leading men that you worked with?
MO: Well, I've got to say of the other Western men, I enjoyed Jimmy Stewart, I enjoyed Brian Keith and I enjoyed Henry Fonda. Jeff Chandler was a nice man but a bad actor. But John Wayne, yes, was number one because we respected and liked each other and I could stand toe to toe with Duke and fight it out. We enjoyed matching each other's wits. One time he was talking about different people and somebody asked him, 'What about O'Hara?' He said, 'The greatest guy I ever knew.' (Laughs)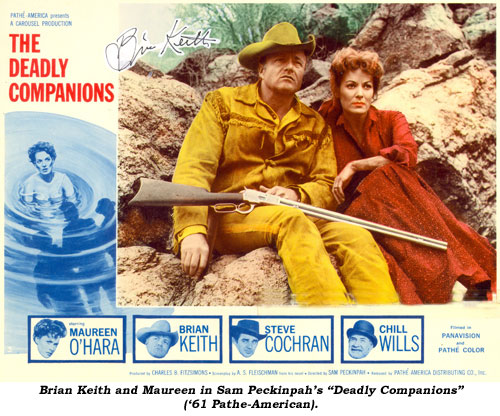 RN: I guess one thing you never tried to match him on was drinking.
MO: Oh, God, no...You know, people get reputations they don't deserve. It constantly gets me angry these things are not corrected. I read a story about the making of "The Quiet Man". Somebody gave an interview saying John Wayne and John Ford drank all the time. That is not true. On the entire shooting of "The Quiet Man" John Wayne had a couple of drinks one night and one night only during the picture. John Ford never drank during the entire picture. The article went on to say we were bedeviled with terrible weather and it never stopped raining. On the entire shooting of "The Quiet Man" we had one single rainy day, which was exactly what John Ford wanted. It was when I ran out of the cottage, having been caught by Wayne, sweeping and cleaning the cottage. I ran out through the rain and slipped and fell in this terrible wind and rain. We used to tease and say that John Ford got the weather he wanted. That particular day he wanted wind and rain, and by gosh, he got it. The rest of the time we had magnificent sunshine, heat and warmth. So where these people get this information, I don't know. Suddenly, it's printed two or three times and it becomes fact, and it is not fact. It is absolute lies.
RN: Forrest Tucker, who had a drinking reputation himself, once told me John Wayne, Ward Bond, Victor McLaglen and a few others, belonged to something called the slap club. Sitting around a table there would be a few bottles. One person would start off by tossing down a drink and then turning to the man on his right and slugging him in the jaw, trying to knock him out of his chair. Then it would go to the next person and the next, so on around the circle, drinking and slugging, drinking and slugging, until someone was left.

MO: Makes a great story but I don't believe that. How in God's name could they work the next day? I've known Duke since about 1941 and all of the other guys and stunt men and I've never heard of anything like that, and I would have heard about it. There are so many people who tell so many stories and I sit there with my mouth open and think, good God, who made that up?
Maureen's Western Filmography
---
Movies: Buffalo Bill ('44 Fox)—Joel McCrea; Comanche Territory ('50 Universal Int'l)—Macdonald Carey; Rio Grande ('50 Republic)—John Wayne; Kangaroo ('52 Fox)—Peter Lawford; Redhead From Wyoming ('53 U-I)—Alex Nicol; War Arrow ('53 U-I)—Jeff Chandler; Deadly Companion ('61 Pathe-American)—Brian Keith; McLintock ('63 United Artists)—John Wayne; Rare Breed ('66 Universal)—James Stewart; Big Jake ('71 National-General)—John Wayne; Red Pony ('73) Henry Fonda (TV movie).