AUDREY TOTTER
by Boyd Magers

On the screen in the '40s Audrey Totter was the epitome of the tough, hard-boiled blonde, cold as ice to the eye. "Lady in the Lake", "Postman Always Rings Twice", "Set Up", all helped establish her femme fatale film noir reputation. Her screen persona couldn't be farther from the real lady. We found Audrey to be a warm, caring, thoughtful individual.
Born on a cold Joliet, Illinois, day in 1917, she was acting "…from the time I was a little girl. I didn't quite know what I was doing. I came from a conservative family who took a dim view of that. My father, who was born in Austria and spent his life in Vienna, loved the opera and loved ballet; took me to the theatre too. I wanted to be a stage actress. I started in Chicago radio and had a very successful career there for a short while. Then the play 'My Sister Eileen' came to town and I learned the lead was going to Broadway to do 'Banjo Eyes' with Eddie Cantor. The girl playing one of the parts and understudying was going to take over. They needed somebody to take her part, I auditioned and got it. We toured the country during the beginning of the war. We were in San Francisco during Pearl Harbor, witnessed the lights going out all the time. Tremendous blackouts. But they kept the theatre going. Then the play went to New York. I had a lot of contacts in New York because of Chicago radio and I started a career within in a week there. I wanted to be on Broadway. But, within one week, a man from 20th Century Fox saw me on the street and asked if I was an actress. That same week a man from MGM heard me on the radio. They both offered me contracts. 20th offered more money but all my friends said go with Metro, it's the Tiffany. I did. And I'm glad."
In radio, Audrey was known as the girl with a thousand voices. "My mother was American born with Swedish descent. So I first learned Swedish and picked up the accent. There was an Italian family next door. This was the early days when European immigrants were coming into America. I used to do voices for fun and it led into my radio career."
Many of her early movie roles were voice parts. "Phyllis Thaxter in 'Bewitched'. I did her crazy voice. She said, 'I don't know why I can't do it?' And I said, 'You didn't come from radio, that's why.' In 'Ziegfeld Follies' there was a very funny sketch where Keenan Wynn tries to call the girl next door and he can't get her. I'm the operator and I keep screwing it up. Funny sketch, I was the voice on that."
Audrey's "Lady In The Lake" (directed by Robert Montgomery) was a unique picture because of the camera being..."Subjective... Again, this is where radio came in handy. They tested several people and most actresses said, 'I don't want to do this,' or they just couldn't. They'd want to look at Bob. But you had to play right to the camera. Bob Montgomery saw a scene of mine and said, 'I want to test her.' I never thought I'd get this enormous part. I went to thank Bob for letting me at least test. He finished the test, turned to me and said, 'You've got the part.' Wasn't that a nice way to do it? It was wonderful working with him."
"I remained at Metro for six years. Then there was a change. The parts they were giving me I didn't think were very good. Columbia offered me a contract and a lot of good parts. The month I signed with Columbia I met my husband. I went to Mr. Cohn (head of Columbia) and tried to get out of my contract. He said, 'I can't let you out of the contract, but it won't hurt you to work for a while when you're married.' My husband took a dim view of my working. He thought I should be home raising children. He was a physician, and they've got crazy hours, too. Leo felt very strong about having children. I came from a solid family where my mother didn't work and raised us. We all turned out very well and I feel it was from the home. I was so crazy about my husband, that less work was all right with me."
In films Audrey was cast as a femme fatale...always a tough lady. Strong female roles. She was really, in many ways, ahead of her time. "Absolutely. That's why some of them still hold up. 'FBI Girl' I thought held up pretty good and 'Bullet for Joey'. But I thought some of those scenes from 'Woman They Almost Lynched' were pretty corny. The funny thing is Steve Fisher wrote that and he wrote 'Lady In The Lake' which is excellent. Very smart dialogue. But I guess that's his forte—not writing Westerns. Some of it was just so corny."
Although a wonderful actress, the scene in "Woman They Almost Lynched" when Brian Donlevy slaps Audrey..."I know. It just doesn't work. My co-star, Joan Leslie, was also married to a doctor, so we became friends. I met her on the picture. We used to be just hysterical...some of that dialogue. She thought some of hers was pretty corny too. The fight scene was faked, they always are. But we did some of the stuff. The close-ups we did. But my gosh, I've always been thrilled with those wranglers who ride and... I rode in the picture, except the last scene, that wild ride, they wouldn't let me do that. I wouldn't want to do it. I'm not that good a rider. Even riding in groups, Brian Donlevy, Jim Davis and myself... there would always be wranglers around us. So we never had to worry our horses would rear and go because the wranglers were right there."
Admittedly, Audrey doesn't sing, but the voice in "Woman They Almost Lynched" matched her quite well. "It was very good. But I did one at MGM which didn't match very well. Remember Bob Montgomery...in 'Saxon Charm'? In the scene, dancing around with me, remember how he was guiding me in that? We had to have me sing but someone else dubbed it later. Normally, you never have to really sing. But for this, I had to sing and then it was dubbed. Of course, I cannot sing. Susan Hayward is sitting there with John Payne and all the extras. The scene is over and Bob Montgomery said, 'I want to tell you something. You are the most astounding actors and actresses I've ever seen. You didn't laugh once when Audrey was singing.' (Laughs) I used to date Jim Davis, but that was long before 'Woman They Almost Lynched'. I always liked Jim, wonderful guy. I was so thrilled when he got that wonderful break in 'Dallas'. Then he died one year afterwards. Now that made me feel bad. My God, he was still a fairly young man. Ben Cooper was the cutest little thing in the world. Real young, sweet guy. I never saw anybody drink so much milk. He drank quarts of milk. Brian Donlevy I had also dated earlier. I met him on 'The Beginning Or The End'. Went out with him a couple of times, so it was fun working with him. A good actor and a great guy. He was born in Ireland."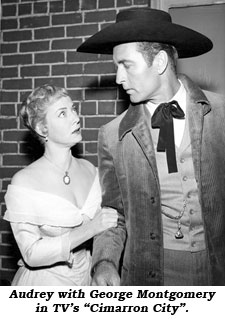 In 1958 TV's "Cimarron City" starring George Montgomery came along. Audrey played the no nonsense boarding house owner."I said to my husband, 'Do I really want to do a series?' In those days we only worked Monday through Friday. Leo said, 'Try it. Ask them, if you sign, you don't have to stay too late.' The producers said fine, but it didn't turn out to be a big success. I don't know why because it was a pretty good series. I enjoyed working with George Montgomery. George is a good actor, but I think his talent lies in sculpting. He makes gorgeous furniture, but he just didn't look like the kind of man that would do that...he's very Western, very macho. 'Course he was then married to one of my absolute favorite people, Dinah Shore. We used to go out socially when they were married. I did 'Our Man Higgins' a little later on ('62-'63). It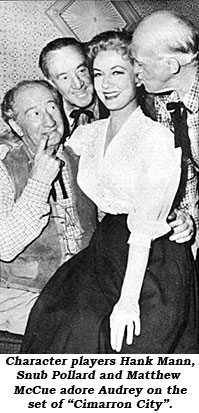 wasn't successful because it was opposite Mary Tyler Moore with Dick Van Dyke. (Laughs) What can you do?"
"When my daughter was a teenager I really stayed home because I thought it was important. When she went off to college I did 'Medical Center', produced by a very close friend of mine, Frank Glicksman. Jayne Meadows was doing the nurse but she decided she didn't want to do it anymore. Frank asked me if I would do it. He wanted somebody that would travel and advertise the show at nurses' conventions and things like that. So I was Nurse Willcox for four years ('72-'76). Then I did one picture in Spain. After that I just wanted to settle down as a housewife. I was very happy. I was mad about my husband, I lost him in March ('95). Sad."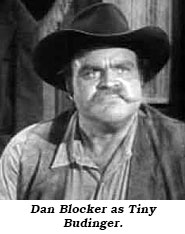 Before "Bonanza", Dan Blocker got his start on "Cimarron City" as Tiny Budinger. "Yeah, but he never admitted he was in it. Never mentioned 'Cimarron City'. I didn't think that was very nice. (Laughs) He was great. A funny guy."
The nice thing about "Cimarron City" is they gave Audrey—as the leading lady—story lines. Usually a Western leading lady would just come in and smile. "One of the things that went with the deal. I said, 'I don't want to work that much. I don't mind wandering in and out now and then, but for my sake, once in a while, give me something to do.'"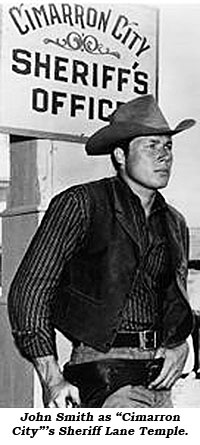 John Smith, who later gained stardom on the "Laramie" series, started on "Cimarron City". "I used to talk to him. One time I said, 'John, you're good looking, talented... you can have a career.' But he got in with a bunch of people, among them the director. I said, 'It's great fun to sit there and drink all night but you can't do this forever.' I guess he thought somebody who doesn't drink is an old reformer...he just went downhill. Recently John lived near a friend of mine who used to see him once in a while. He said he didn't even know John anymore. Too bad." (Smith died from cirrhosis of the liver January 25, 1995. He was only 63.)
Macdonald Carey was Audrey's co-star in "Man Or Gun". Audrey smiled, "I knew Mac for a thousand years. I knew him from New York so it was kind of fun to work with him, finally. Then he wrote his book, which surprised me. I didn't know about the alcoholism in his life—but he beat it. The thing that interested me about Macdonald Carey...Mac was very Catholic and had all these children. All of a sudden, the book tells about all the affairs he had, the divorce...I wouldn't have guessed. Mac was like a priest (Laughs) and here he was having this double life. There was a book signing and I went purposely to see him. We shrieked at each other, I said, 'I didn't know this was you' and he said, 'Yeahaaaa.' (Laughs) He passed away too, recently."
James Craig was also in "Man Or Gun". "He played the heavy, didn't he? I worked with Jim Craig in one of my very first movies and then one of my last movies, just a quickie ("Ghost Diver")... I call it making some Christmas money...my husband supported me completely. Whatever money I earned, I usually gave to him to invest. We were underwater a lot. It was a terrible piece of junk. We were hysterical doing it."
Another Western Audrey did was "Massacre Canyon" with Phil Carey, Douglas Kennedy and Big Boy Williams." Big Boy told marvelous stories about Lupe Velez; they were a thing for many years. He was great fun."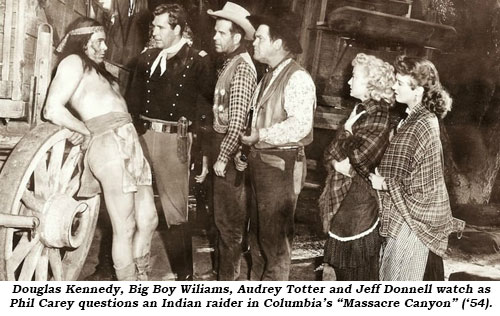 Audrey thinks "Vanishing American" was a good remake of the silent. "The only thing I found wrong was Scott Brady didn't really look Indian. He was very cute. We were in St. George, Utah. Scott took out a Mormon girl and kept her out very, very late. The father had a shrieking fit. Scott was going to marry her, by God! They went to court and Scott said, 'I swear to you on a Bible, I didn't touch that girl.' She said the same. Scott said, 'I will do anything to apologize but I don't think it's fair to her or to me for us to marry. She's a virgin.' And they believed him. He said it was true, he just kept her out late."
Audrey did a small part...probably more Christmas money...in a "Virginian" episode, where she was a floozy saloon girl. "If they had to have somebody that could do this...they paid you a lot of money. Really a ridiculous amount for working one day. Another TV Western I did was with Clint Eastwood, 'Rawhide'. They cast me at the last minute and sent me a script that night; I had to work the next morning, which is rare, they don't usually do that. I read it and to my horror, I had to play poker and I didn't play cards...didn't even play Bridge. I said to my husband, 'What am I going to do?' We sat down about 7 o'clock and played until around 11. He taught me enough to fake it. I love Westerns. Great fun."
How did Audrey Totter want to be remembered? "As a happy wife and mother. I was lucky to have a career, I never had to struggle. I was always treated beautifully...at MGM, we were all queens. Mr. Mayer said, you better not touch his stars! I had great protection and I had one good, happy, joyous marriage, 42 years, had a daughter who turned out extremely well, lovely grandchildren. I've just been lucky."
At 95, on December 12, 2013 Audrey left a wonderful film legacy for us to enjoy.
Audrey's Western Filmography
---
Movies: Woman They Almost Lynched ('53 Republic)—John Lund; Massacre Canyon ('54 Columbia)—Phil Carey; Vanishing American ('55 Republic)—Scott Brady; Man Or Gun ('58 Republic)—Macdonald Carey; Apple Dumpling Gang Rides Again ('79 Buena Vista)—Tim Conway. TV: Zane Grey Theatre: Return To Nowhere ('56); Californians: Strange Quarantine ('57); Cheyenne: Empty Gun ('58); Wagon Train: Tent City Story ('58); Cimarron City: series regular ('58-'59); Man From Blackhawk: Winthrop Woman ('59); Rawhide: Abilene ('62); Bonanza: A Time To Step Down ('66); Virginian: Yesterday's Timepiece ('67); Virginian: Home To Methuselah ('69).