IRENE MANNING
Irene Manning, Gene Autry's leading lady in '36's "The Old Corral" was born Inez Harvout on July 17, 1912, in Cincinnati, OH. The youngest of five children, the future singing star smiled, "I always loved to sing! Our family moved to Los Angeles when I was 10; neighbors would hear me sing and encourage my mother to get me into the top schools of the day. I know you won't believe it, but I was totally oblivious to movies when I was little. (And, of course, pictures were silent in those days.) Singing was all I cared about. As it happened, my mother died and my father remarried—a singer. This woman taught me two songs I used for my tryout at the Eastman School of Music in Rochester. I won the audition and stayed for four wonderful years. After graduating, I did a lot of theater work—including summer stock in St. Louis. As soon as I returned, I was informed by my agent I was to go to Republic. It was that simple."
So Inez Harvout, singer, went from grand opera to horse opera. "Yes, (Laughs) the first thing they did at Republic was to change my name—to Hope Manning. The head of publicity, Het Manheim, was a nice little Jewish man who came up with the moniker—giving us both the initials of HM. We soon fell in love and married but the marriage didn't last. He was based in New York, and I was traveling all over the place—by this time landing back in L.A. and Republic."
About that studio and her first picture, "Since I was a singer, you'd have thought I would be put in a musical, right? (Laughs) Well, the first thing I heard was (in a mocking, nasal voice) 'Bak 'n thuh saddle, agin' and I was cast opposite Gene Autry in his latest picture. I was astonished, but as years passed, I felt so blessed to have appeared in the film—it has so many admirers and is well remembered, even today! It is very heartwarming."
There was some hype as to Hope being the first girl to kiss Gene Autry. "Well, yes we did kiss but no, it wasn't his first. (Laughs) We did do the kiss all right, and the cameras were a-cranking. But, when we did it, the crew laughed so loud and so hard, I thought the kiss might be removed! Gene could kiss his horse, but not his leading lady! (Laughs)" (Gene's actual first screen kiss was in "Sagebrush Troubadour" ['35]. Then in "Singing Vagabond" ['35], "Oh, Susanna" ['36], "Big Show" ['36] and then in the fadeout of "Old Corral"—ed.)
Asked about her singing in the picture, Hope is quick to admit, "I thought I would sing in it, of course, and I even wrote a song for me to do in the film. But, Cy Feuer, head of the musical department at Republic, told me Gene would never go for it. No way. Plus, it wasn't simple enough for a western..it was too uppity, I guess. So, there was no number (Laughs). One bit of advice Cy did give me was something I used for the rest of my career. Cy said to 'Keep it simple.'"
As for Gene Autry himself, "He was very nice; this was still pretty early in his career, but he'd made it big and fast, so what he wanted was the way it went. No song by me, for instance. There was no chemistry between us and I was never asked to do another film with him! (Laughs)"
About Smiley Burnette, Gene's frequent sidekick comedy relief, she laughs, "I called him 'Smelly' Burnette—he was always perspiring and he, well frankly, he stunk! (Laughs) And by the way, I was more impressed with a handsome young singer-cowboy who was also in the cast—Len Slye was his name, but you know him better, by his later screen name—Roy Rogers."
Irene's stay at Republic was a brief one. "It was back to the stage and more musicals, before I signed a contract with Warner Bros. and made some pretty famous films with some pretty famous stars!" Using her new screen name of Irene Manning, those stars included James Cagney and Humphrey Bogart (of '42's "The Big Shot"), '43's "Desert Song" (with Dennis Morgan) and '42's Best Actor Oscar winner (James Cagney) "Yankee Doodle Dandy". "That plays every 4th of July, so I have a little immortality there."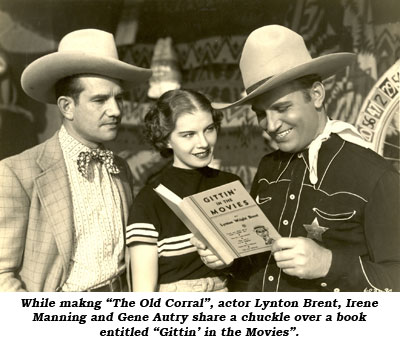 Being in the stable of stars at Warner Bros. in the early '40s, Irene had definite ideas about some of them. "I thought Dennis Morgan and I had great chemistry together. Joan Leslie was a darling 17-year-old who actually aged into an old lady, she was marvelous. Jane Wyman—I loved her husband, Ronnie Reagan, but Jane was so coarse and crude—with a foul mouth to boot. She'd get angry over something and say, 'Get your ass over here.' The divorce with Ronnie wasn't a surprise to me at all. Louis Seiler, who directed 'The Big Shot', was so mean and nasty, but Bogie came to my rescue. He told me to completely ignore this man, to play the part the way I wanted to play it and everything would be fine—which it was. Rosemary De Camp, a class act, wrote me a letterl. She told me how great she thought I was, and said she always marveled that Warner Bros. would ever let me go. How very sweet of her."
During the '50s, Irene appeared on numerous TV shows, in between stage work. "I was even under contract, for six months, to MGM, between Republic and Warner Bros., but Jeanette MacDonald ruled the roost—they called her the Iron Butterfly—and needless to say, I was around only a mere six months—the first option and Jeanette dropped me—or should I say Metro dropped me? (Laughs)"
In '64, Irene's life changed drastically. "I married the brilliant Maxwell Hunter.who could and did do just about anything. Unfortunately, I lost him in 2001—right after 9-11—so I had two 9-11s that year." Plagued by illnesses since Hunter's death, Irene Manning died May 28, 2004. But her legions of fans will always remember.
Irene's Western Filmography
---
MOVIES: The Old Corral ('36 Republic)—Gene Autry.