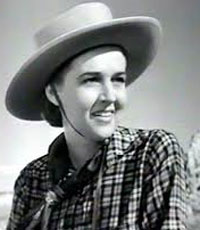 BETTY JANE RHODES
Betty Jane Rhodes, a radio singing star at a young age, was later seen in several westerns and a popular serial. Born Betty Jane Rhodes in Rockford, IL, on April 24, 1921, she explained, "Somehow, the date got mixed up and a lot of sources say April 21, but 21 is the year, not the day. My health was not good, so we moved to San Francisco when I was very little. My brother both sang and played the guitar—he took me to audition at a radio station in San Francisco, and I started singing, professionally, on the radio with Al Pearce at age 9. I joined KHJ radio, then went to KFWB. I was the youngest staff artist in the country on radio. I sang with the Warner Bros. orchestra, doing four shows a day."
At such a young age, schooling must have been a problem. "I attended professional school in the mornings; Judy Garland was among my classmates." As for getting into pictures, "I was 14 and landed a role at Paramount in 'Forgotten Faces' ('36) with Herbert Marshall. I used the name Jane Rhodes then. Around this time, I was singing on the Packard Hour with Raymond Paige's Orchestra."
It was then Betty Jane made her first western, "Arizona Raiders". "That was shot on location at Kernville. My mother and stepfather went with me and I didn't like it at the time, but later I was grateful. People did get into trouble." Asked about Johnny Downs, who played her 'wussy' fiancé, she emphatically states, "Johnny was not wussy offscreen!" As for Buster Crabbe, "He was a gentleman, very nice. There were some guys who kept asking him to swim the Kern River, but it was rapid and dangerous. He didn't do it. He knew what he was doing, but the guys still kept after him. They thought that being an Olympic swimmer, he could make it—but he was not crazy!" Raymond Hatton "was very nice, and Marsha Hunt was, and is, beautiful." As for director James Hogan, "He was very, very nice, and so considerate. I was 14 at the time. I listened to him." During the scene when the cattle wrecked the town, "I was not there," she laughed. As for the music, "I played the piano 'live' when they were filming. It was not done on a pre-record, like it often was in pictures."
From Paramount, Betty Jane went to Universal, where she filmed the serial "Jungle Jim" with Grant Withers. "I remember going to serials at Saturday matinees when I was a kid. The first thing I remember about 'Jim' is that I was on the set with a large cage. I was supposed to be sleeping on a rock, and they brought in this huge lion. He was supposed to come up and sit beside me. But the set was so warm, he spread his whole body around me and went to sleep. It took four big fellows to get this lion off of me—he was heavy and he was hurting my legs. Two weeks later, Charles Bickford was in a scene with this same lion. I don't recall the movie's title, but Charles Bickford's Adam's Apple moved, and the lion bit it! He was in the hospital for some time, and I felt so sorry for him. I liked him; he was such a nice person." As for being frightened herself, "I was not, but my mother

was! I love animals, and have had them around me all the time. I thought that lion was nice. It was just another big animal to me. And, there were baby lion cubs there as well. On the backlot, there was another harrowing accident. Universal had a pond, and they took me out on a raft, not far from the shore. I was to get in the water and swim to shore. Well, they had these hoses underneath the raft, to make it move like we were in high currents. No one told me—and I barely made it to shore!" Summing up her work on "Jungle Jim", Betty Jane smiles, "I had fun working with everybody. I enjoyed it, jumping off rocks! It was exciting and such fun for me!"
In '41, Betty Jane starred with Tim Holt in "Along the Rio Grande" at RKO. Surprisingly she found "Tim Holt was an egotistical bastard. He was really pretty bad. We were on location at, I believe, Vasquez Rocks. I sang a couple of songs, 'Along the Rio Grande' (with Ray Whitley) and 'Monterey Moon'. Ray Whitley did not help teach me the songs, as he apparently did with some of the other girls. I always learned the numbers personally." As for others in the cast, such as Robert Fiske, and the film's director, Edward Killy, "I really recall very little about either!"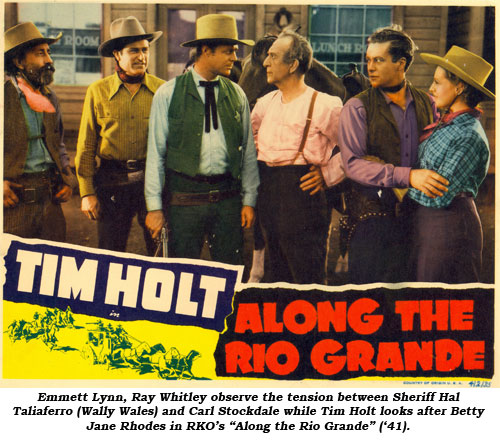 After co-starring with the Weaver Brothers and Elviry in Republic's "Mountain Moonlight", it was back to Paramount for Betty Jane who dropped the Jane after a couple of films. She is probably best remembered for her '40s Paramount work in films such as "Sweater Girl" ('42) and "Mardi Gras" ('43).
"Like most every other girl at the time, I wanted to marry and start a family. I met Willet H. Brown and, after we married, I retired. He didn't want me to work, anyway. He was into real estate, and owned several radio stations. He also had the Hillcrest Cadillac Agency. We were married 45 years, before his death, and had a daughter."
Betty Jane's Western Filmography
---
Movies: Arizona Raiders ('36 Paramount)—Buster Crabbe; Along the Rio Grande ('41 RKO)—Tim Holt. Serial: Jungle Jim ('37 Universal)—Grant Withers.