Judy Nugent, talented child actress and member of an acting 'dynasty', was born in Los Angeles (August 22), and made her screen debut when barely out of diapers. "My father was a prop man at MGM. He put my picture and my sister Carol's picture on the side of his prop box. We were seen and offered a part in 'The Man From Down Under' ('43) with Charles Laughton."
While still a youngster, Judy landed a part in "Night Stage To Galveston" ('52) with Gene Autry. "I especially remember his recitation of 'The Lord's Prayer' to me in the back of a wagon. It was cool! I later did an 'Annie Oakley' for Gene's company starring Gail Davis as Annie. She was really getting it on with Gene at this time. We shot on location at Vasquez Rocks, but Gene didn't visit the set. They had a huge, huge affair, but I didn't learn about it until years later. Pat Buttram was in 'Night Stage'. He was a real character. I played a blind girl in 'Annie Oakley'. I was blind on 'Superman' too."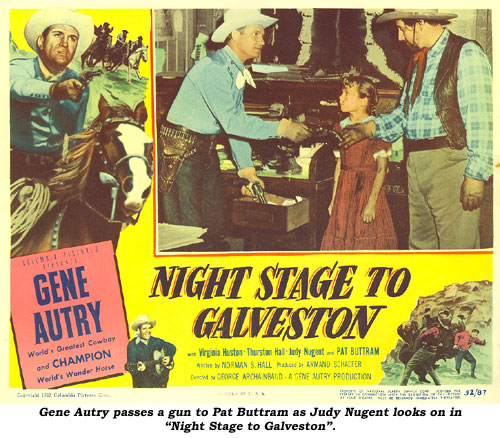 The very busy child star did quite a bit of television. "I did two 'Ruggles' shows, and I did a lot of early live TV. I was so little it didn't drive me crazy. Something clicked. The directors were always amazed."
Asked about her favorite films, Judy is quick to say "Magnificent Obsession" with Rock Hudson ('54) of her movies and "Rawhide: Incident of the Night Horse" on TV. "Rock Hudson was a sweetheart. At Universal-International, Rock and I were walking around the studio, when Cary Grant walks by. Rock introduced me, and in that great Cary Grant voice, Cary said, 'Judy, Judy, Judy!' It was so cool, I've never forgotten that. I'm not usually impressed with actors, but that was a standout! Really cute!"
As for "Rawhide", (Laughs) "I think I do my best acting with a donkey! There's one in 'Rawhide' and I also ride one in 'Sugarfoot'. Clint Eastwood was adorable. I could have gone for him in a big way, but he was married and I was in love with Buck Taylor at the time. In fact, getting married and having kids was the highlight of my life! I did five episodes of 'Tall Man' as June McBean and they wanted to spin it off into a series, 'The McBeans'. But I wanted to marry Buck and retire. So, it didn't work out. My sister in those was Olive Sturgess. Our Pappy was Andy Clyde who was a good old guy. He was very nice to me, but he was getting way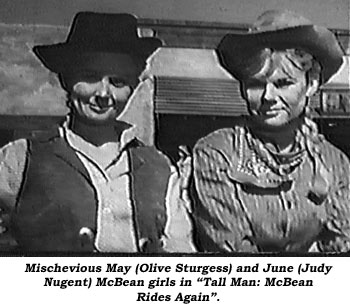 up in years by this time. I think he died shortly thereafter, so the 'McBeans' series never got anywhere. Incidentally, my son Cooper looks just like me at that time."
Around this same time, Judy guested on 'Sugarfoot'. "Will Hutchins is real cool. I replaced Connie Stevens on that episode. She sprained her ankle and couldn't do it. Will and I later went to a rodeo with Casey Tibbs. Casting directors liked to put me in westerns. I could ride, so I was a natural for them. When I was very small, I bought a palomino, Taffy, at an auction. He was the color of Taffy, and much blonder than Trigger. I've been riding all my life. My sister Carol, however, was afraid of horses. She married 'The Rebel', Nick Adams."
Asked about Nick's many problems—with drugs and otherwise, Judy states, "I knew nothing of that. I think his death was an accident. I don't believe he meant to kill himself. Carol told us about some of his problems with dope, but not until after the fact. I consider Carol my best friend. Although she's older, I'm the protector. As children, I was always climbing trees—a real tomboy, while she tap-danced and curtsied, never getting anything dirty."
As for her children, Judy reveals she had had four kids—a daughter, Tiffany (who is mother to two), and three sons—Adam (the father of two by his marriage to Anne Lockhart, June's daughter—he was killed in a motorcycle accident a few years ago), Matthew (a stuntman and double—"Speed 2"), and Cooper, her youngest. "The grandkids call me Gammy. I refuse to be called Granny. All my sons did ads for Wrangler Jeans. That's because all three have great butts—they got that from Buck. He was a great butt (Laughs). We divorced in '80 or '81."
Judy Nugent did a wide range of parts, including playing one of the Kettle kids in "Ma and Pa Kettle Back On the Farm" ('54). "I used to run around with the kids, having a good time. Tony Epper, who was one of the kids, later became a stunt man. Tony, Jeanne and Andy Epper were all into stunts. I recently heard from Whitey Hughes, a stunt man on 'Rawhide', for the first time in 40 years. He located me through my daughter-in-law, Anne, who incidentally, put on the Ben Johnson rodeo a few years ago. Mike Moroff, another stunt and action guy, is still a good friend."
Although she stopped working in pictures when she married Buck Taylor in '61, Judy returned to picture work later on. "I did some doubling and stunt work when I accompanied Buck on some shoots. We went to Durango, Mexico, for 'Cattle Annie and Little Britches'. Tony Epper doubled for Burt Lancaster—it was perfect! We were in Durango when John Wayne died. We were at the compound—motel John Wayne built and stayed in when on location down there. Tony had Wayne's room and we were in there visiting when we heard the news. There was a huge oil painting of the Duke in the room. It was so eerie, being right there when we heard. Really weird!"
As for her part in 'Cattle Annie', "I did doubling and horseback riding for actresses—one of the girls, the older one, was Tammy Grimes' daughter—Amanda Plummer. Diane Lane was the younger one. I doubled an actress in a lake scene—I jumped in the lake, riding behind John Savage."
"I also did 'Pony Express Rider'. That was shot in Kerrville, TX. Buck was in that. We wrangled the horses, and I doubled almost all of the kids. I doubled this 16-year-old boy and you could see boobs! At least on the big screen. (Laughs) I did about all of his riding—over mountains and all. Ken Curtis was in it. Of course we'd known him for years, because he and Buck were on 'Gunsmoke'. Nobody ever said a bad word about Ken—he was that kind of guy. Buck's father, Dub Taylor, was also in 'Pony Express Rider'. Dub was my most favorite man in the whole world. We were very, very close—I still love and miss him. He would take his teeth out, cackling in that wonderful voice. But he was a cashmere and Jaguar in real life. He had excellent taste. First class."
One of Judy's other westerns was "Down Laredo Way" ('52) with Rex Allen. "I watched that recently. That was wild. I worked with Marjorie Lord later on a 'Make Room For Daddy'. Sherry Jackson and I are friends. Sherry is the only actress-friend I had. I usually hung around with the stunt kids, stand-ins and doubling kids. I most often would hang out on a horse! I really liked the Gypsy Girl, Dona Drake, in 'Down Laredo Way'! She was great. A really cute, adorable actress. Clayton Moore, The Lone Ranger, was in it too. He didn't play 'The Lone Ranger' when I did one—it was John Hart. I was impressed by Jay Silverheels—because he was a real Indian. That meant something to a little kid. I don't know why they put those glasses on me in the Lone Ranger ("Triple Cross"). I guess the director thought it would add something."
One of Judy's most memorable guest shots on TV was flying with "Superman" ("Around the World With Superman"). "That was top secret. I was told never to tell anyone about how George Reeves flew. Anyway, they put George on this cement thing, and dressed him over it, form-fitting up to his chest. They had a huge fan that made his cape fly out. The special effects people did the ups and downs. There was a ladder underneath—I'd sit on the ladder and he'd hold me up. Even though I was still little, I got awfully heavy (Laughs)."
Asked if she felt she was typed as a country girl, Judy said, "If I was, I loved it. I did a '77 Sunset Strip' with Edd Byrnes. I had to wear high heels, a hat, a suit—I hated it. I really am a country girl—I like the country. I love the pigtails—I still wear 'em, and Levis too. Today, I live on a ranch in Montana. Buck and I bought it when he was on 'Gunsmoke', and we moved up here permanently after the show ended. I kept it after the divorce. My son Cooper lives with me and we intend to stock up on horses. Carol followed us up here and lives 20 miles away. My daughter is near here and I see Mathew when I go to L. A. I also see Anne and the grandkids, and of course, June Lockhart will come over for a visit as well. Anne and I are still close and talk on the phone quite often. I never knew her grandparents, Gene and Kathleen Lockhart, but of course I've seen them in pictures. I love ranch life, the outdoors, and horses."
As the interview was taking place, a herd of antelope went roaming across her field. "Cool," says Judy Nugent Taylor.
Judy's Western Filmography
---
Movies: Night Stage to Galveston ('52 Columbia)—Gene Autry; Down Laredo Way ('53 Republic)—Rex Allen; Pony Express Rider ('76 Doty-Dayton)—Stewart Petersen; Cattle Annie and Little Britches ('81 Universal)—Burt Lancaster. TV: Lone Ranger: Triple Cross ('53); Annie Oakley: Valley of the Shadows ('54); Sugarfoot: Wolf ('59); Rawhide: Incident of the Night Horse ('60); Tall Man: Larceny and Young Ladies ('60); Tall Man: McBean Rides Again ('60); Tall Man: Reluctant Bridegroom ('61); Tall Man: Millionaire McBean ('61); Tall Man: Substitute Sheriff ('62).