FRANCES DEE
Lovely Frances Dee is a legendary actress from Hollywood's Golden Age of the '30s and '40s. Born November 15, 1909, in L.A., the star actually grew up elsewhere. "My father got a job in Illinois, so when I was a little girl we moved to Chicago, where I attended public schools, plus a year and two semesters at the University of Chicago."
Returning to California, Frances soon got work as a screen extra. "As did Joel. We both started that way. In his case, he began as a wrangler. When they'd shoot a movie across the street from where he lived, he'd ask to be hired on as wrangler—then he'd get an extra's job as one of the posse."
Landing a contract at Paramount ("My first role was a bit in Buddy Rogers' 'Follow Thru' ['30]. I had one line and had to dance, and I can't dance."), Frances hit it big fairly early when assigned the leading role opposite Maurice Chevalier in "Playboy of Paris"('30).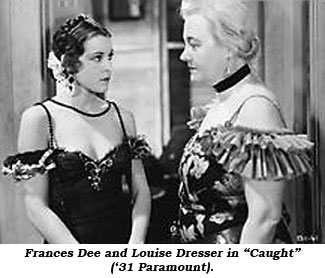 The following year, she was seen opposite Richard Arlen in her first Western, "Caught". "That was my second or third picture. I had signed at Paramount for $50 a week. There were no guild rules then—Screen Actors' Guild hadn't been formed; so they could loan you out to another studio and work you 18 hours a day—and they did! I did 'Caught' at Paramount in the day and was doing a picture with Douglas Fairbanks Jr. at Warner Bros. at night! I'd get up at 4 to get to makeup so we could leave the studio at 5 to go on location. I was slapping my face to get awake. I enjoyed very, very much the cast of 'Caught', especially Louise Dresser. She was such a professional. I'd sit and watch her and Tom Kennedy. I learned from them—practically the only acting I had done was in high school plays. 'Caught' was shot in three weeks on location at the Paramount Ranch in the Valley, also used in 'Wells Fargo'. It was still there, a few years ago. In the day it was hot yet at night it was cold—I muddled through that picture. In fact, you can see breath coming from Richard Arlen and myself in one night scene! But, I thought it had an interesting ending to it."
After "Caught", Frances wanted to perfect her craft. "After a couple of those squeaky-voice things, Paramount sent me to a vocal coach, to get rid of my mid-western accent and that high-pitched voice."
Regarding her second Western, "Wells Fargo", Frances relates, "That was one of Paramount's biggest pictures, unlike 'Caught', which was one of its tiniest." Frances was freelancing. "I left Paramount, went to RKO, then signed a three-picture pact with Paramount. 'Wells Fargo' was the first picture Joel and I did together after we were married. Frank Lloyd, one of the best directors in Hollywood, was at the helm. He had done 'Mutiny on the Bounty' a couple of years earlier. The other day there was a party at the Hollywood Museum, and a little girl came up to my son Jody and told him she was Frank Lloyd's granddaughter. Alma Lloyd, Frank's daughter, was in 'If I Were King' with me. I was deeply fond of Frank as a man as well as a director. He directed 'If I Were King'. On 'Wells Fargo', Lloyd called everyone in and told us exactly what he had planned for the entire day. It made a tremendous difference to everyone—he was like a general. This went for extras, costume people, whomever. We respected Frank Lloyd; we all enjoyed everything, as everyone was a part of it. Joel said he had not seen this before—or since. There was a scene—shot at the Paramount ranch, where Joel brings in the mail. It's an important part of the story, a winter scene, but shot in the summer, and it was hot! I have a daughter in the picture, and she is a big girl—Lloyd wanted me to hold her up, and in that heat! I was wearing velvet—so I was really burning up!"
Asked specifically about working with Joel, Miss Dee smiled, "He didn't like working with me, although I enjoyed working with him. I'd get bossy (Laughs); I'd sneak over to his dressing room. I never felt he reached his potential, so I'd say, 'What if you did this or what if you did that?' I'd then go to the rushes—and see Joel had wiped me off the screen! I was so busy thinking about him I didn't think about myself! Joel never gave me any ideas—he thought it should be left up to the actor."
Sometime after "Wells Fargo" was released, there was a screening at the studio. "We never took the boys to anything but the kiddie pictures, so we took them to see it—Jody was 6 and David 4 at this time. They sat quietly, and at the very end, David got to wiping his eyes. Daddy said, 'Are you alright?' David cried and cried. Joel picked him up—clinging him, but he was not consolable. We never knew what it was—unless it was our growing old at the end that upset him in some way. We generally didn't let them see our films—we thought it would confuse them."
"Four Faces West" was Frances' next Western, and her next picture with Joel. "The director wanted me, not 'Papa'. (Producer) Harry Sherman was always busy doing things. The wardrobe man, Ivan, was Swedish, and new to this country. He would say ware-y instead of wear-y. Joel said Ivan told him, 'When Frances works with you, you are not so ware-y.' (Laughs) Papa loved this. It became a family thing to say, from then on. I was not bossing so much on this one! We shot it on location for two months between Gallup and Grants, New Mexico—at 200 ft. tall Inscription Rock. 'Paso Por Aqui' (Passed This Way)—that inscription was on that rock—it's shown in the film, which was reportedly a true story (based on a SATURDAY EVENING POST story). The rest of it was shot at the California Studios, where Harry Sherman had his offices, across the street from Paramount. I also did 'Private Affairs of Bel Ami' there; Ingrid Bergman's 'Arch of Triumph' was shot there. It is now the Raleigh Studios." (Portions of several Hopalong Cassidy films were also lensed there.)
"Good ole 'Pop' Sherman," Frances grinned. "He was high on Joel; they loved westerns, and Sherman didn't think Paramount did right by Joel. He was rugged looking, with white hair. An outdoor man, an athlete—he was in those long bicycle marathons. He always liked bicycle riding—even in later years. He was charming, strong-looking, tall, and couldn't have been nicer to work with. He included everyone in on things. He was a very expansive kind of man. His personality suited his appearance."
Frances Dee's last feature was '54's "Gypsy Colt", shot in Technicolor. "I was four months along with my last child, Peter, who is 20 years younger than Jody! I loved working with Ward Bond and that darling little girl, Donna Corcoran. I could relate to that film—especially the water shortage. Someone was always out of water."
As for some personal data, Frances met Joel McCrea at the beach, where Paramount had her do publicity photos in January, 1933, for the June bathing suit ads. "We were at Santa Monica pier, and a tall tan man ran down to that cold water and jumped in! Someone said it was Joel McCrea, the RKO movie star, and they wanted to get a still taken of us both. As a coincidence, he had just seen me in a picture a few nights before and said he'd like to meet me. I teased him about all of this later—but he apologized because he had a light beard. He said he'd just gotten up at 3 in the afternoon, and was exercising his horses. I knew he went with the in crowd; I'd read he played polo with Will Rogers; so I was 'turned off.' He asked to come see me, but I held back. I thought I wouldn't know which fork to use. He wanted to bring a book by my house, a couple of weeks later, and he suggested a party. I still held back. Finally, a month later, we both were assigned to 'Silver Cord', with Joel opposite Irene Dunne and me paired with Eric Linden. We worked late one night, and Joel took me to dinner. We started seeing each other—I then learned he slept no later than 7—he lived at home and his mother would clear the table at 7:30—Joel wouldn't miss a meal! He took me to his ranch—which is where I still live today. What I had thought were polo ponies turned out to be two cow horses! I asked him about the polo, and he said, 'Those are Will's horses.' Incidentally, it was Will Rogers who challenged Joel to buy that ranch!" Shortly thereafter, the two stars were engaged.
"Just after 'Silver Cord,' I was doing 'Little Women' with Katharine Hepburn—and during that film Joel proposed. We were married five months later." Frances was on location in New York for "Keep 'Em Rolling" with Walter Huston. "I had a week off and was staying at the Waldorf Astoria—it was the most exciting city in the world. We were married in Rye, N.Y., and were honeymooning until I had to go back to work. After our children were six or seven, every year Joel and I would go back to New York once a year—in the Autumn. We would see some Broadway shows, and go up to Stoneybrook, Long Island."
About their compatibility, Frances says, "We liked the same things, and I thought I'd like being on a ranch. The kids begged us to let them attend the little school, where they could ride their ponies to school. But the nearest neighbor was two miles away. I thought I was in exile! My children were spread out—Jody was born in '34 (I was already showing when I had to do retakes on 'Of Human Bondage'), David in '37 and Peter in '54! When you're older, you are more patient. On the ranch, I would make jelly…we'd associate with the other ranchers. I'd ride a horse to see Mabel, a good friend whose mother had homesteaded their place. Mabel taught me to make enchiladas. She had a good and true saying—'Men are men—if you don't baby them, someone else will!'"
Frances says a lot of Hollywood friends wanted to come out to the ranch for the weekend. "Gary Cooper and his wife came; even Alfred Hitchcock! Hitch loved to come—and get butter! We made it ourselves!" When the kids were in high school, we moved to Beverly Hills. It was then I realized, 'I gotta get back to the real country!' Finally, we sold all the cattle and half of the ranch. When we moved to Conejo Valley, there were only 90 people; later there were 90,000. Our cows were getting into other peoples' properties. The old house is being turned over to the city, as a park. I have moved into the old bunkhouse, which Joel used as his office."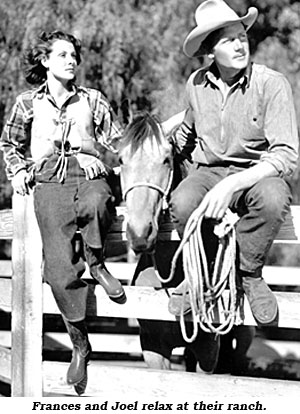 About politics, she's quick to admit, "Joel was conservative, in the John Wayne way. He campaigned for conservatives. But that doesn't mean he only associated with them. Director John Barry (who was named a Communist along with 300 others in the '50s), would often have lunch with Joel. Maybe Joel wanted to hear all about it! (Laughs). The Cattlemen's Association wanted Joel to run for governor, but he didn't want the responsibility. Soon after that, Ronald Reagan got into politics!"
Asked about a John Wayne story, the star (who appears with the "Duke" in '41's "A Man Betrayed" aka "Wheel of Fortune") remembers, "There's a scene where we are at a nightclub and a big fight breaks out. John is supposed to put a tablecloth over me and carry me out. We thought it'd be fun if I did it—not a stunt double. I didn't think about it until we were actually doing it, but I was getting hit while he was carrying me! When the tablecloth was removed and the director saw I was under it, he was not at all pleased! (Laughs)."
Remembering Joel McCrea's "This is Your Life" induction into the Cowboy Hall of Fame, Frances smiles, "That was the highlight of his mature years. He was on the board for a long time, and president for two years. We'd go to Oklahoma twice a year for various duties. There was a wonderful artist who did his portrait. Joel preferred Westerns," Frances said, "He always wanted to do them. He'd say, 'If I have to do claptrap, I want to do it on a horse!' In fact, his two favorite pictures are 'Ride the High Country' and 'Stars in My Crown'. Whenever Joel was in a Western, Jody would visit the set. He usually shows up as an extra. So, he's probably in 'Four Faces West'."
Joel McCrea used a few horses over and over. "Yes, he had this big old horse, Diamond Jr.—he rode him a lot in pictures. I bought Diamond Jr. as a present. And Dollar—the favorite horse—he had a dollar sign on his hip—was in 'Four Faces West,' among many others. Joel rode as a kid in Hollywood—in the canyons between Hollywood and the Valley. He and a friend would camp out. It was then, at age 16 or 17, he did a lot of wrangling and extra work, for pictures shooting near his house."
About her children, Frances relates, "David moved to New Mexico then Jody eventually settled there. This area is too grown up for ranching. The brothers live 30 miles from each other, near Roswell. Jody has lots of dogs. After several of those beach pictures, which he found to be 'getting pretty silly,' Jody quit and went into ranching. Both borrowed the money to get started. Ranching, despite the Hollywood look at it, is long days and hard work with sometimes little or no profit—sort of like farming! Peter lives in Connecticut. Joel quit films after 'Ride the High Country'. The Hays Office was gone and scripts were getting worse and worse. There would be new scripts coming in but Joel said he couldn't do that stuff. He did do 'Mustang Country', a good clean picture, shot in Canada. He loved the story. He liked the director, and John Wayne's son, Patrick, was in it. It was not a moneymaker, however."
Joel McCrea didn't change over the years, Frances laughs, "He just got more mellow. Women, however, get to be rascals (Laughs)."
The cowboys he liked? "John Wayne was first; then Gary Cooper—a friend since the '30s; James Stewart and Randolph Scott, of course." Other than ranching and acting, Frances says Joel always claimed, "'If I hadn't been a rancher, I'd have been a beach bum.' He loved body surfing—we went to Ventura, sometimes rented a beach house; and let the kids learn to surf. Typical Californians!"
Joel McCrea was considered the best horseman in Hollywood, and he knew it. "That's because he was told it so often! He could do anything; he kept everything in tip-top shape."
Frances' Western Filmography
---
Movies: Caught ('31 Paramount)—Richard Arlen; Wells Fargo ('37 Paramount)—Joel McCrea; Four Faces West ('48 U.A.)—Joel McCrea; Gypsy Colt ('54 MGM)—Ward Bond.