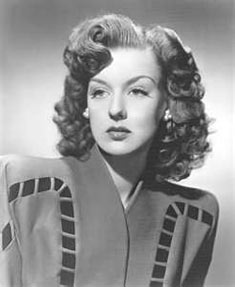 ANN SAVAGE
Although best known for the film noir classic "Detour" ('45), Ann Savage co-starred in several westerns as well.
The beautiful star of numerous Columbia films of the '40s was born Bernice Lyon February 19, 1921, in Columbia, SC, "My father was a jeweler. When he got out of the Army, we moved around. He had a store in New Orleans, later we went to Dallas, where he left us. My mother remarried and my step-father moved us to California in search of work. This was during the depression. Later, my mother worked as a salesgirl in a downtown store. On Saturdays, I would go to two different movie theaters, seeing everything they had in the first, then going to the second, until my mother got off work. I dreamed of being a movie star, being up on that big screen with those beautiful women and handsome men. I worked at Eastman Kodak in the day and a bowling alley in the evening. A pin-setter at the bowling alley told me about Max Reinhardt's acting school—told me there was an opening. I applied for the job, and received lessons in exchange for being their 'gofer'. (Laughs) I did a scene from 'Golden Boy' and both 20th Century Fox and Columbia offered screen tests. I was reminded Fox had too many blondes, so I accepted Columbia's offer. They built stars in those days—gave you training to learn your craft, starting you in small roles first. It went from there."
Ann's first two roles were "learning" bits in "One Dangerous Night" and "More the Merrier". "Saddles and Sagebrush" was her first western. "It was also my third picture. Russell Hayden was the star and he was a great guy, sweet, very charming. Dub Taylor, who always played 'Cannonball,' was very nice…and funny. An unusual fact about him is that he was a xylophonist…is that what you call it? He played the xylophone with the Larry Rich Orchestra before he was in pictures. Almost all the people I worked with were wonderful. I never worked with anyone mean, except for Tom Neal. Our fights were well known!"
"Saddles and Sagebrush" was made on a nine day schedule from October 5-13, 1942. Ann remembers, "William Berke (right) directed this picture, and he was nice. I worked with him a number of times. Benny Kline was on camera—and he later did the camera on 'Detour'. It was all like family. It was nice, being at a studio, learning your trade while being paid."
Asked about any interesting tidbits, Ann is quick to state, "I was so green (Laughs), as I was new to pictures; and William Berke played a joke on me! I was to run out on a porch and fire a rifle. A small one, a .22 I think. Anyway, he'd say 'Cut,' and we'd do it again. 'Ann, you're not doing it right,' he'd say. We kept this up four times; finally I learned he was playing a prank on me. It wasn't in the picture at all. (Laughs) It was kind of funny. But it didn't make any sense! (Laughs)" (Fifty-plus years have clouded Ann's memory, as the actual take is in the Hayden film.—ed.)
"The main thing I remember from that one is there's a scene where I'm driving a buckboard. I was waiting off away from the crew. Russell Hayden is on his horse, talking to director William Berke. All of a sudden, the wagon took off with me! It scared me to death! I was holding on for dear life! The horses had minds of their own, and when they were ready to go, they went! (Laughs). Here comes Russell, who rescued me! Russell saved me! It was a romantic rescue, better than in the picture! (Laughs). Although, I don't recall having to reshoot it for the picture, so maybe they got the shot and used it, instead of reshooting! (Laughs). This was a real rescue, not a reel rescue. The horses simply tired of waiting; I don't think they'd have ever stopped had it not been for Russell."
A year later, the studio put Ann in another western with Russell Hayden, Dub Taylor and Bob Wills, "The Last Horseman", again directed by William Berke who Ann says, "Let actors do what they wanted, if within range of the written dialogue and script. He set up the action, but there was no time for any extra tidbits on those pictures—they were shot too fast. William Berke had a round face, but wasn't fat—nor was he too thin. A gentle man who spoke quietly. A nice, lovely man who wore glasses—he wasn't tall or short—probably around 5' 8" or 9. Nicely built and a nice face."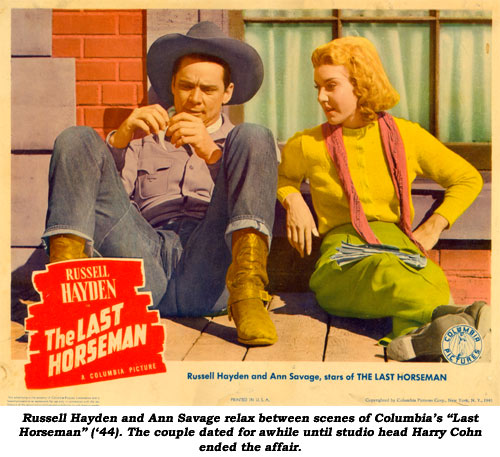 Eddie Muller, in his DARK CITY DAMES film noir book ('01) wrote that Ann was "a combustible combination of brazen guts and crushing insecurity," hiding her fears behind "a hardened facade." Ann agreed, "I had this attitude that no one will get to me." Ann agreed with Muller's book that about the time of the making of these two westerns she dated Hayden, who was in the midst of divorce proceedings. The studio's PR department asked her to back off, the publicity wasn't good. But Ann told them, "Nobody tells me what to do." Eventually, a "Hands off Hayden" edict came down to Ann from the top, studio head Harry Cohn.
In between the two Hayden oaters, Ann was teamed, for the first time, with Tom Neal, in "Klondike Kate". "I had my hair in a pompadour. The studio wanted everybody to look like Ann Sheridan, who was so popular and so beautiful at the time. So all the girls had their hair fixed this way. William Castle directed the film, one of his first directorial efforts, and he was quite good. I only saw it once, at the preview."
As for Tom Neal, "He was a troublemaker, the only one I had problems with in all the years I was in movies. He would go out of his way to rub you the wrong way! Otherwise, he could be charming. He was like two different people. He wore lifts, otherwise, I'd be taller than he was; and those hairstyles made me seem taller, anyway. I was 5' 4¾" tall and Tom was about the same, as was Donald Barry for that matter. Tom embarrassed me once. He had some buddies with him. I was standing there as they were lighting me for the next scene. He came into the scene, saying he had something to tell me. I leaned over and he stuck his tongue in my ear. I hit him as hard as I could! I slapped him with my hand open! I was a tough little kid and could take care of myself. I was so angry and humiliated I naturally reacted by hitting him. (Laughs) He staggered back, and I immediately left the set, so I didn't see his reaction, be it anger or whatever. Later, when we worked together, there was no talk at all—just did our scenes together and that was it. We stayed apart and never spoke. (Laughs) However, when we later did other films together, he had married Vicky Lane, and acted nicer, so we did talk during those pictures…that is, if there was any time. We shot 'Detour' in just three and a half days, so there was little time for chatting on that one! (Laughs)"
Columbia was headed by the legendary, and feared, Harry Cohn. "He was wonderful to me. I had no problems with this man. I did three USO shows, one a bond tour. The first one, I was playing in Lakehurst, NJ, with Edmund Lowe. With Edmund Lowe, you had to be fast on your feet. (Laughs) I was staying at the Madison Hotel in mid-town New York City. I got a call from Harry Cohn. He'd just come into town with his entourage. His sister-in-law, his wife's sister, was coming into town from Georgia, I believe. She had never seen New York. He asked if I would like to stay on, at studio expense, and accompany her around town, nightclubs, restaurants and Broadway shows. It was the most wonderful time, like a fairy tale. They laid out the red carpet for us wherever we went. While in New York, I ran out of personal funds, so I borrowed $50, a business loan. When I got home, I went to the production office and paid it back. They wrote me a little receipt, and I thought that the end of it. Several weeks later, when I was rehearsing with Henry Levin, a future director but at the time a dialogue director or acting coach, I received another call from Mr. Cohn. His voice was firm and I was asked about the money. I told him it had been paid back, and asked if he were mad at me. He said, 'I couldn't be mad at you, I like you too much.' (Laughs)"
Leaving Columbia and freelancing, Ann continued to avoid the ingénue roles for meatier parts. "But I also took anything offered to me. I had a small role at Fox with Richard Conte in 'The Spider' ('45). It paid $1,000, which was big money in those days. I only got $75 a week at Columbia, with a $25 raise every six months…and I was glad to get it!"
Ann soon landed a plum role in her best western, "Renegade Girl" (again directed—and produced—by William Berke), which contains a lot of riding scenes. "And I was afraid of horses! (Laughs) Also, horses sense when you are afraid of them. That makes things worse. I had two bad experiences with them. One time, I was in Griffith Park, where they had stables and you learned to ride. I was taking lessons when, one afternoon on our ride, a group of us went across a busy boulevard with lots of traffic. My horse got the bit in his mouth, I couldn't ride horses well, and this horse started flying across that boulevard, across all that traffic and back into its stable. I was terrified, but it wanted to go home! (Laughs) That was one experience. The second was when I was riding a beautiful pinto in the Valley with my boyfriend. We were trotting when this pinto took off, he jumped a hedge, but I slid off into the hedge. 'No more,' I said after that. So, here comes 'Renegade Girl'! By now I was afraid of horses, and I almost didn't make 'Renegade Girl'. My husband (Bert D'Armand) was also my agent, and he said, 'Oh, come on, they'll get the best double for you.' So, they got Jennifer Jones' double from 'Duel in the Sun', and you can't go wrong with that! Vivian Lopez was her name, I think. At least I know Vivian was her first name. Vivian doubled me and it looked so much like me, that I'd watch the film and say to myself, 'Gee, I sure did that well.' (Laughs). She had a wonderful way of taking your mannerisms, the way you walked, your movements. She was marvelous."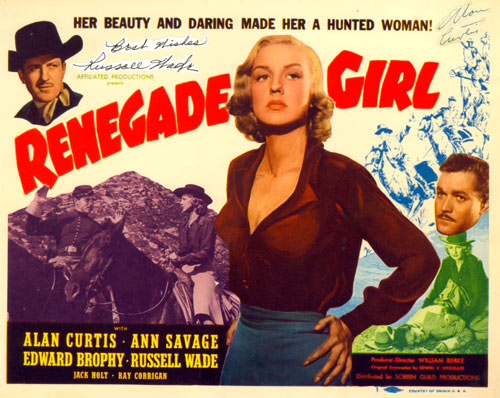 As to Ann's two leading men in that film, "Alan Curtis and Russell Wade were so sweet, nice men, and so good looking. It was such a shame Alan died so young. (1909-1953 of a kidney operation.) My husband and I had just moved to New York when I read about it in the papers. I felt so badly. And Russell Wade is so handsome, and so wonderful to work with. Jack Holt was a big star, he was charming; it was delightful to be working with him. For that scene I just stood in the middle as I recall, but it was very nice, I enjoyed making the film."
Next on Ann's western trail was "Satan's Cradle", a Cisco Kid picture. "Duncan Renaldo was such a nice man, we also worked together in 'Jungle Flight'. I only saw the picture once. And Leo Carrillo—I loved him. Incidentally, Leo did have an accent, but he accented his accent when in pictures! Doug Fowley was in it. I enjoyed Doug. He worked more than anybody I knew!"
Ann Savage is different in almost every picture she did, be it her character, as well as hair style. "I am a character actress. I also played the leading lady, but I strived to be different. In B pictures, you really didn't get a lot to work with, you were just part of the scenery, so I tried to be a real character in each of the films." And she succeeded, beautifully. In the early '60s, Ann's career was slowing down. "I took 'Woman They Almost Lynched' because it was an A picture at Republic, with a wonderful cast and director. Allan Dwan gave me the part. It was small, but I never turned down anything. It was here I met Audrey Totter. We are still friends today!"
As for Ann's "Death Valley Days" episode, "I am a dancer. I loved it because we did the can-can." It seems Ann Savage can, and did, do about anything in pictures. It was such a waste when she retired so early from film although she did return to the screen in '86 with a role as a nun in "Fire With Fire". In recent years she's worked as a secretary in a law firm (now retired), and has been honored for her work in pictures, particularly the film noir aspect. "They always show 'Detour' as everybody wants to hear about that picture. But they also run some of my other films, which is nice."
The vivacious Ann Savage died at 87 on Christmas Day, 2008.
Ann's Western Filmography
---
Movies: Saddles and Sagebrush ('43 Columbia)—Russell Hayden; Klondike Kate ('43 Columbia)—Tom Neal; Last Horseman ('44 Columbia)—Russell Hayden; Renegade Girl ('46 Lippert)—Alan Curtis; Satan's Cradle ('49 United Artists)—Duncan Renaldo; Woman They Almost Lynched ('53 Republic)—Joan Leslie. TV: Death Valley Days: Diamond Babe ('53).