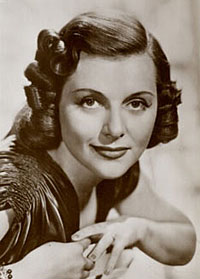 IRENE HERVEY
Born in Venice, CA, Irene Hervey's career spanned five decades, over 90 features and literally hundreds of television shows. Working with everybody from George O'Brien in the mid-'30s to Clint Eastwood in the '70s, this statuesque beauty has many fond recollections of a most extraordinary career.
"I was originally under contract to MGM where I was known as the 'Test Girl'. Whenever someone was tested for a part in a picture, I would appear in the test with them. Great experience and, of course, the studio heads kept looking at me over and over in each of those tests! Hedda Hopper brought her son to MGM and told me she wanted him to test—with me. Years later, I appeared on 'Perry Mason' and we did work together, although I don't think we had any scenes. Her son was, of course, William Hopper, who played Paul Drake."
Asked about George O'Brien, Hervey exclaims: "I can hardly remember the pictures! 'Hard Rock Harrigan' wasn't the greatest thing to remember! I do recall George as very nice—and that the film didn't have much story or even dialogue."
As for "Dude Ranger", the actress has more to tell. "I was horseback riding and apparently I touched the horse in the wrong place because it darted off at a fast pace with me hanging on like mad! Luckily, George was also on horseback. He chased after us and rescued me! Just like in the movies! But that was a thousand years ago."
A few years later, Irene would co-star in one of the all-time great western classics, "Destry Rides Again" with James Stewart. "We sat around a lot while shooting it. They'd run out of dialogue. We'd have to wait on a few pages and there was no air conditioning. We were burning up on those hot stages hour after hour. Finally, someone would come down with a few pages and we'd shoot them. Then it was back to waiting in the heat again."
The female lead of "Destry" was Marlene Diet-rich. "Marlene was standoffish. About the only communication I had with her was when we were to have a fight scene and she sent word for me to take off my lipstick. Why, I can't imagine, unless she thought I'd get it all over her. So I obliged. I had a similar thing to do a couple of years later in 'San Francisco Docks'. There's a terrific battle between me and Esther Ralston—with hair-pulling, kicking, the works. We both cut our fingernails down—one part has us falling over a bed. Those nails could have been dangerous!"
In the early '40s, Irene was frequently teamed with Kent Taylor, including the "Gangbusters" serial. "The main thing I remember were two of the cliffhangers. I was walking across a bridge. There was a hole and I was supposed to have my leg fall through this hole. I timed it so I wouldn't break my leg! And I made it! The other thing was about those two cars with running boards. I had one foot on one car and the other foot on the other car—just before the end of the chapter! Those were the days."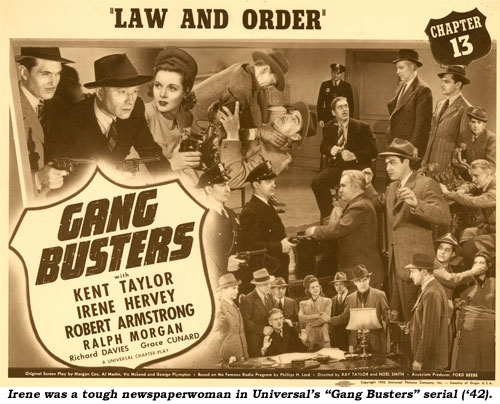 In the mid '30s over 10 years before the John Wayne classic, Irene appeared in a version of "3 Godfathers." "Was that the one about crossing the desert with the baby? Chester Morris was in it—also that old man, Walter Brennan. Richard Boleslawski was a good Russian director, well thought of and he had a lot of heart. But the film was a lot of hard work! Again it was hot—those days seemed to always be hot."
In the early '40s came the classic Universal horror thriller, "Night Monster". "That was with Don Porter and also Ralph Morgan, who was in 'Gangbusters'. Don and I spent a lot of time together—laughing and having a good time with the picture. It was fun, doing that one. I did so many pictures (and later TV shows), it seemed as though I was shoved into those things—I almost didn't know what I was doing."
One of Irene's final screen roles was in Clint Eastwood's "Play Misty For Me". "That was a bad experience—I found out so many people working on it (I don't mean Clint) were on drugs! I was shocked. The cameraman, most everybody. They'd have a big pitcher of beer at dinner—get the giggles—laughing constantly like little girls. All grown men acting silly. I didn't like it. I thought Jessica Walters was a good actress but it certainly didn't help her career."
In the early '60s, Irene Hervey co-starred as Aunt Meg with Anne Francis and John Ericson on "Honey West". "That was nice—I enjoyed working with both of them. Anne Francis was so darling, so sweet."
In the '70s, Irene decided to retire from acting. "I felt it was time to start collecting my pension. I have dated some but have not remarried after my divorce from Allan Jones. Robert Paige and I did go together to an opening at the Ambassador where my son Jack Jones was performing. I now let Jack do all the performing in this family!"
Hervey died at 89 December 20, 1998, in L.A.
Irene's Western Filmography
---
Movies: Dude Ranger ('34 Fox)—George O'Brien; Hard Rock Harrigan ('35 Fox)—George O'Brien; Three Godfthers ('36 MGM)—Chester Morris; Destry Rides Again ('39 Universal)—James Stewart. Serials: Gangbusters ('42 Universal)—Kent Taylor. TV: Circus Boy: Farewell To The Circus ('57); Wide Country: Our Ernie Kills People ('62).