LOIS JANUARY

The leading lady in a dozen B-Westerns of the 1930s was a true Texan, born October 5, 1912 in McAllen. "It's near the border. A few feet south and I would have been a Mexican! (Laughs) It was a one-horse town then—but a resort town now! My mother wanted to be out here in California. We went for a visit, returned to Texas, then the family moved to California."
At the beginning of her career, Lois was a featured singer in the famous Rainbow Room in New York. She also appeared in many of the top nightclubs and cabaret rooms. In radio she appeared for four years on "Reveille Sweetheart" for CBS then two years on Mutual in "January's Calendar". She was also host Jack Bailey's assistant on CBS' "County Fair" (1945-1950).
But it's film, and B-Westerns in particular, for which Lois is best known. She landed a contract with Universal. "That's how I got the role in the Reb Russell Western, 'Arizona Badman' ('35). Universal farmed me out. They did those Westerns on the back lot, way up in the hills of Canoga Park. I worked with the same cowboys over and over. They'd keep calling me back to do another picture."
"Universal taught you everything—I was in a lot of their big movies—but only in small parts. I never looked at show biz as a career. I never thought of it as a business. I had fun, fun, fun; otherwise, I could have gone further. But I enjoyed what I was doing. I didn't drink, smoke or fool around. I lived with my family—they were supportive of me in every way."
"Border Caballero" ('36), Lois' second Western, starred Tim McCoy. "I loved Tim; he was a very nice man and I liked working with him, but he was quite old even then! Tim had a thing for me. He really liked me. He was the first actor who invited me to his beautiful home (Laughs), and I was crushed about that. I didn't play that game—so I was hurt. Noel Madison was another one—he tried to get me in his hotel room. I thought he was so nice, but he wanted that. Again, it crushed me. The casting couch is not a dream, it's real—I learned how to handle it. I'd kid with them and stay friends. You could tease them and get their mind off it! Incidentally, Noel Madison was in the now cult film, 'Cocaine Fiends' ('37) with me. The working title, 'The Pace That Kills,' was a better name. Of course, at Universal, Junior Laemmle (Carl Laemmle Jr., son of the studio's founder and at the time, head of Universal's production) chased me. He was a little skunk. I hated him. You just take it in stride. Lucille Lund also had trouble with him—she asked me how I handled it, and I told her about joking with them."
"Skull and Crown" ('35) was a low budget Bernard B. Ray production released by Reliable. "I didn't like the film, but I loved that dog, Rin Tin Tin Jr. He was so beautiful. And I did enjoy making the movie; I had fun. I didn't have a steady agent, and you gotta have a good agent working for you. To me, it was all fun and games."
With so many Westerns to her credit, there are bound to be accidents. "Not really. Being from Texas, I knew horses. I loved them and I was not afraid of them. However, in one of the movies—either with Fred Scott or Johnny Mack Brown—I was not able to handle a great white horse. I rode fast in front of a posse. I was supposed to pull the horse up at the door and get off. I couldn't make that horse stop! Because of time and budgets, you could only do one or two takes. I halfway slid off—it could have been a bad accident, but luckily I never had one."
Johnny Mack Brown was Lois' leading man in two Westerns, "Bar Z Badmen" ('37) and "Rogue of the Range" ('37). "Like Reb Russell, Johnny used to be a big football star before he made movies. Johnny Mack was such a sweet guy—he loved being a Western star—he was always the perfect gentleman. We were shooting a picture and he told the director, 'Why not have Lois in this scene where she will show up better?' He was building me up. I remained friends with his wife after he passed away."
Lois kept in touch with some of her other leading men throughout the years. "Bob Steele wouldn't let me come and see him when he was dying. He had emphysema and didn't look well. His wife said, 'he just looks terrible.' I'd see him at parties, on the Universal lot, wherever, over the years."
As for Fred Scott with whom she did his last two B-Westerns in '37, Lois recalls, "Fred was an opera singer. He was a wonderful guy—such a doll. We loved to sing together. I got to sing in 'Moonlight on the Range' ('37), and he wanted me to do more singing, but on the other picture I didn't get to sing at all. I would get up before sunrise—and work into the dusk."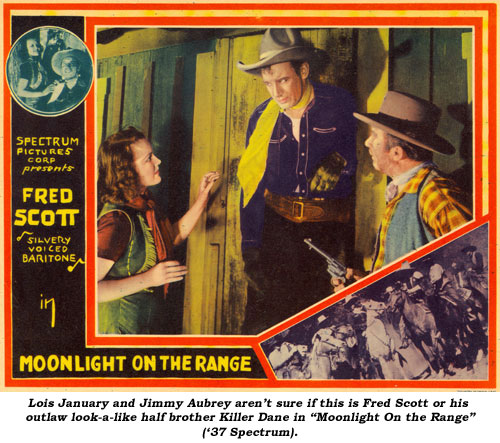 The Westerns were peopled over and over with the same character actors, such as Charles King. "He was fun, but I went home after work and didn't socialize with any of these people." Fuzzy St John: "I loved him—he was so nice. The Western stars were all normal, nice, wonderful guys. Those cowboys were just good, fun-loving guys. I like the feel of Westerns; it felt like I was still back in Texas."
Lois worked at Paramount, MGM and RKO, with Universal "being my home." But in the late '30s, she left Hollywood and went to New York, "where I did a Broadway show, 'Yokel Boy,' ('39) with Buddy Ebsen and another one, 'High Kickers' ('41) with George Jessel and Sophie Tucker. Buddy looks weathered these days. I don't think he feels good."
"I sang on Meredith Wilson's radio show—and had my own 'Reveille Sweetheart' program on CBS—where I woke up the servicemen every morning. I'd get up at 4:30—to get to the 5:30-6:30 a.m. show. Arthur Godfrey followed me, and he took me on his show as well."
Early in her career, Lois appeared in a number of short subjects, at Columbia and elsewhere. "I worked with Thelma Todd and ZaSu Pitts; Frankie Albertson and Lou Holtz, who was fabulous. Betty Grable was with me in some—she had a pushy mother—something I did not have."
Lois' most famous picture is "The Wizard of Oz" ('39) where she was the Emerald City woman with a cat. "I still get a lot of mail because of my part in 'Oz.' In fact, I get more mail from that than from the Westerns. We had no idea it would go like this when we made it. Judy Garland hated the commissary at MGM. So, she and I went to the Culver City Hotel, which was just across the street from Metro, and we'd sit in a cute little restaurant there. A few years ago, there was an Oz Film Fair held at the same hotel. I was on that movie for three months!"
Asked about her favorite Westerns, Lois hesitates, then explains, "I don't usually have favorites, but if I had to choose, I'd pick two: 'Border Caballero' because I played a dance hall girl and I liked the story, and 'Moonlight on the Range' because I got to sing on film."
When comparing one studio with another, Lois emphatically states, "They're all the same—they all go to the same locations. I couldn't tell which studio I was at." The biggest studio to make a "B" Western with Lois was Universal with "Courage of the West" ('37) starring Bob Baker. "Bob Baker was too pretty! He was nice, but didn't get friendly. He didn't want me to sing a song in his picture. That business is full of jealousy. It is an egotistical business; you have to have a pretty steady character to overcome it. I later got into metaphysics and philosophy." With a doctorate in Metaphysics, she had her own cable TV show, "Take 5 With Lois January" using her book of the same title for rhe show which was seen on a variety of cable outlets in southern California.
At 93, Lois January died August 7, 2006 in L.A.
Lois' Western Filmography
---
Movies: Arizona Badman (1935 Kent)—Reb Russell; Skull and Crown (1935 Reliable)—Regis Toomey; Border Caballero (1936 Puritan)—Tim McCoy; Lightnin' Bill Carson (1936 Puritan)—Tim McCoy; Rogue of the Range (1936 Supreme)—Johnny Mack Brown; Lightnin' Crandall (1937 Republic)—Bob Steele; Bar Z Badmen (1937 Supreme)—Johnny Mack Brown; Trusted Outlaw (1937 Republic)—Bob Steele; Red Rope (1937 Republic)—Bob Steele; Courage of the West (1937 Universal)—Bob Baker; Moonlight On the Range (1937 Spectrum)—Fred Scott; The Roaming Cowboy (1937 Spectrum)—Fred Scott.