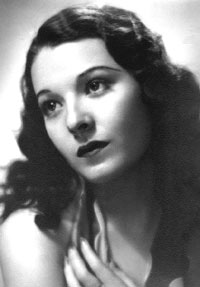 LUPITA TOVAR
Gene Autry's leading lady in 1939's "South of the Border" was born, literally, south of the border. "My birthday is July 27, 1910—not 1911 as is sometimes misreported—in the little town of Matias Romero, in the state of Oaxaca, which is located at the southern end of Mexico. My father was Mexican; my mother Irish."
The future star began her career in silent pictures while still a teenager. "I was 18 and still in school. Robert Flaherty, a famous documentary director who worked for Fox at the time, went to Mexico with his assistant. Fox would bring young people into the United States from Italy, Spain, Brazil and finally, Mexico. They visited my school, saw me, but of course I had no idea who Robert Flaherty was. (Flaherty was in Mexico to make a film about Pueblo Indians. He later worked on "Tabu" ['31] and "Man of Aran" ['34] and collaborated with Zoltan Korda on "Elephant Boy" w/Sabu ['37]—ed.) They came back to make tests—they made 65 tests for others—those who were on the stage, in high society, whatever. I made the test and got first prize out of all those 65 tests! I never felt I'd be in movies—my father was strict, old fashioned—I saw a few movies—but with my grandmother. My father turned down Fox's first contract. Two weeks later, Fox lawyers sent another contract—with a letter from the counsel general saying what an honor it was, that I was chosen—so my father finally agreed. I came to Hollywood in 1928 with my grandmother."
The $150 a week Fox contract turned out to be short-lived. "I was with Fox for one year—just four films, all were silents including 'Joy Street' and 'Veiled Woman'. Talking pictures were coming in, and there was chaos everywhere! I couldn't speak English. Later, Universal began dubbing American films into many languages. On 'Shanghai Lady' I did dubbing all night. I didn't think I had a future. I was ready to go back to Mexico. I went to say good-bye and Universal said, 'Wait a minute. Give us 24 hours.' I got a call from the studio lawyers—they took me to court and I signed a contract. I made Spanish versions of some talkies. (Czech born producer) Paul Kohner would make a few in Spanish at the same time as the American versions. They'd work all day, and we'd come in and work 7pm to 7am all night! I did Spanish language versions of 'The Climax', then a remake of 'The Cat and the Canary' called 'The Cat Creeps', and of course, 'Dracula'. George Melford was my favorite director and those early Universal movies are my favorite pictures."
Asked about her future husband, producer (later agent) Paul Kohner, Lupita tells WC, "I met Paul in late 1929, went in September of 1932 to Berlin, and married him in October '32. We had a wonderful life together." Kohner died in 1988. His clientele over the years included Yul Brynner, Charles Bronson, Greta Garbo, David Niven and others."
Because of her success in Mexico, "I was called 'Sweetheart of Mexico.' Right after 'Dracula' I went to Columbia for '10 Cents a Dance', then to Mexico City to star in their first talking picture, 'Santa' (which means the Saint). On May 28, 2001, I received the Life Achievement Award from the Academy of Arts and Sciences in Mexico—their Golden Award at the Opera House. My son and two of my grandchildren came with me—it was a lot of emotional things. That picture started Mexico's film industry." On July 11, 2001, at the Palace Theater in downtown LA, "Santa" was revived to a sold out crowd, with Lupita in attendance. "It was something I never expected. In Mexico maybe, but not here. We shot it in 1931. It was a terrific evening. I received three diplomas—one from the Mayor of Los Angeles. Flowers, speeches, it was very emotional."
Lupita has an international film credit list. "I made many films—six for Mexico; one in London with Buster Keaton. I did everything! I did one in Spain and, here in the United States, mostly westerns."
"Border Law" ('31) starred Buck Jones. "Buck was a wonderful person. I was very lucky—all the western stars were very, very nice." When asked if she was coached in the cantina dance, Lupita smiled, "I remember I didn't think of myself as an actress—never aspired to it. I was never a dancer—all the Latin girls at school would learn to dance—but in this, I improvised. Directors would say, 'Can you dance' and I'd say, 'Sure!' I faked it. I never said no when they asked, 'Can you do this?' I always said yes. 'Can you ride a horse?'—'Sure!' (Laughs)" As for playing a guitar, "I faked it" and the songs "were recorded for the film beforehand, but again it was me. I was never doubled or dubbed!"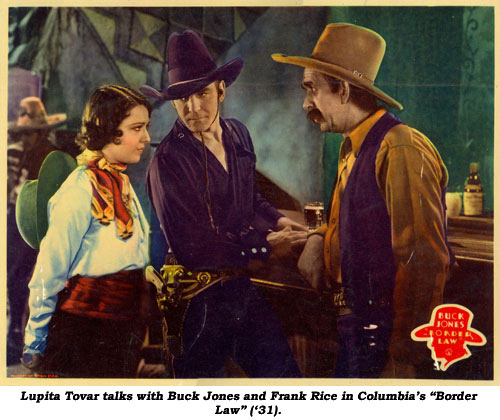 There is a scene when Buck Jones swoops Lupita up on the street and puts her on the stagecoach. "I was sitting on a horse—the horse got scared—went crazy and I was scared to death! It ran away with me! Buck rode the next horse—he grabbed me over his horse—brought me back. I thought this was the end of my life. I went head first, legs up. The director said, 'Are you all right?' I said, 'Oh, sure' and he said, 'Try it again!' It was a job—and I did not want to lose my job. They asked me, 'Would you like a double?' and I'd say, 'No, I can do it.' So, that was me! You only get one take on a western—you have to do it right—the first time! (Laughs) But I loved to work. For westerns I had to get up very early, like three in the morning. In those days you had calls at 4am for makeup, then you'd go on location. Paul used to drive me there and they'd bring me back to the studio and he'd pick me up in the afternoon."
"The Fighting Gringo" starred George O'Brien. "A sweetheart; we were very, very good friends. We had many talks. We met at Fox, he was a big star then, as was his wife Marguerite Churchill—but now we were at RKO doing a western together. Their daughter, Orin O'Brien, and my daughter, Susan Kohner, who is a little younger than Orin, were childhood friends and are still friends today! Orin has been playing bass with the New York Philharmonic since 1966. When they were little girls we'd go to the O'Brien ranch for the weekend. They still see each other often."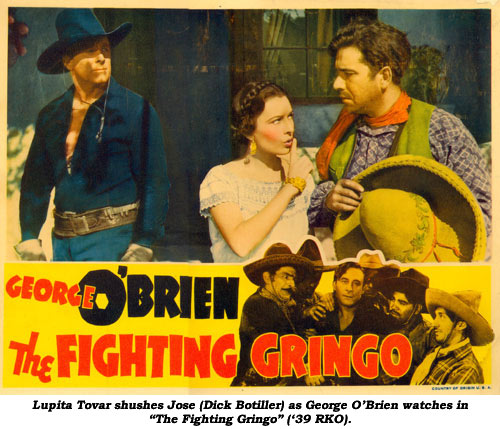 Lupita recalls her Mexican actor co-stars in "Fighting Gringo". "Chris Pin Martin was a character—when he got paid, he'd go yelling down the street. Martin Garralaga was very, very popular, and Lucio Villegas I knew a long, long time—we worked in several things together. I knew him and his wife. As for other Mexican actor-friends, Dolores Del Rio was a good friend—we went together on the first Pan American flight into Mexico—also, Raquel Torres, who later married Jon Hall, was a friend of mine." As for the Mexican Hat Dance scene and its true popularity in Mexico, Lupita emphatically states, "It was done accurately, and all the children learn it in Mexico. It is very, very popular."
"Two Gun Sheriff" with Don Barry also had a Mexican Hat Dance scene. "I remember Don; a little man, always talking, always telling stories while I was learning the dialogue. He could be difficult—he was not as easy as the other cowboys. He was young and difficult."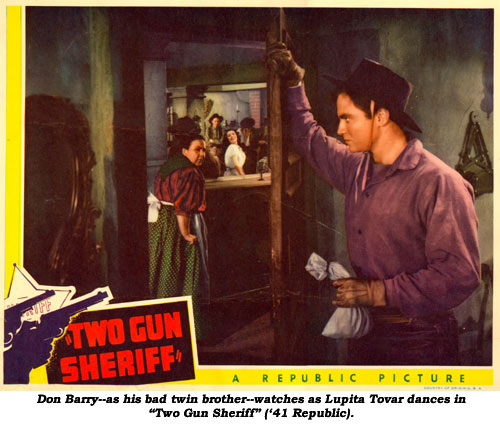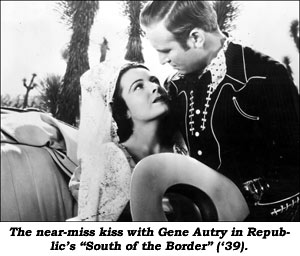 "South Of the Border" put Gene Autry into the big time. "He became a Top Ten box office star. That picture made a lot of money! Gene was a lovely cowboy. A lovely person, such a gentleman. Smiley, his sidekick, was always nice. I particularly remember the little girl, Mary Lee—such a talent, and the other leading lady, June Storey, who was very pretty." As for the famous near-miss-kiss scene with Gene in the carriage, "It was in the script. Gene Autry never kissed a girl; he was very pure for the kids. Today we would have been doing more than kissing. (Laughs)"
"The Westerner" came next in Lupita's western credits. "William Wyler directed. I had a wonderful scene in that—filmed on a donkey. I have a husband. I'm beating him, giving him the dickens, but Wyler never said cut. Finally, after a long, long time, he said cut! He had let me go on and on, hitting this poor man (Laughs). Walter Brennan was a sweetheart."
"Gun to Gun" was a Warner Bros. short with Robert Shayne. "I only recently got a print of it. Well done, and near the end of my career."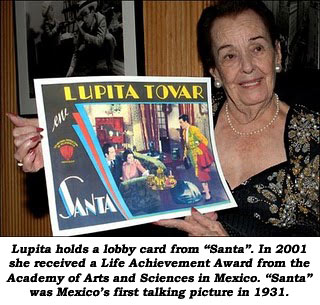 Regarding Lupita's daughter, Susan Kohner, "Susan's first job was in Audie Murphy's 'To Hell and Back.' She attended the Westlake School for Girls and was doing theater-in-the-round. Paul and I went to see her, and at intermission, she was approached by someone who wanted her to read for them. I was so sure she wouldn't get it that after I drove her to the audition I went on errands. When I got home, Paul said, 'What have you done? They took her!' They were crazy about her. For the first few years, I had to go with Susan to the studios as she was still a teenager. She retired when she married. At her wedding, Antonio Moreno, who directed 'Santa'—his first directing job, and who also worked with me earlier at Universal, cried, 'Our girl.' After her marriage, Susan worked for the blind for a while, reading, doing things for them, then retired to take care of her family. She has a place in New York and a house in Binghampton. My son, Pancho Kohner, has written books and produced films with Charlie Bronson—10 or 11 with him (including "White Buffalo" '77); 'Bridge in the Jungle' with Katy Jurado ('71) was the first he directed. Susan has two wonderful boys—both in London now, writing and directing—with Hugh Grant—they have acted—they are modest, wonderful boys, very talented."
In 1982, Mexico issued a stamp with Lupita Tovar on it. "Yes, and my family that lives in Mexico didn't pay attention to it! John Gavin, then Ambassador to Mexico, wrote me a letter, sent me stamps and asked, 'Isn't this you?' And it was! What an honor! I was very proud and pleased!" I've had a very long and happy life—it's wonderful. I did lose my right eye to macular degeneration. I gave up my career in 1945—you simply can't do two things and do them well, something will suffer, it is not satisfactory. I preferred my family to my career."
Lupita will be 101 in July 2011.
Lupita's Western Filmography
---
Movies: Border Law ('31 Columbia)—Buck Jones; Yankee Don ('31 Capitol)—Richard Talmadge; Fighting Gringo ('39 RKO)—George O'Brien; South Of the Border ('39 Republic)—Gene Autry; The Westerner ('40 U.A.)—Gary Cooper; Two Gun Sheriff ('41 Republic)—Don Barry; Gun To Gun ('44 Warner Bros.)—Robert Shayne.